Nibble News
Anna bunny spends a week in hospital!
(May 30, 2012)
---
We are very pleased to have sanctuary bunny Anna back at Camp Nibble after spending a week away at our bunny specialist vets in Harrogate (huge thanks to them!)
After complex surgery for a tooth root abscess poor Anna isn't looking as pretty as she could. However, she is doing very well considering. Anna and her sister Pam joined us last year both desperately in need of dental treatment. Poor Anna's front teeth were growing out of her head like tusks! Sadly we see many rabbits with dental problems and urge all rabbit owners to make sure that their buns are getting the correct diet.
http://www.saveafluff.co.uk/rabbit-info/what-do-rabbits-eat
Despite receiving a very generous discount as a charity our latest vet bill for Anna and her other special needs pals has been in excess of £500. We already have another visit planned for next week.
If you would like to help us continue helping rabbits in need like Anna please donate below, or even better consider fundraising on our behalf :)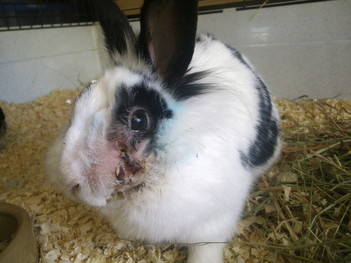 Thank You!