As pet owners we know first hand that finding a vet that you can trust with your pet's health is extremely important. Even very common small animals such as rabbits and guinea pigs are still viewed as exotics from a veterinary perspective, and often little time is dedicated to them during standard veterinary training.
We advise all pet owners to register their pet at a practice which has at least one vet with a special interest/experience in their particular species of animal. We strongly suggest doing this before your animal actually falls sick.
We currently use the following vets for our own pets and any rescue animals in our care requiring treatment:
Holly House is a fantastic vets with a hospital and Clinic both within five minutes drive of Camp Nibble (North Leeds). We are very grateful to have such a competent team of vets so near to us. Holly House have lots of experience in treating small animals (our many very complicated special needs sanctuary animals can vouch for that!) They deal with exotic referrals as a practice, which is of course great news for our various species of rescue animals that we help.
Holly House have been a huge support to us since we started. We are extremely grateful for their continued support.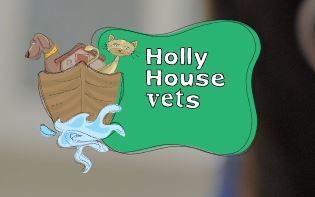 We are proud to be one of Holly House's nominated charity partners
Having fun at various Holly House Open Days and Rabbit Awareness Events!