All of our Camp Nibblers are animals who have found themselves in need of rescue support for a variety of reasons. In many cases they have been abandoned, or have been victims of cruelty/neglect before joining us.
We specialise in helping very hard to re-home rescued animals, and operate primarily as a sanctuary for small animals with complicated health issues. Therefore, a vast majority of our rescue animals are permanent sanctuary residents, or animals currently under treatment/health assessment. Our sanctuary rabbits, guinea pigs, rodents, hens and ducks shown here are in most cases living in happily bonded compatible groups and are not available to be adopted. They will retire here at Camp Nibble receiving all of the love and care they need.
*We do still have small numbers healthy rescue animals (most will have joined us as rescue emergencies) looking for new homes. These may or may not be featured below. Priority to adopt these will be given to our previously vetted trusted homes. Therefore, if you have previously been approved to adopt from us, and are looking to offer another rescue animal a home please do get in touch in case we have someone suitable for you in need of a home*
Any animals featured below who we are actively looking for excellent new homes for will be labelled *We need a forever home*.
Born 2014/15 Bandit is an old boy, he has joined us to ensure that he can retire safely in the company of other old rescue piggies.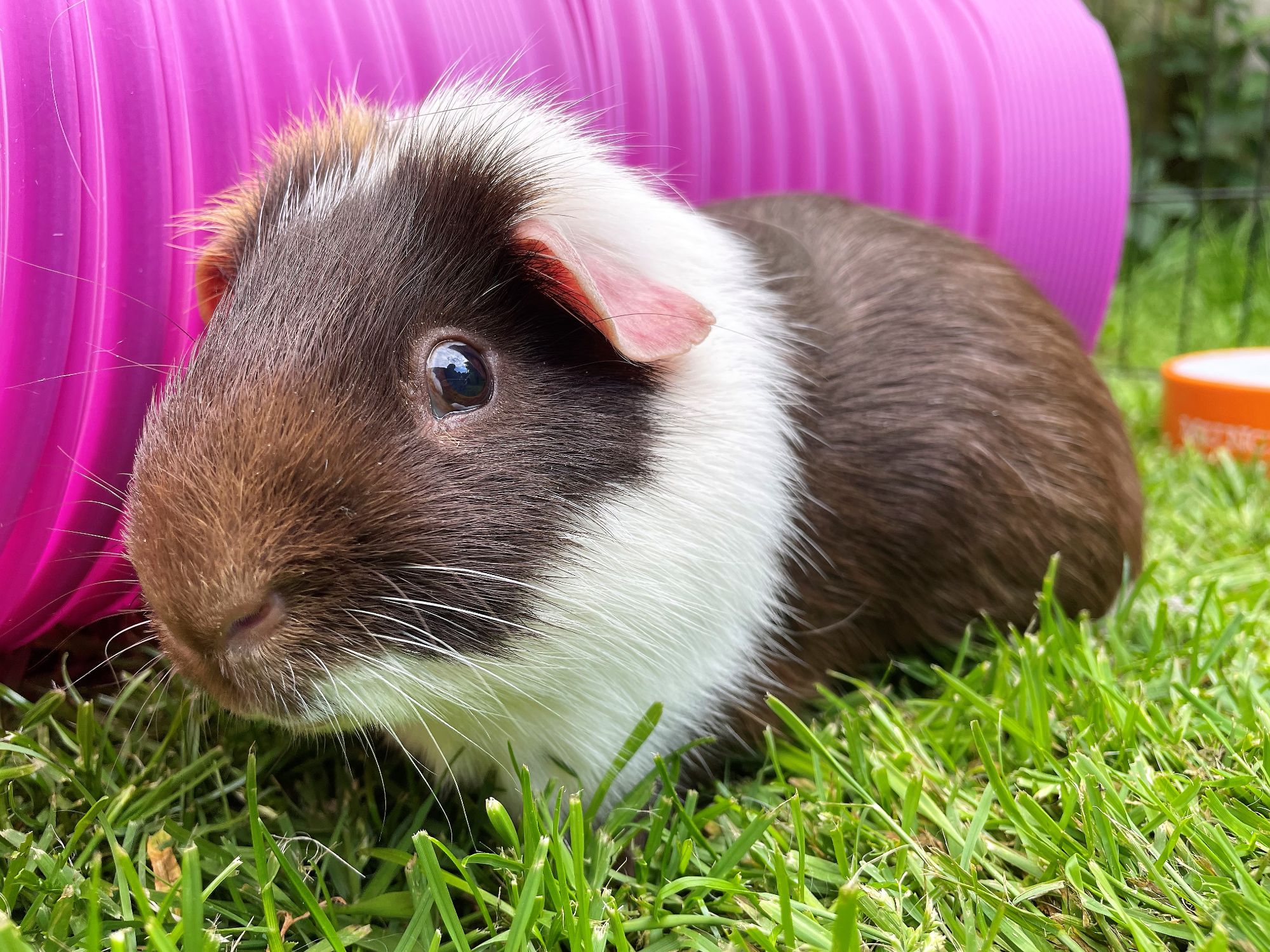 With lots of people keeping backyard chickens and ducks as pets our feathered friends also find themselves in need of rescue support when their owners are unable to keep them, or they become neglected. Our sanctuary chickens are old ladies who have needed our help, and have made Camp Nibble their home.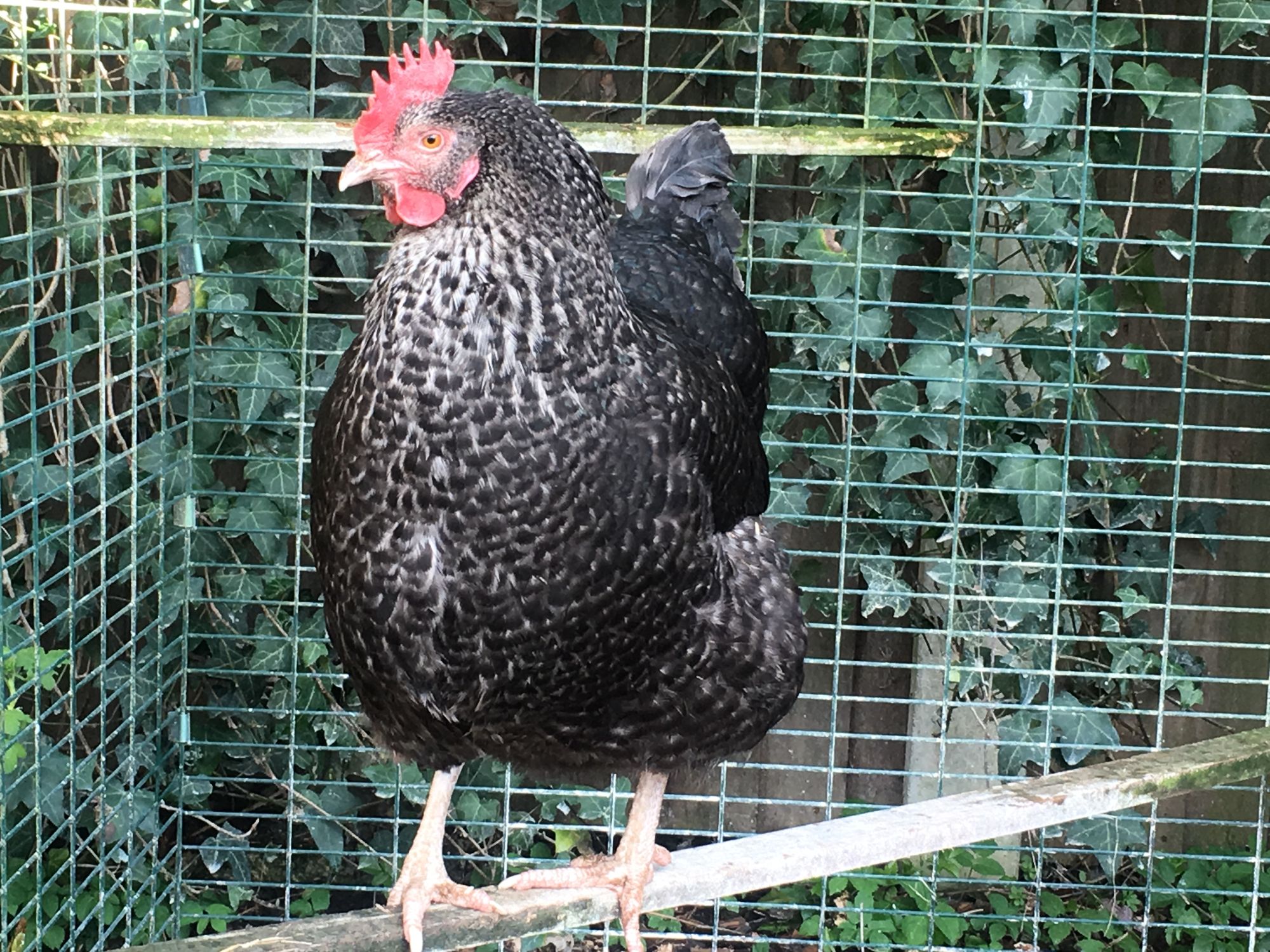 Carson joined us after being found as a stray. He was luckily brought to safety by a kind family just in time to avoid the terror of living rough outdoors during bonfire night and fireworks season!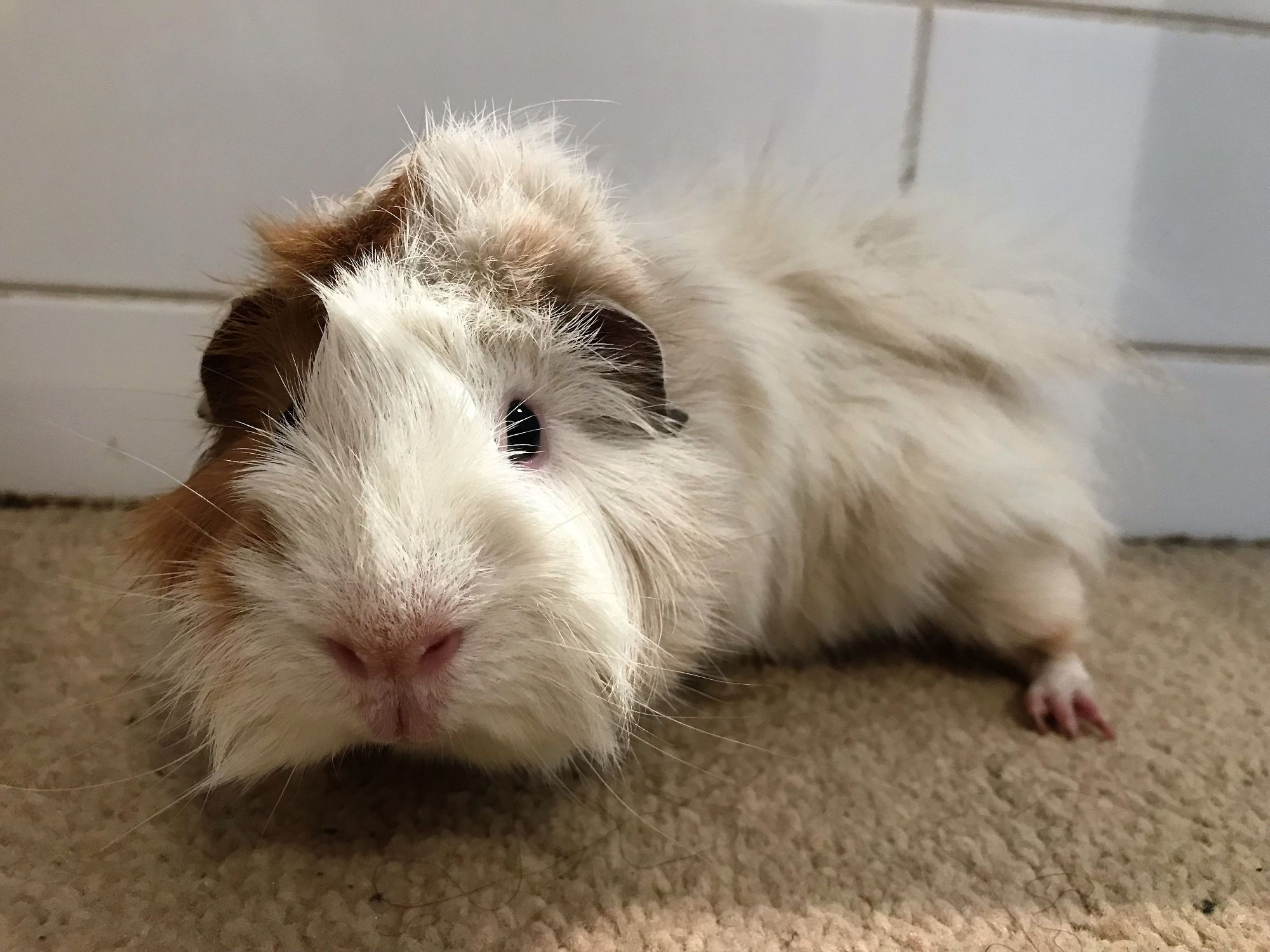 This family of female degus is closely bonded and will be staying together. They originally joined us as a family consisting of mum and four daughters. Sadly, one of the girls has since passed away leaving them now as a group of four.
Kindly sponsored by Alix & Ash August 2020-21*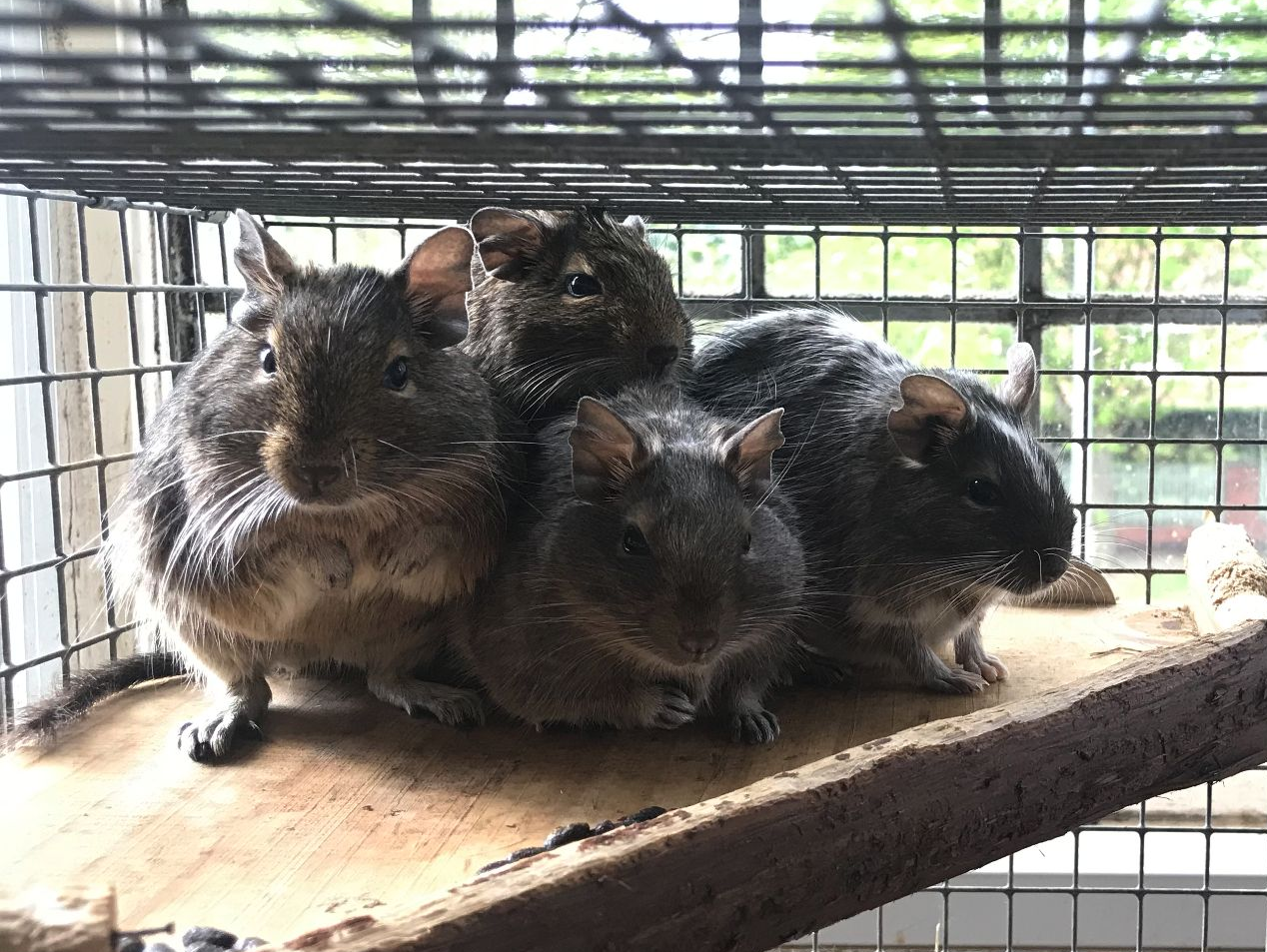 Damon (aka Demon) has joined us from a local rescue shelter. They had not managed to find the right home for him during his three year stay due to his very aggressive nature.
Damon will very aggressively sink his teeth in and give very long, deep potentially dangerous bites (which I can vouch for first hand!) Don't be fooled by such a sweet handsome face. He is by far the most aggressive rabbit we have dealt with.
It will be very hard for us to responsibly find the right home for him knowing that he can cause injury. He will have a home here at Camp Nibble though being loved and well cared for just as long as he needs it. We will continue to try and build up his trust.
*Kindly sponsored by David January 2021-22*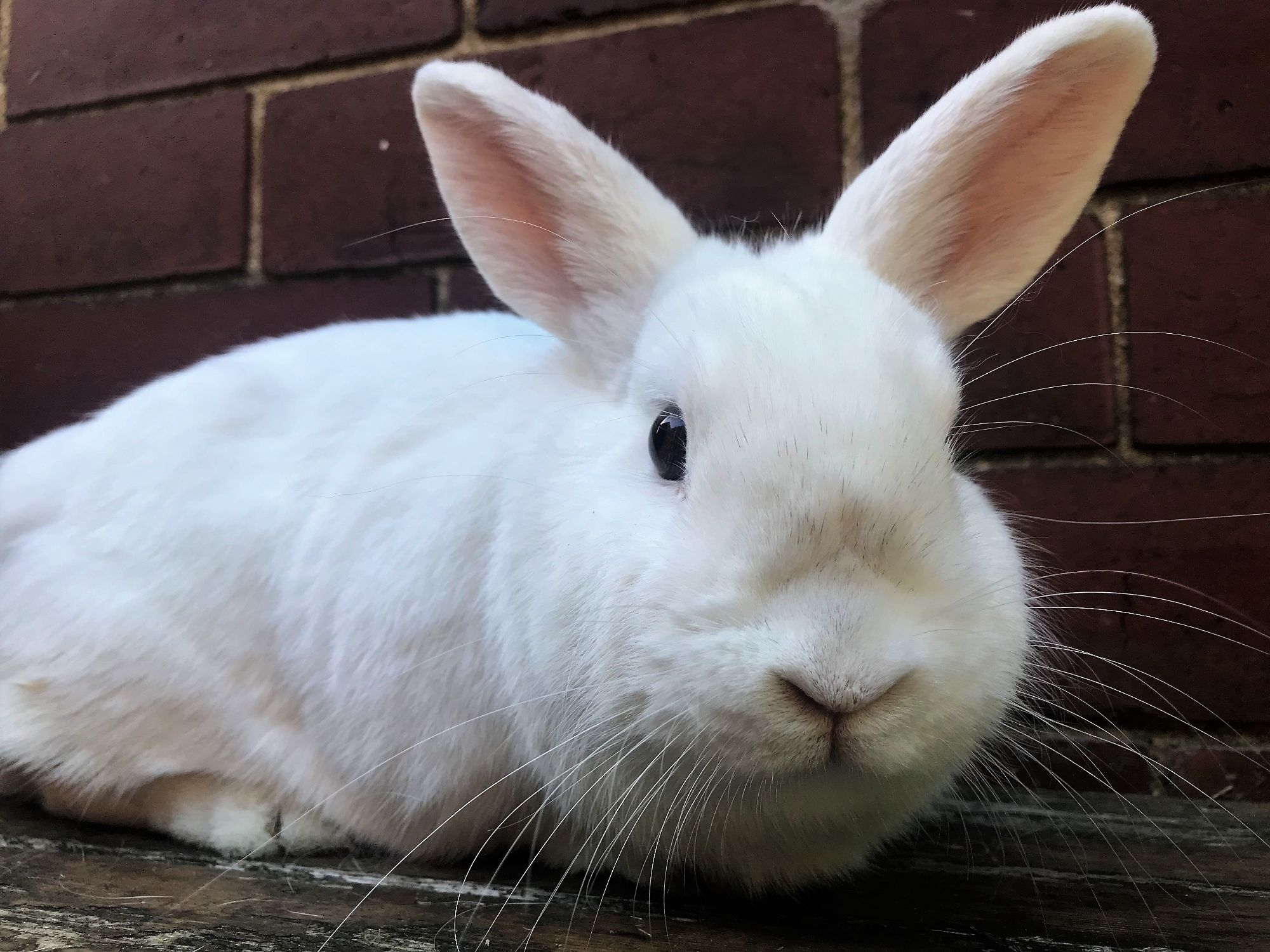 Dead Pool is a friendly old chap born in 2013 who has sadly found himself in rescue for a second time. After losing his companion he has joined us to ensure that he can have the company of other rabbits in his retirement.
X-rays have shown that he has spondylosis a condition of the spine which is usually degenerative and can be painful, in some cases even sadly eventually leading to paralysis. He is currently managing very well on daily pain meds though, and is for now managing to stay active and perform natural bunny behaviours. .
*Kindly sponsored by Helen October 2021-22*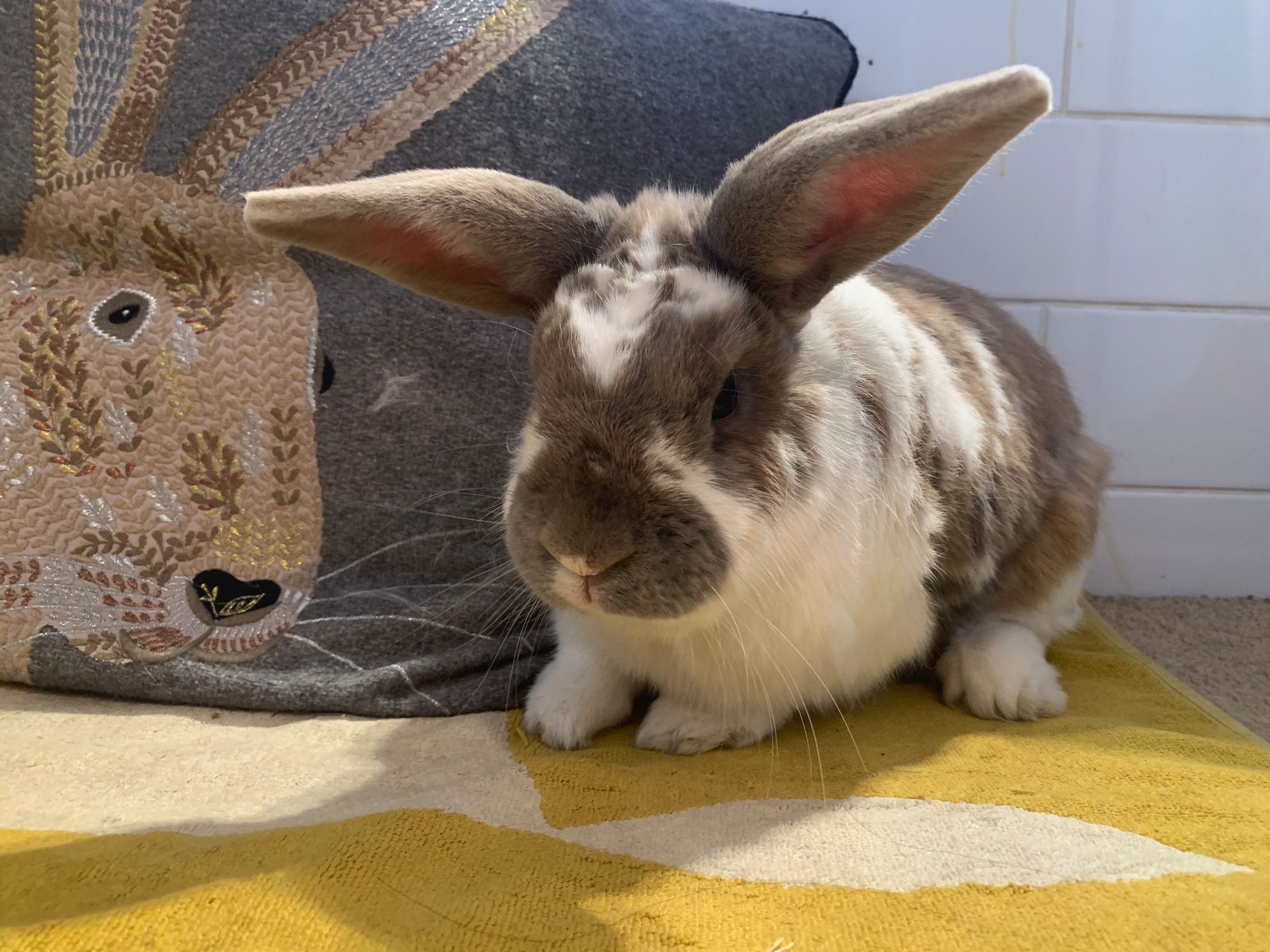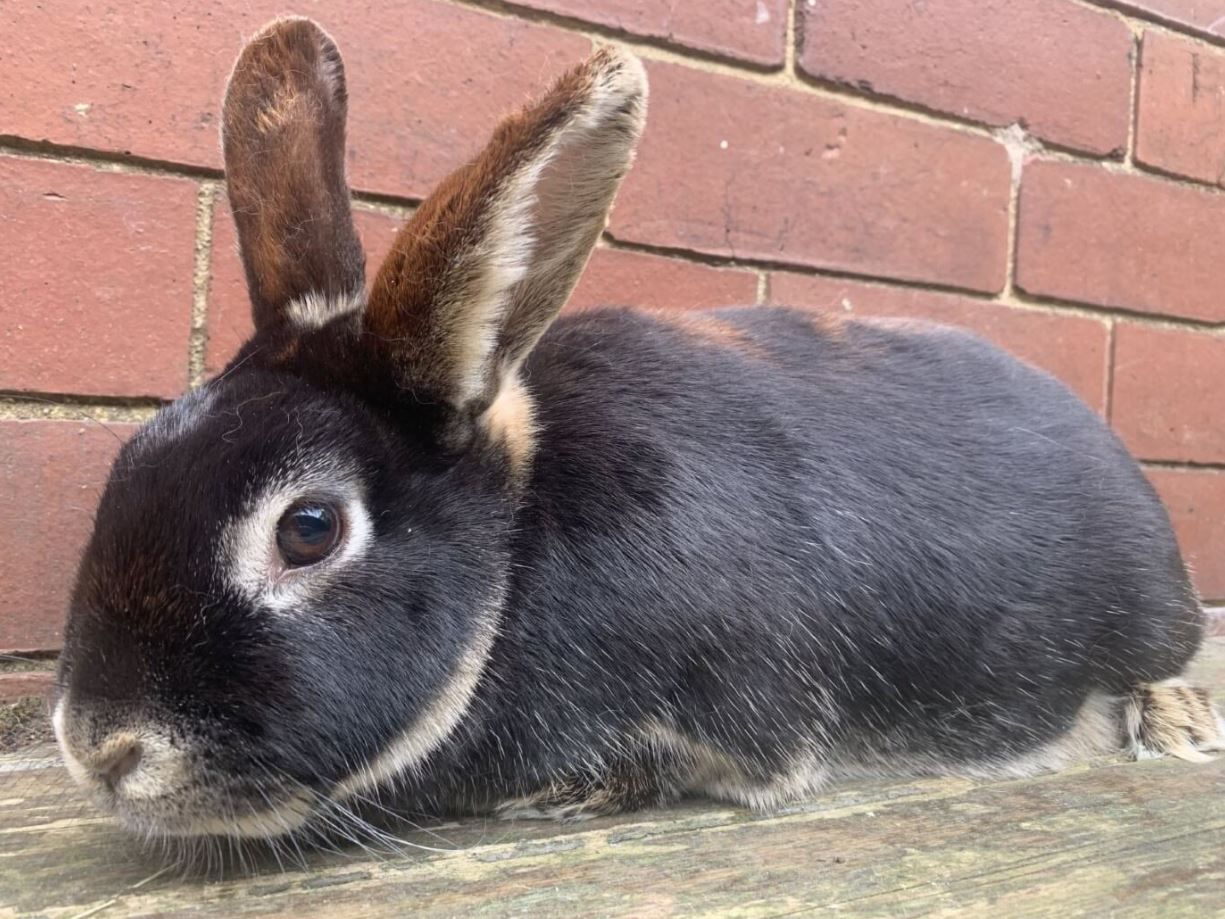 Dougie is a squishy faced lop born in 2014. This sweet boy sadly suffers from dental disease and will need careful monitoring and on-going dental treatment.
His dental disease is currently unstable and he is sadly needing a dental operation at least monthly. Luckily Dougie is very good at letting us know quickly when his teeth are not feeling right so that we can get him help asap. This is a blessing as so many bunnies are masters of hiding illness.
Having joined us as a single bunny we have loved to see this sociable bunny making great friends with his sanctuary bunny pals.
*Kindly sponsored by Ruby, Sam, Poppy & Charlie April 2021-2022*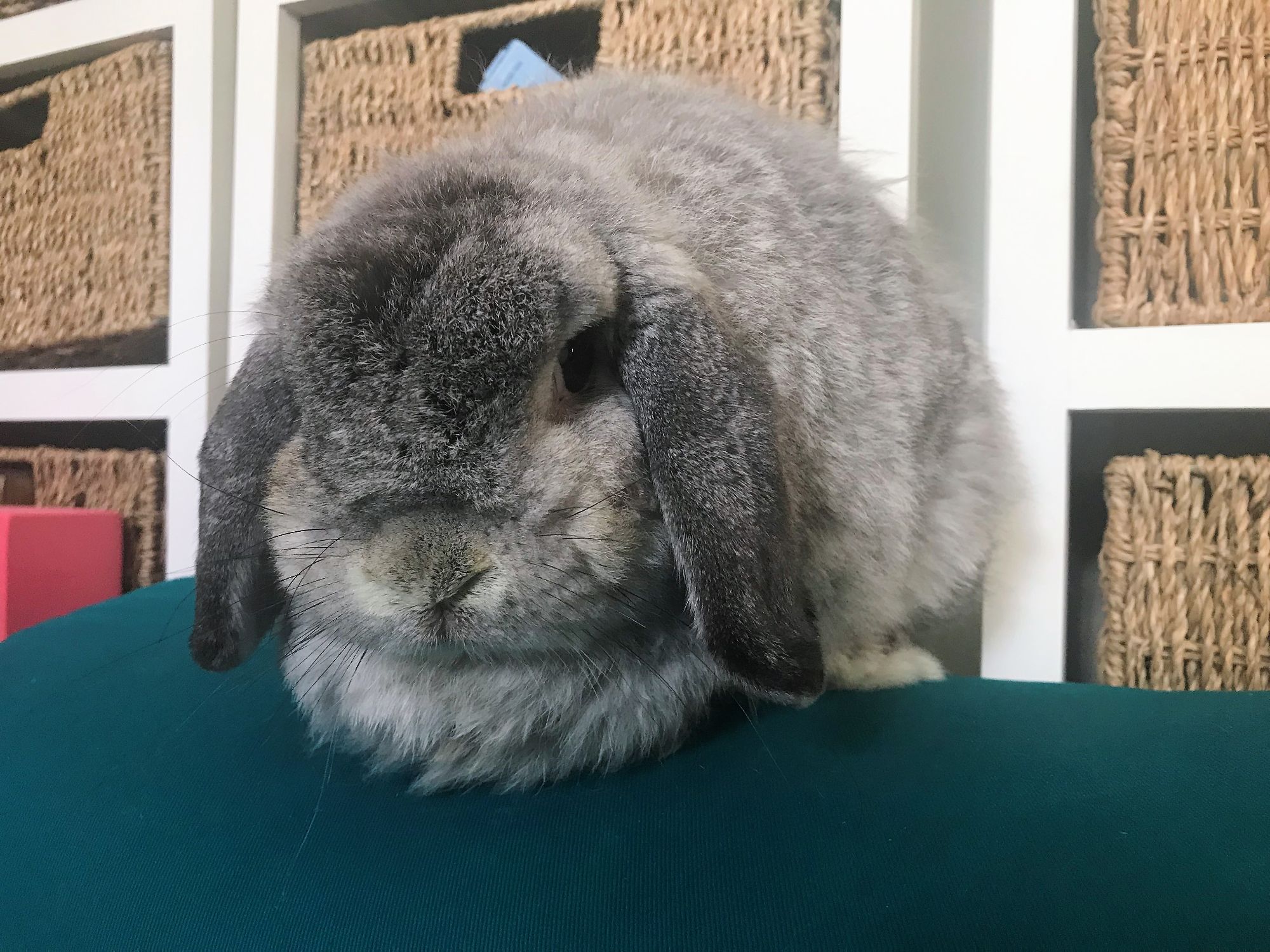 .
*Kindly sponsored by Michael August 2020-21*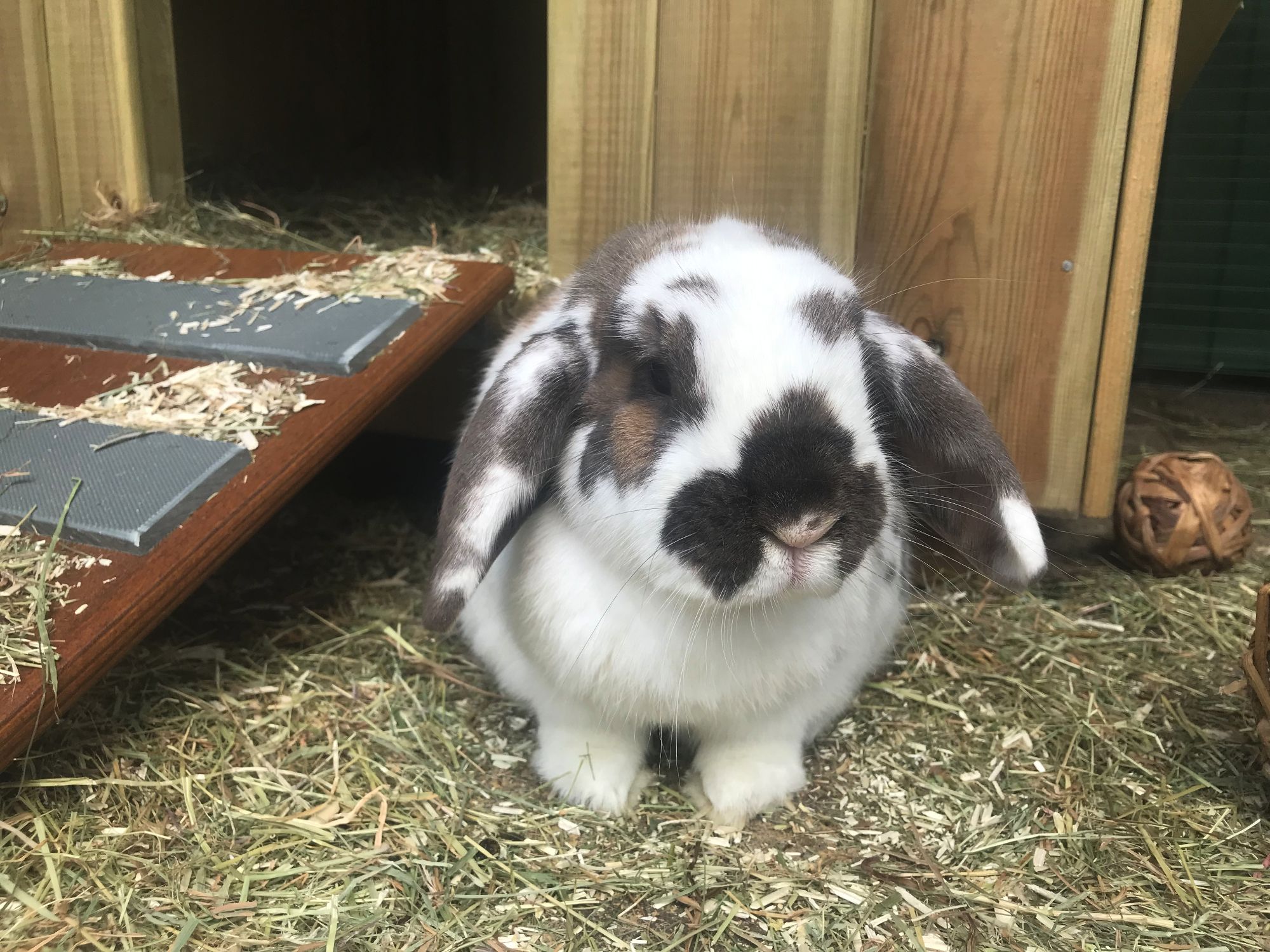 Hattie is a mature guinea pig (with a wonderful fringe!) who has joined us to retire with guinea pig company following the death of her long-term companion.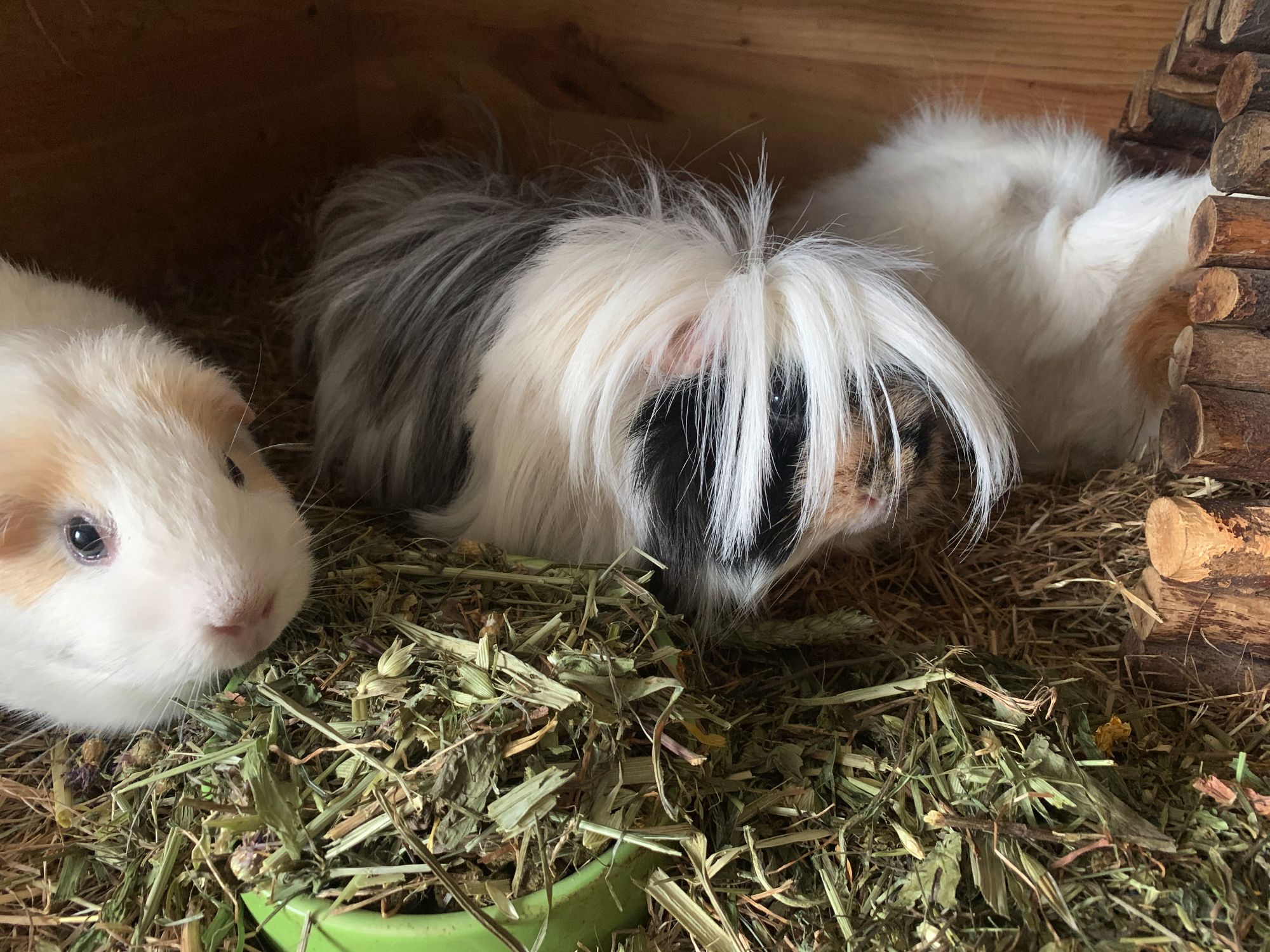 With lots of people keeping backyard chickens and ducks as pets our feathered friends also find themselves in need of rescue support when their owners are unable to keep them, or they become neglected. Our sanctuary ducks are all domestic breed ducks who have found themselves in need of rescue support.
This brother and his two sisters (born 2013) are completely inseparable and follow each other around everywhere. They are call ducks which are small in stature but can be very loud!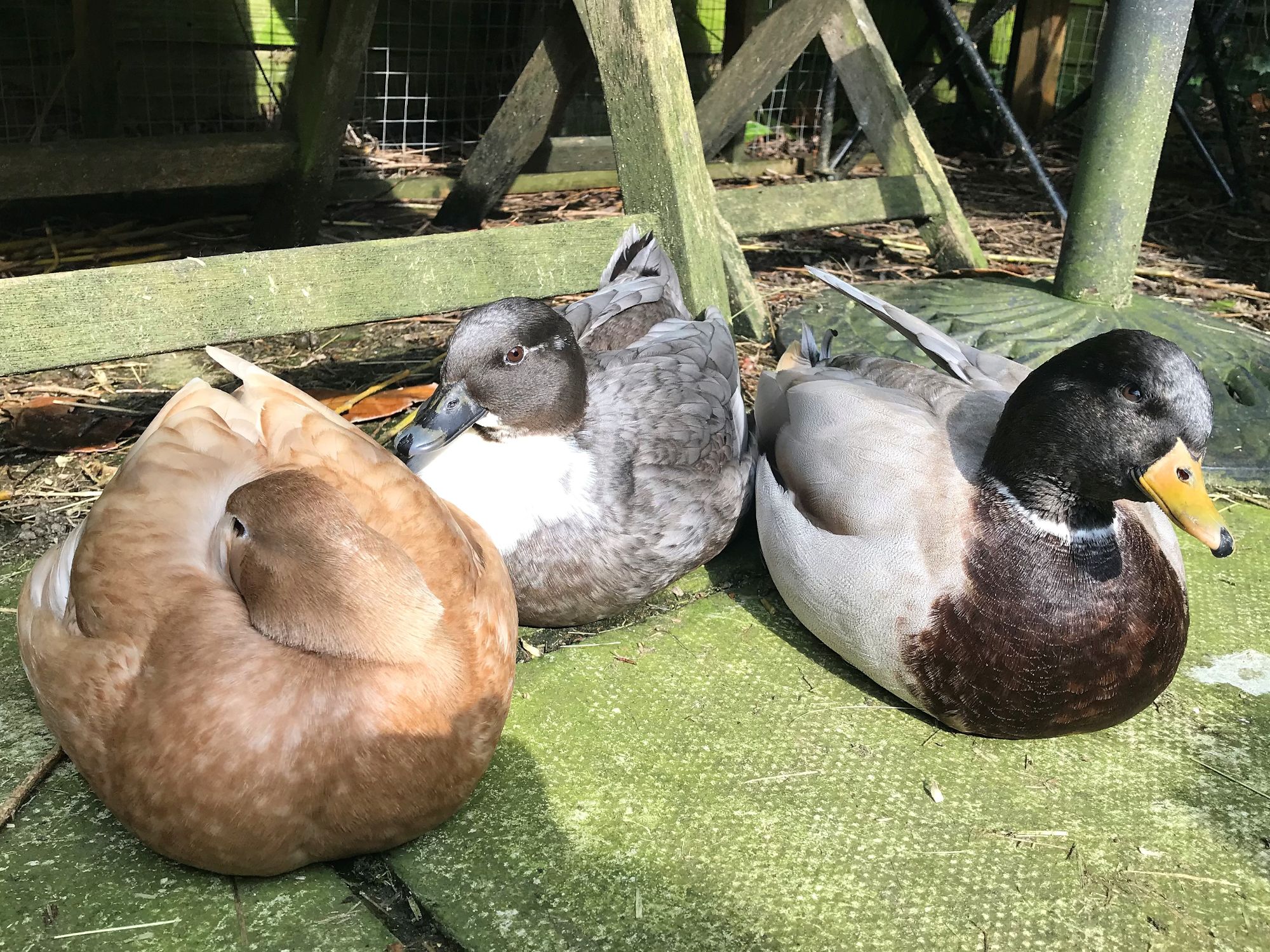 Hippo is a mini lop born 2014, Him and his companion have found themselves in need of rescue support at 6 years old. Sadly, Hippo's companion Coral (who he has been bonded to from a few weeks old) has on-going complicated dental disease, and ear base abscesses making her unsuitable for re-homing. Hippo is a very shy boy who gets a huge amount of support from Coral, and follows her around everywhere. He would be very lost without her so the pair of them will need to remain together.
*Kindly sponsored by Helen April 2021-22*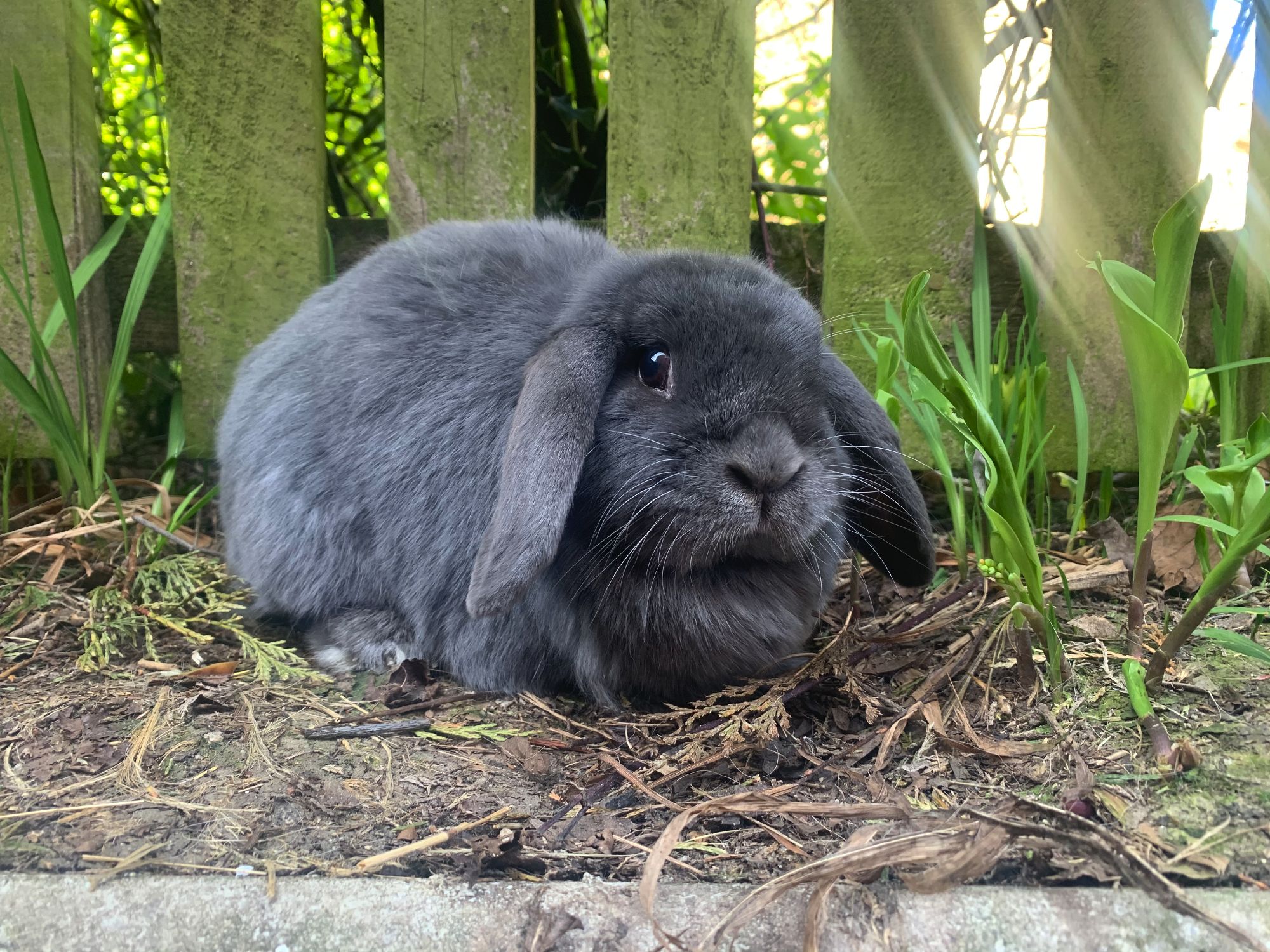 Janet had originally been taken on along with another duck by a couple (with a new-born baby) who thought they would be suitable pets to live inside with them in their one bedroomed flat. They realised very quickly (tragically after Janet's companion died only a few days after they had taken them on) that their 'Friends inspired' plans had been a bit ridulous.
Much to their surprise Judith appeared as a stray in an elderly couple's garden. She'd had her wings clipped (and is breed which cannot fly anyway). Therefore, as no-one in the area claimed to own her it was quite a mystery as to how she'd got there? Despite not being able to fly she turned out to be very fast indeed. The couple had to enlist the help of an RSPCA capture team in order to get her to safety.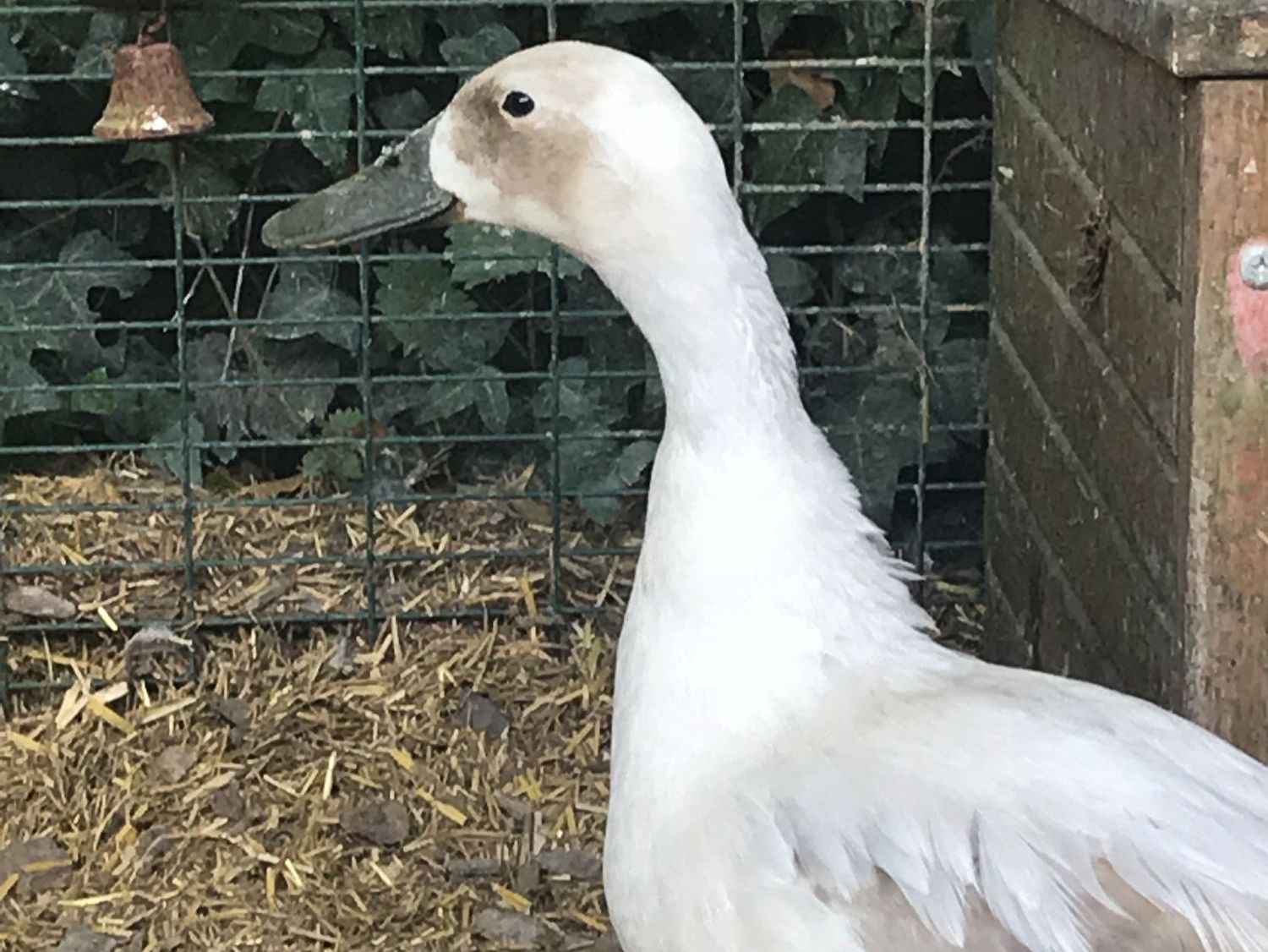 Lady Gaga is a cross breed born in 2013. She became in need of help when her owner developed health issues and struggled with the care of a large number of rabbits. She arrived with a bonded companion, both of which had head tilts with seemingly very different causes.
Lady Gaga has been left with a very pronounced head tilt after being very unwell as a baby (from what was most likely complication from e.cuniculi infection). Severe head tilts can look very disturbing. However, she seems to be very well adapted to living with her disability and appears to be managing very well.
*Kindly sponsored by Cottontails December 2020-21*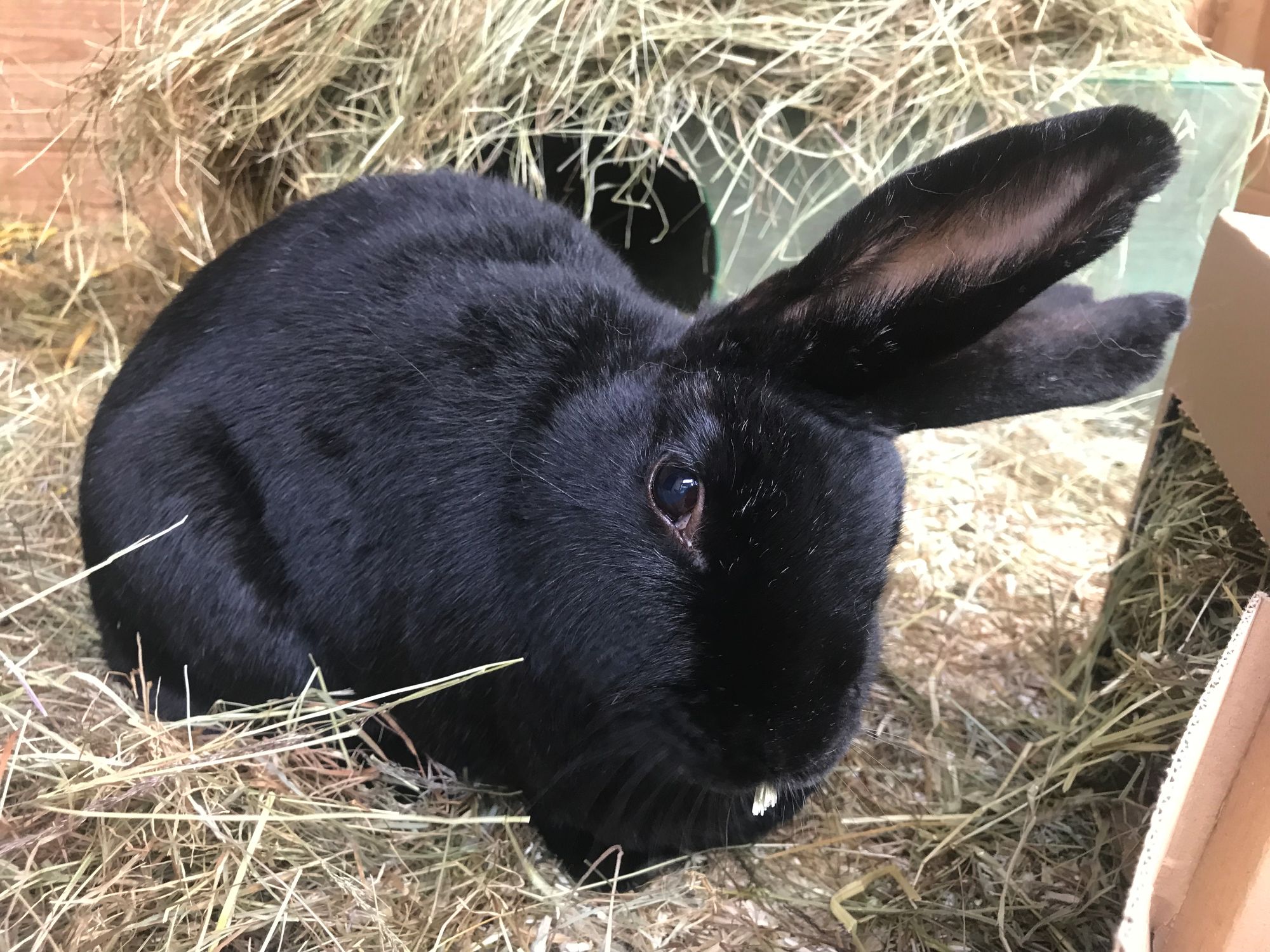 Larry initially joined us along with his four littermates in 2016 at just under a year old. He and his siblings lived all together un-neutered in a very small hutch and arrived in poor matted condition. It was fortunate that there was only one female in the litter and that she miraculously had not become pregnant. Otherwise, they could have potentially had several litters. Managing to live together under such inappropriate conditions for so long without injuring each other was a testament to their good natures. After some rehabilitation, Larry found a new home and has been very well cared for in the meantime. Sadly, he has been returned to us four years on along with his bonded partner Poppy, who has multiple health issues and needs to stay with us long term.
Lego is a medium sized cross breed born in 2017. He has joined us after losing his companion in order to ensure he has bunny companionship, and for us to monitor/address his on-going health issues.
Lego is unfortunately prone to painful urinary tract infections, and bladder sludge. He can need help keeping himself clean to manage urine scalding. He has joined us on the tubby side, and a little reluctant to exercise. We are hopeful that by managing his weight (and with his new group of bunny friends encouraging him to be more active) that these issues may be improved.
*Kindly sponsored by The Parkies, and Julie March 2021-22*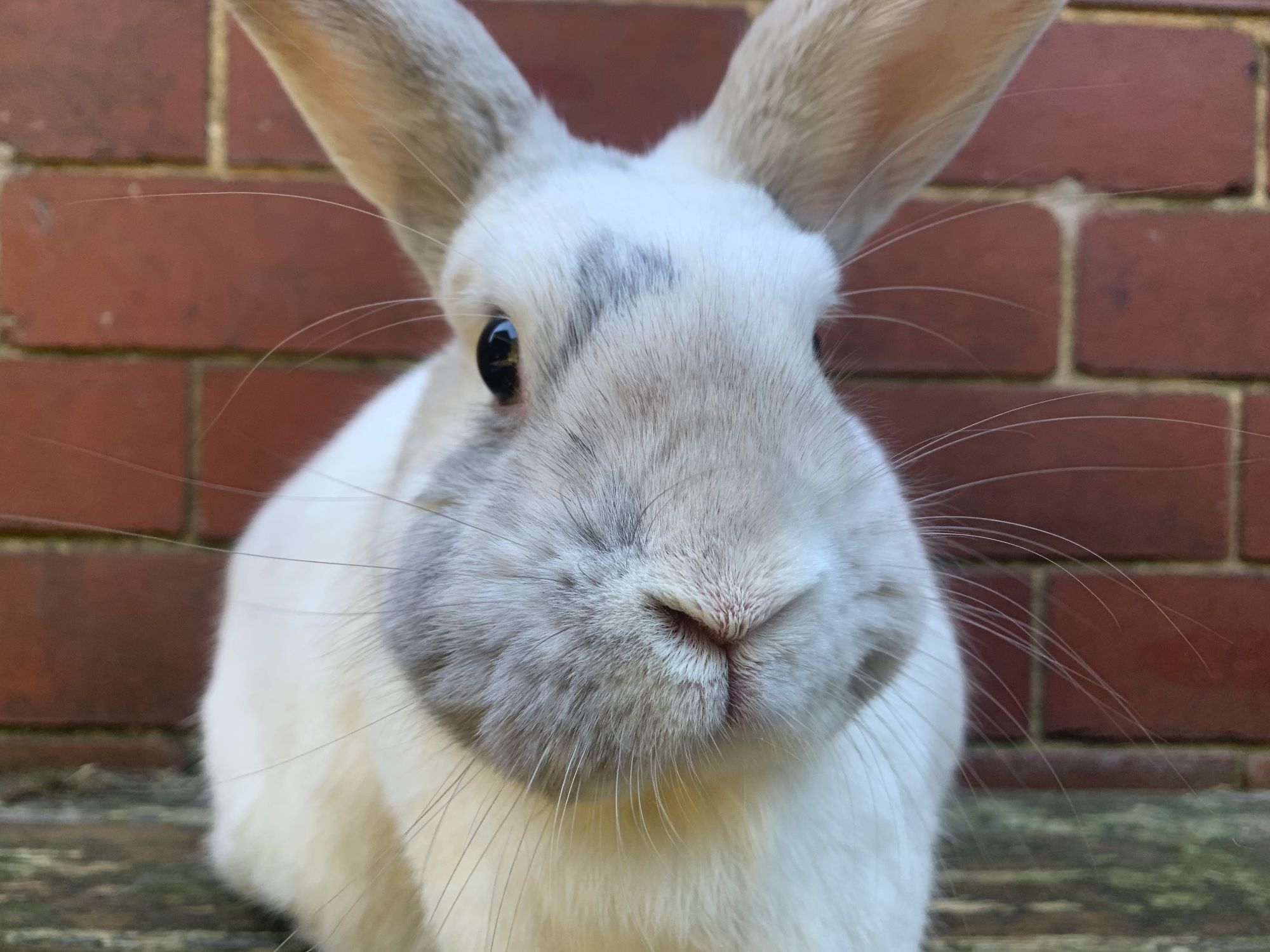 Marky Mark is a handsome giant breed lop who joined us as a stray. Something had caused this lovely boy to self-mutilate to a disturbing extent before being handed into us (this is unusual in rabbits.) He arrived having chewed his tail off to the point of leaving the bone exposed, making him very vulnerable to infection and in need of treatment.
After making some sanctuary bunny friends, Marky Mark seemed much happier and, to our relief, stopped self-harming. He remained with us in good health as a much-loved member of the Camp Nibble family until sadly recently developing a severe head-tilt as the result of an ear infection, which his huge loppy ears have predisposed him to suffer with. He is currently managing well, but of course his health and welfare is being closely monitored.
*Kindly sponsored by Phil and Sarah January 2022-23*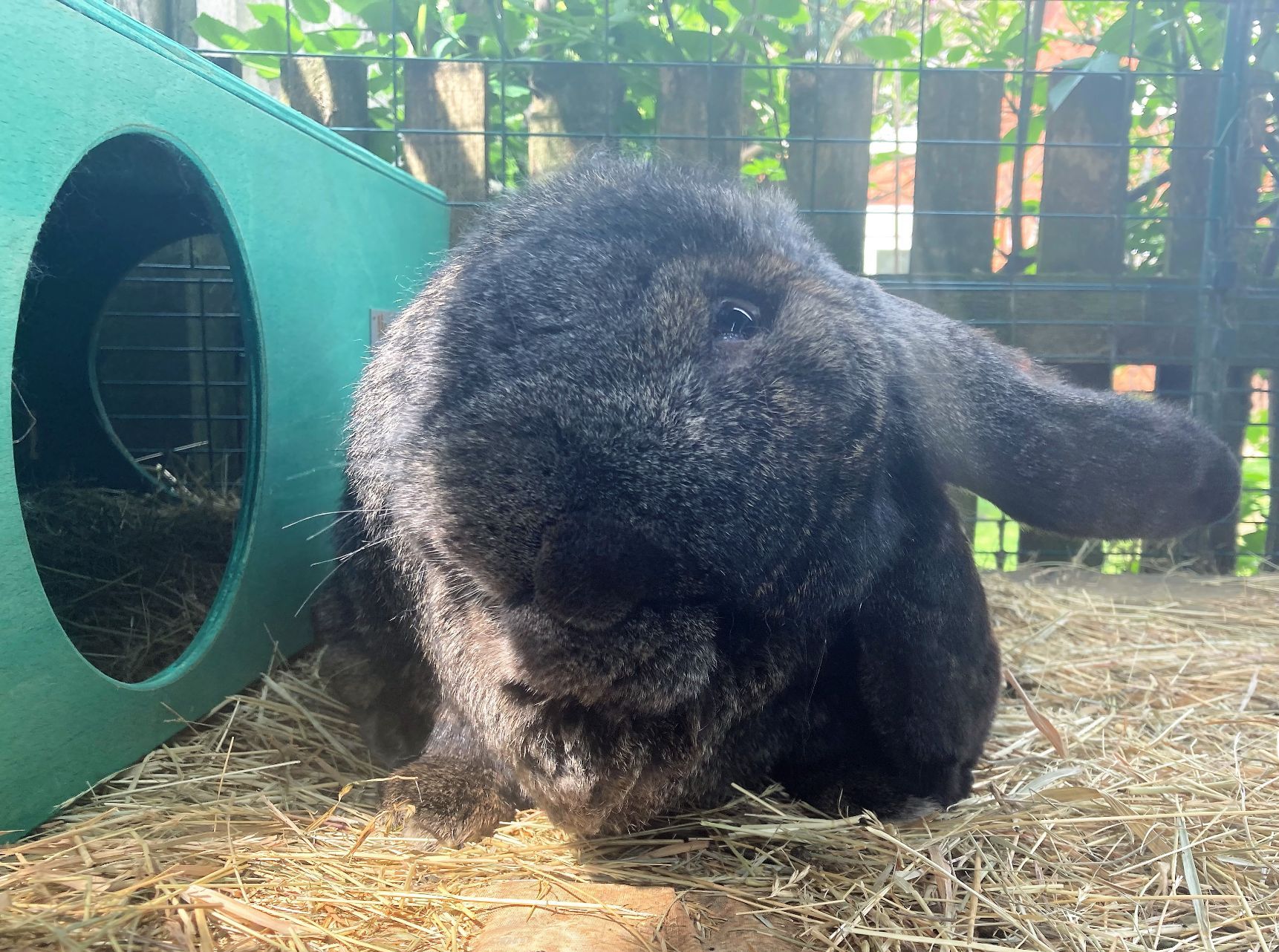 Morty is a gentle little boy who has joined us after being helped by two different rescue shelters. He is currently being monitored for a slight head tilt and e.cuniculi related health issues. He has bonded very closely with a much older blind bunny and does a great job of being his support and guide.
*Kindly sponsored by James February 2021-22 and Julie July 2021-22*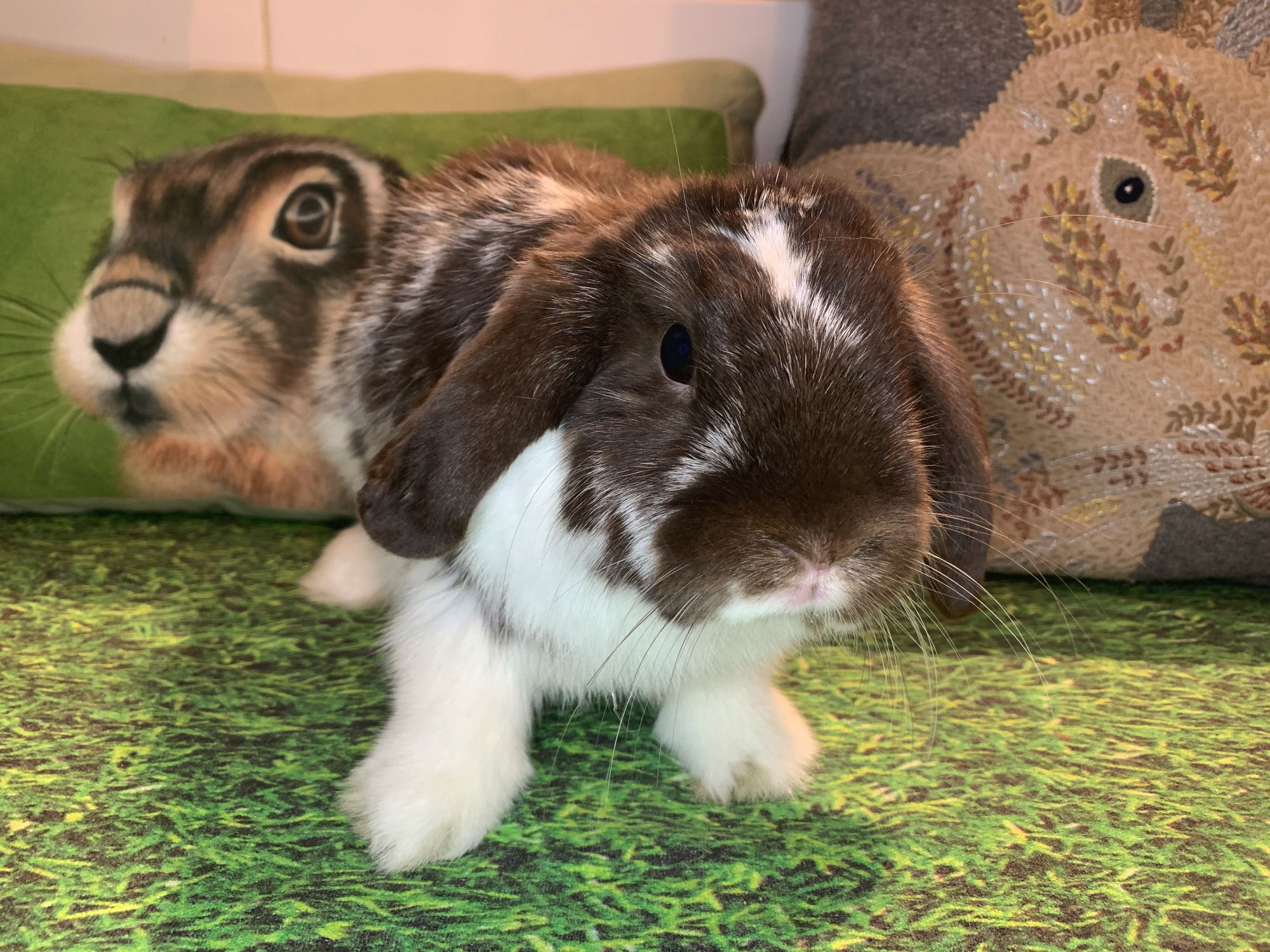 Nick Fury is a medium sized lop born around 2018. He is full of character and after originally being rescued from neglect has subsequently been in and out of several homes (through no fault of his own) before joining the Camp Nibble family.
Prior to being rescued he had sadly lost the end of his nose (giving him a piggy-look!), as well as having lost an eye. His most recent owner sadly felt unable to keep him following a diagnosis of complicated dental disease and an abscess. He has joined us here to make sure that any health issues can be carefully monitored/treated, and to ensure that he finds bunny company.
*Kindly sponsored by Helen May 2021-22*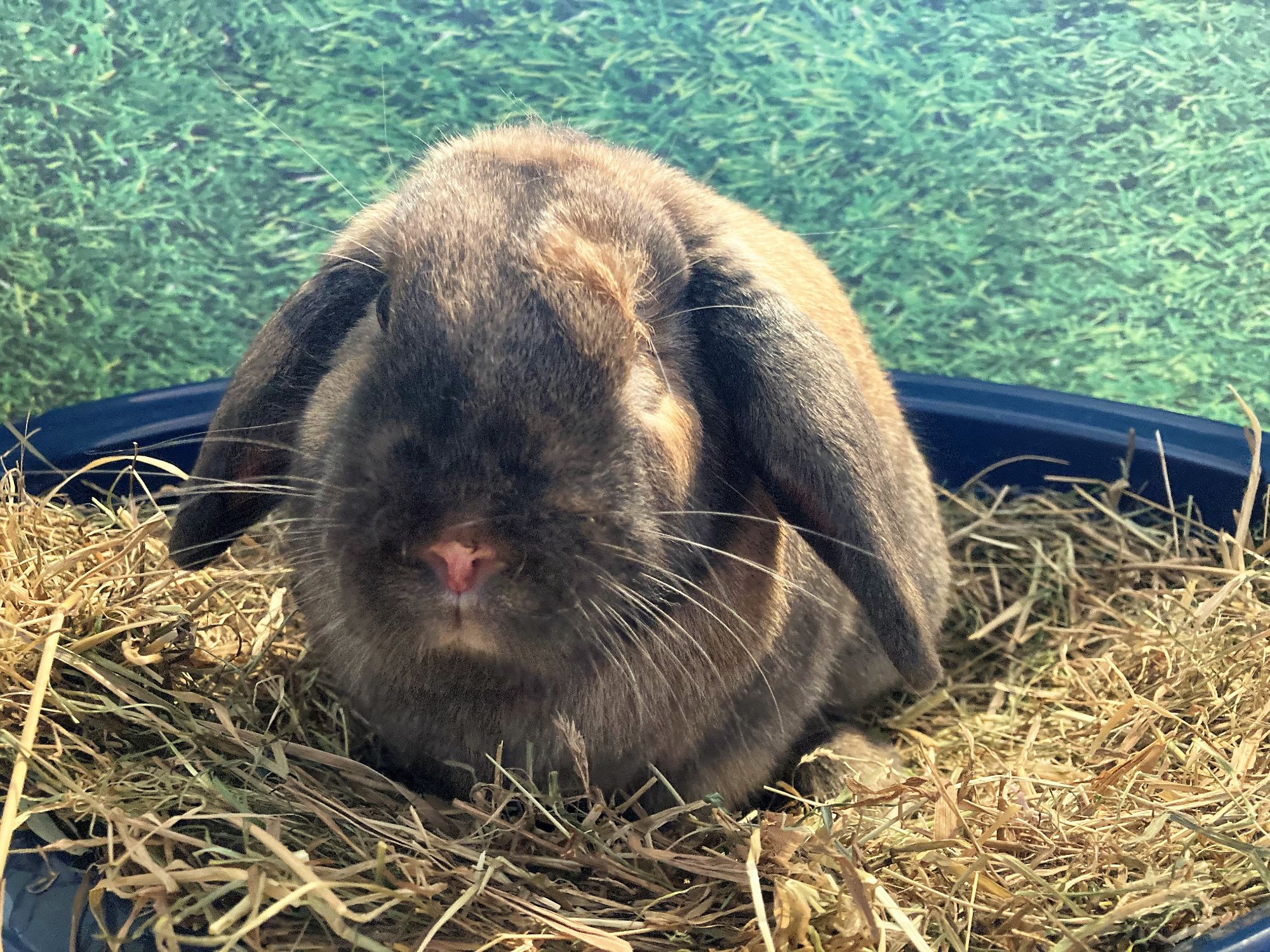 Orville is the smallest adult rabbit to come into the rescue at around 800g. He was originally bred to be a show rabbit, but was handed into us here along with a number of rabbits and other small animals in need of help.
Orville has been bred to have a completely flat face (brachycephalic). Although, this may look very cute it is unfortunately linked to health issues. A regular longer wild type face is a much healthier look for a rabbit.
Although, they are an unlikely couple Orville has fallen in love with giant bunny Thumbelina. He is often found following her around like a little puppy!
*Kindly sponsored by Ann December 2020-21*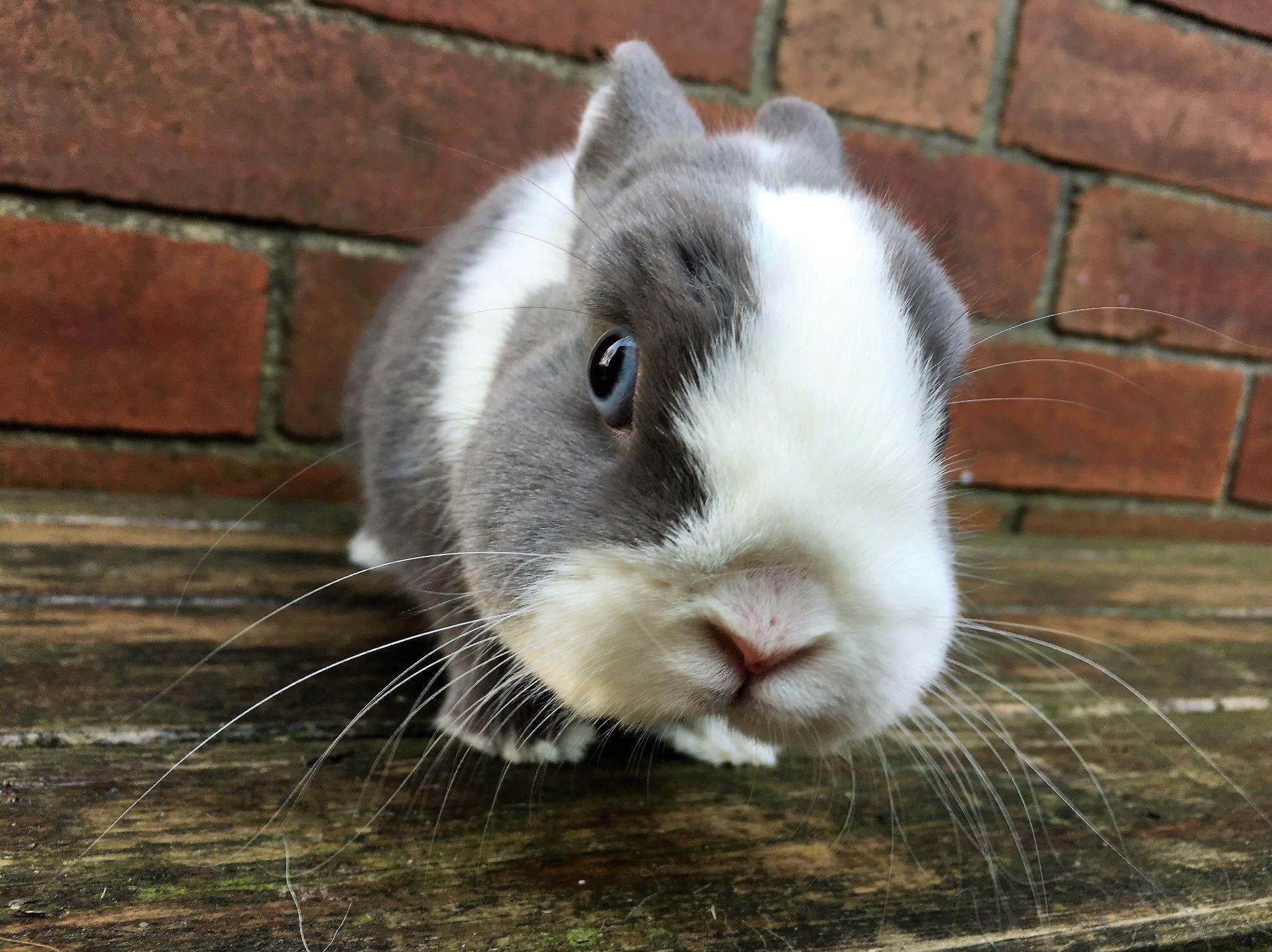 Peppa Pig is a sweet-natured crossbreed born in 2014. She joined us at 5 years old in need of rescue support. She has a severe head tilt which affects her balance. Despite this, she is currently managing well and still enjoying life. Sadly, Peppa's sister, who she was closely bonded to, passed away shortly before she joined us. Therefore, it's been lovely seeing her happily settled here with a group of special friends.
*Kindly sponsored by Rumaana Oct 2021-22*
Pickle Rick is a very handsome crossbreed born in 2011. He joined us in need of rescue support at 9 years old after being handed into a vet practice. He has an obvious deformity to one of his front legs, which bends at a severe angle. This means he uses his elbow to walk on rather than his foot. This is not a new injury and is more likely a deformity from birth.
We are guessing that Pickle Rick might have lived alone so far as he has joined us un-neutered. Therefore, its been such a joy to see him living so happily with us as part of a large group of bunnies with various special needs. Since joining us, Pickle Rick has lost sight in one eye. We need to monitor the eye for any further severe changes that might impact on his quality of life. As an older man now, we hope this will stay stable to spare him any major surgeries. He is currently happy and enjoying his retirement to the full.
*Kindly sponsored by Jennifer December 2021-22*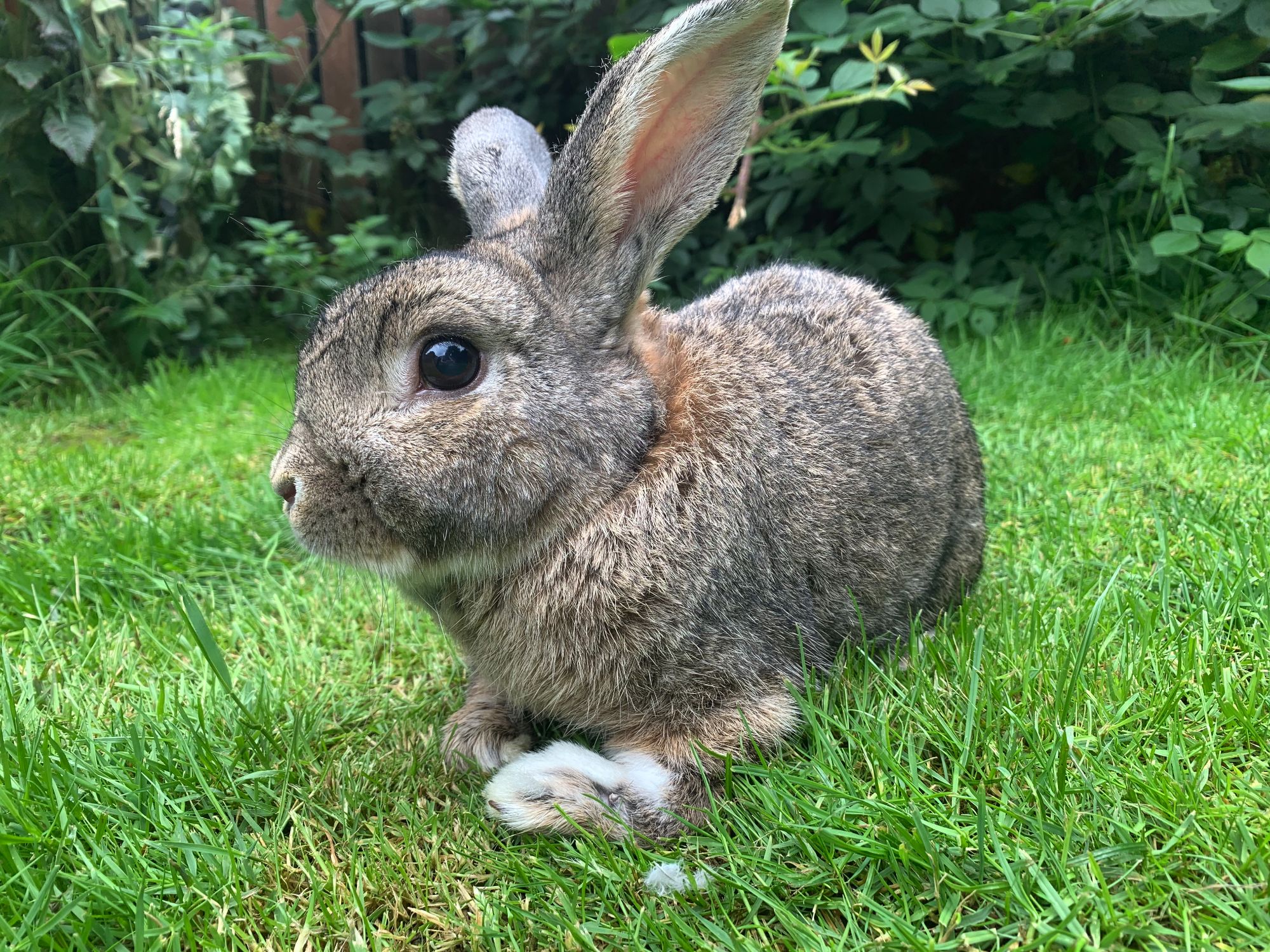 Poppy is an adorable lion head lop born around 2014/15. Her previous owners initially rescued her as a young bunny from a very unsafe situation. Poppy has joined us with multiple complicated health issues and will remain with us as part of our sanctuary family. She can experience urinary incontinence due to a spinal injury in the past, and therefore, needs frequent help with hygiene. She is prone to snuffles, urine and eye infections and gut stasis. She has also required dental treatment in the past and treatment for a large abscess behind her eye. We haven't yet come across quite so many different health issues in one bunny! Poppy really does illustrate just how complicated rabbits can be health-wise.
*Kindly sponsored by Emily & Josh November 2021-22*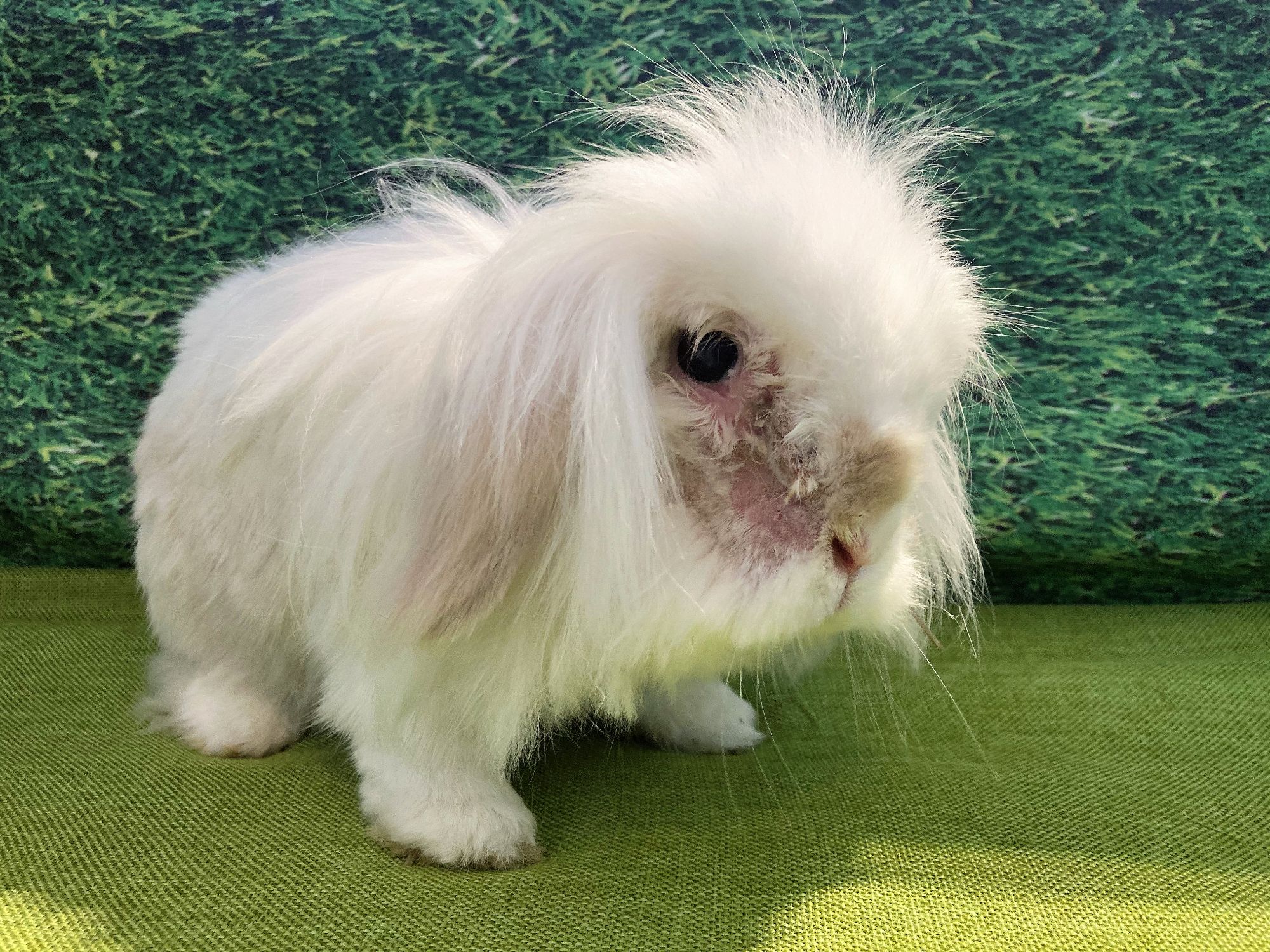 Rick is a laid-back large lop born in 2012, he has joined us in need of rescue support at nearly nine years old.
Rick has dental disease, and is sadly blind due to cataracts in both eyes. He is showing his age as a more senior bunny, and likes to spend much of days relaxing. After losing his companion when he was two years old, it's been lovely finding this old boy a companion to guide him around, and to snuggle with in his retirement.
*Kindly sponsored by Jillian January 2021-22*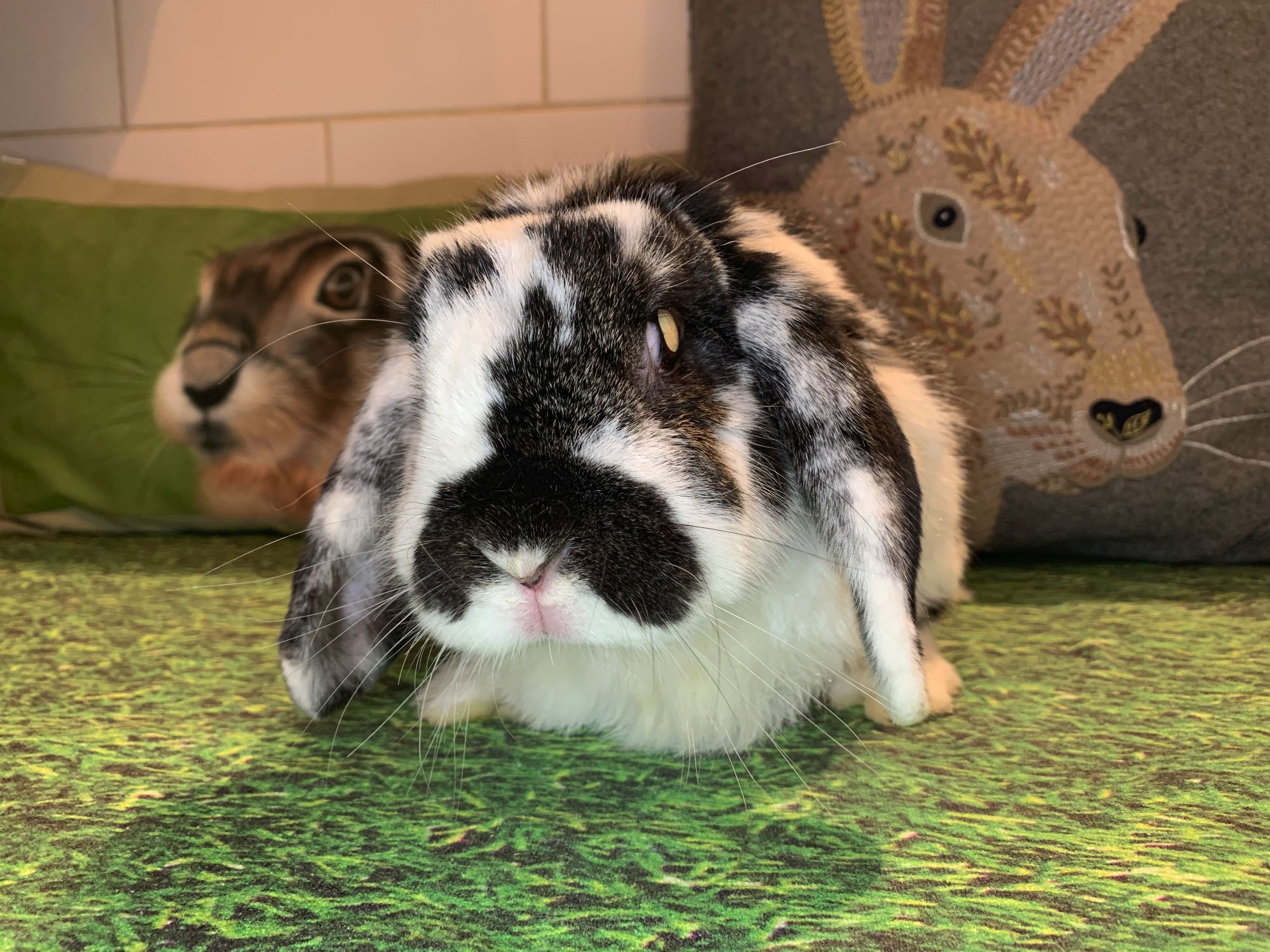 *Kindly sponsored by Liz January 2021-22*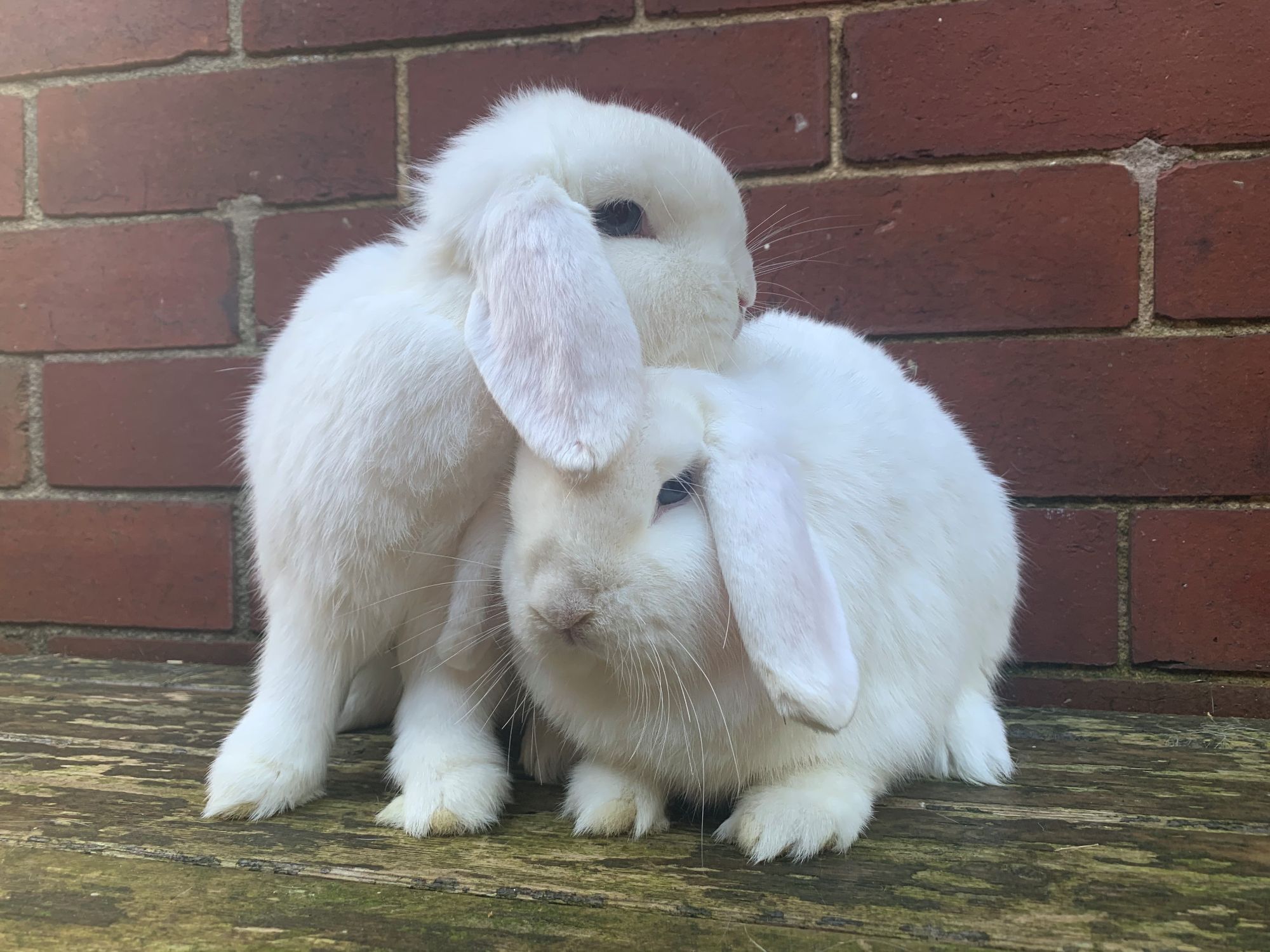 RuPaul has joined us in need of sanctuary support due to his caring owner's genuine changes in circumstance. They'd adopted him from a rescue shelter following a bad start to life. He is a giant bunny weighing in at 7kg. Like many rabbits bred to look so different from how nature intended, he is sadly predisposed to many health issues. Due to chronic eye, skin and mobility issues, he will need ongoing medications and help with grooming and keeping himself clean. After recently losing his bonded companion RuPaul has joined us to ensure he receives bunny companionship and all of the ongoing special care he needs.
*Kindly sponsored by Rachel*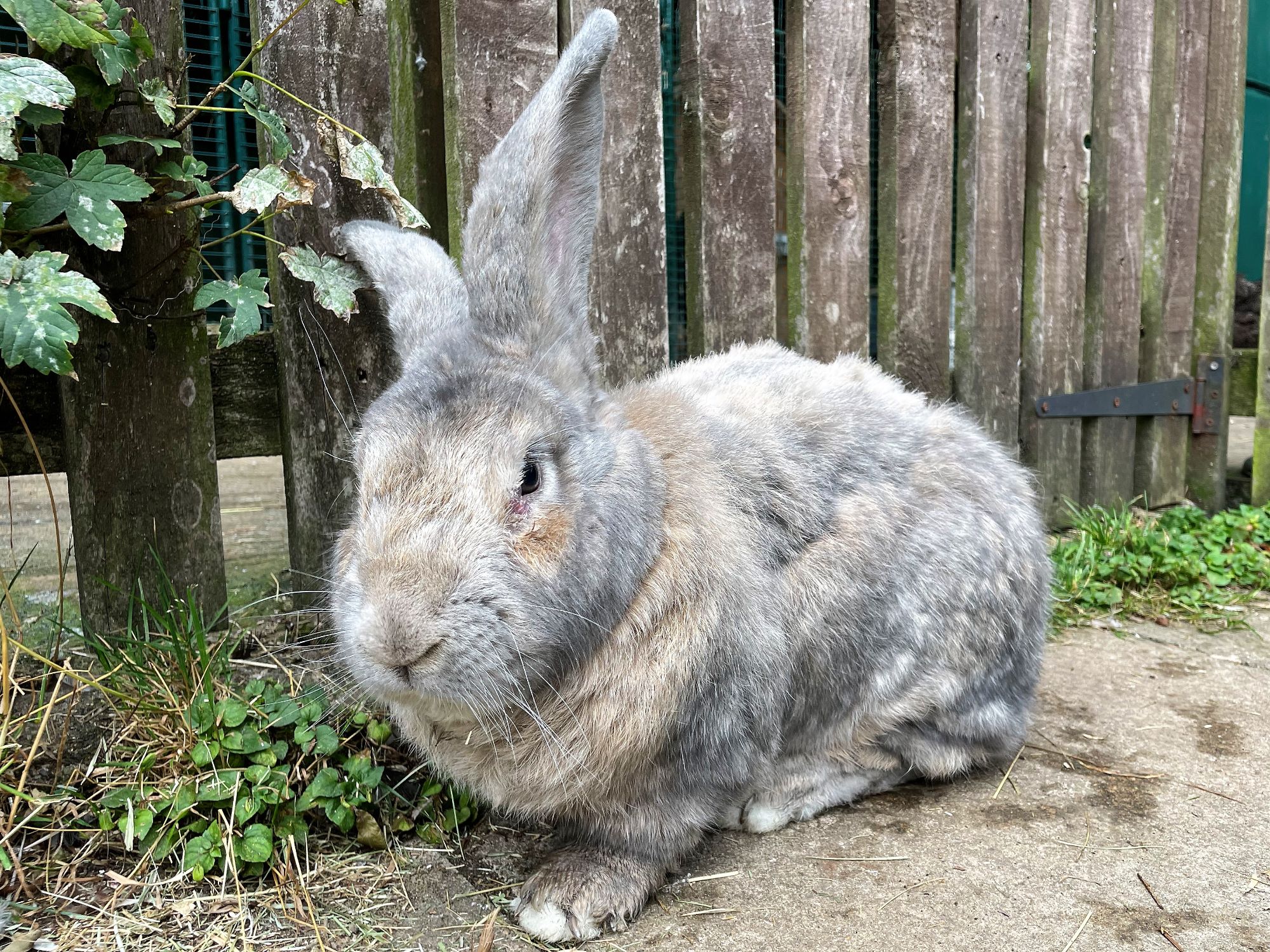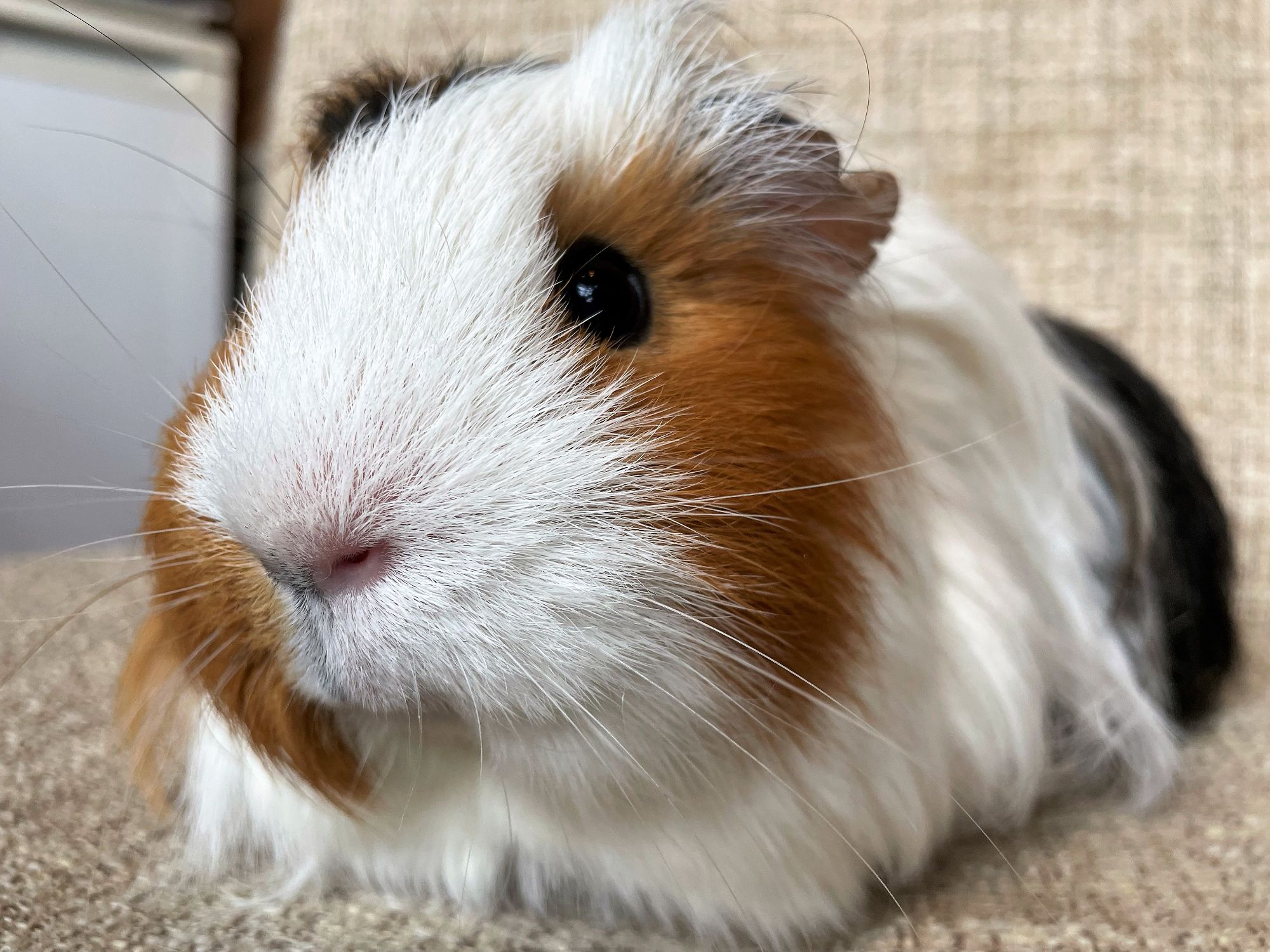 This very sweet ruby-eyed lionhead was handed into a vet practice as a stray. We suspect that he may have become unwanted after developing a very severe head tilt. Having been unclaimed after 7 days with no-one there able to offer him a home he was facing euthanasia. Therefore, arrangements were made for him to join us so that he could have the chance of receiving treatment.
Starlord's prognosis was very uncertain when he first arrived. However, he has settled in very well, and seems much happier and a lot more stable (despite still being very wonky!) He is currently managing well, and is able to perform happy normal rabbit behaviours. He is a very sociable little guy and has bonded brilliantly with his sanctuary friends (with their own e.cuniculi related issues).
*Kindly sponsored by Oliver & Deeba June 2021-22*
This sweet little man was taken in by a vet practice after being found as a stray. It is suspected that he had been abandoned by his owner. He joined us in a bit of a sorry state having lost much of his fur due to a mite infestation, underweight and dribbling constantly due to being in urgent need of dental surgery. Despite being tiny and looking like a baby our vet suspects he is more likely an older boy.
S.King is doing so much better now after his initial dental treatment and a little tlc, and has been able to be safely neutered. His dental disease will need careful monitoring and he will almost certainly need on-going dental procedures.
*Kindly sponsored by Susie January 2021-22*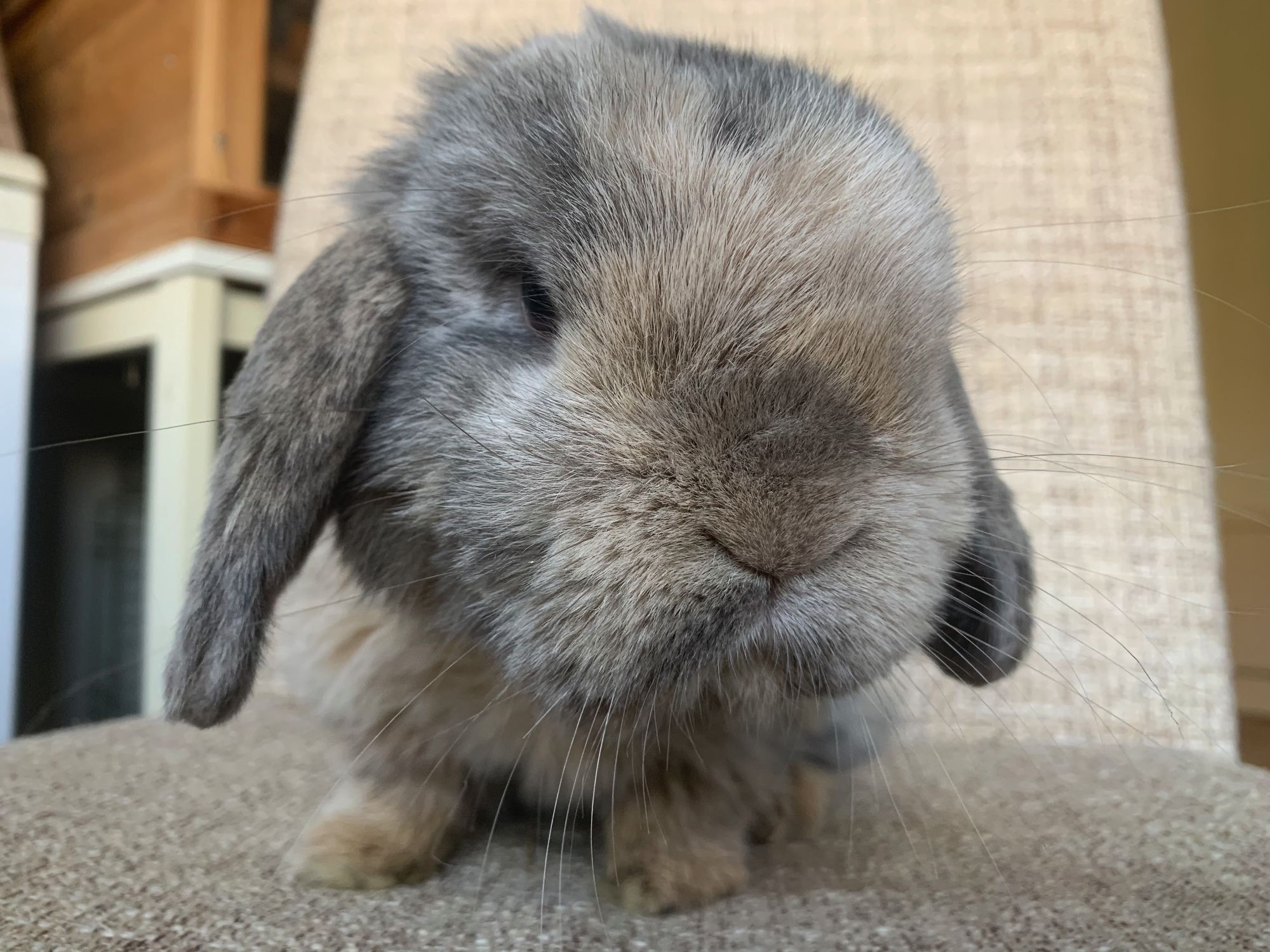 Wolverine is a fluffy lion head who was handed into a vet practice as a stray.
Sadly, he has complicated end stage dental disease, leaving his long term prognosis very uncertain. He requires daily medication and very careful monitoring to make sure that he is happy and comfortable. Our vet thinks that he is almost certainly an old man.
He is now neutered, however as he arrived as an entire male we would speculate that he may have spent many years living alone. It is lovely to see this gentle kind soul enjoying the company of his special needs bunny friends.
Since joining us Wolverine has sadly needed four surgeries for complicated jaw abscesses. He has bounced back incredibly well after these. He is a real fighter and clearly really enjoys his life here. He does feel invincible, but in reality he is at a big risk of developing another abscess any day which may just so sadly be too complicated for surgery.
*Kindly sponsored by Cottontails December 2020-21*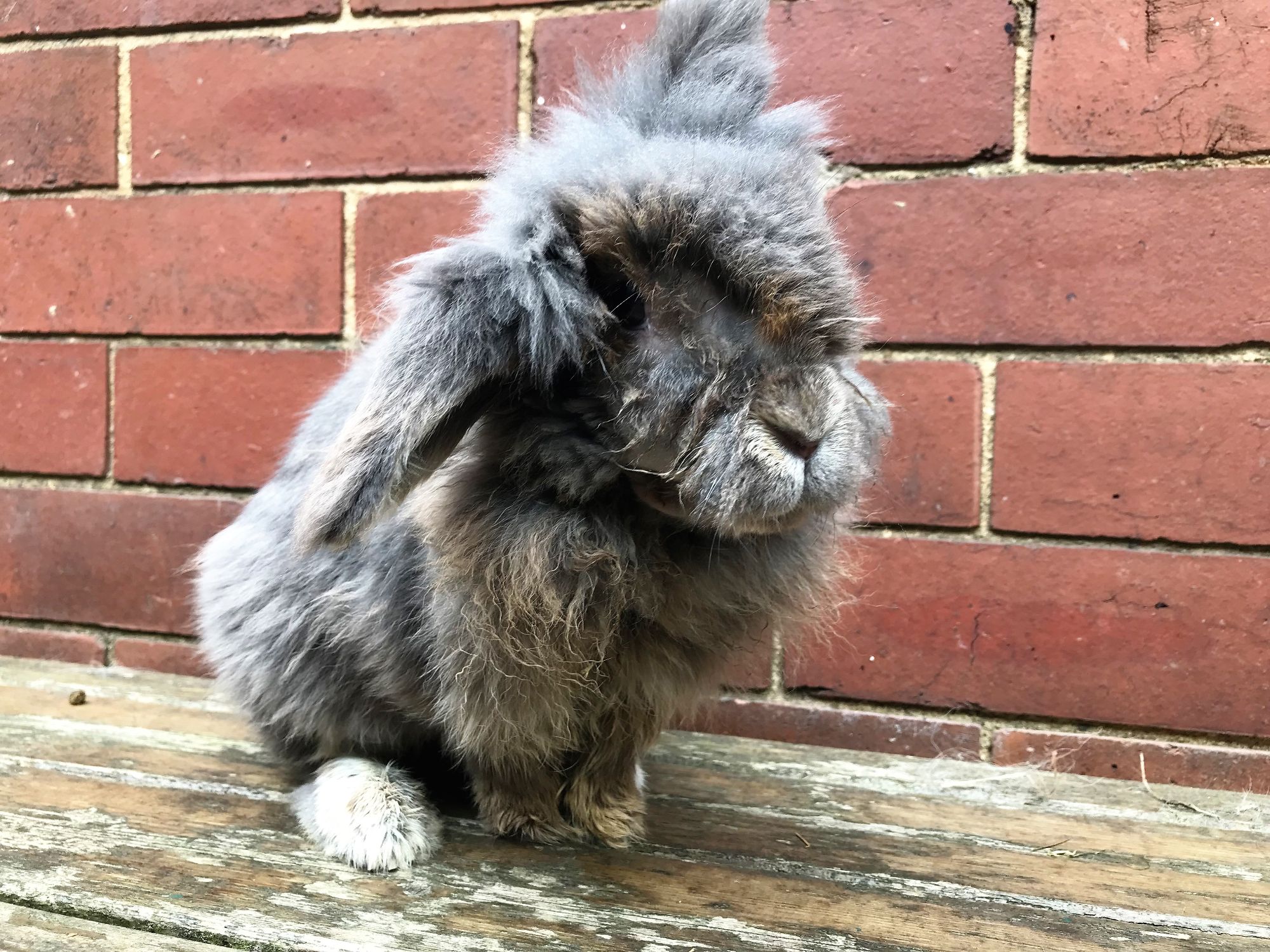 Youtube was rescued by a wonderful rescue group who saw him being advertised as unwanted, and in need of vet care after developing a head tilt. He is a gorgeous friendly chap who has now received initial vet care and is managing well. He is very wonky, but is stable and well at the moment.
We are delighted that he is currently being very spoilt with a VIP fosterer Opera singer Wallis Giunta
Wallis has taken brilliant care of our Camp Nibblers in the past and is a very experienced dedicated bunny foster mum (whenever she finds herself in one place for long enough) Having fostered bunnies for rescues in different countries, she has taken care of headtilt hoppers like YouTube before.
*Kindly sponsored by Danny June 2020-21*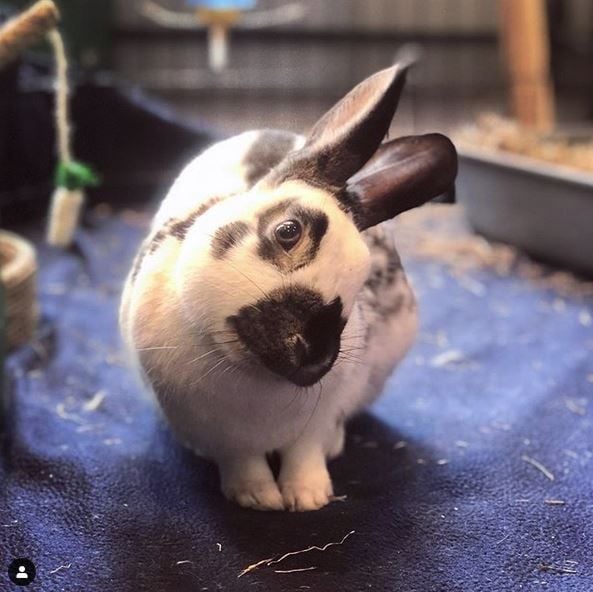 Vespa, Sigourney Weaver & Royal Mail