All of our Camp Nibblers are animals who have found themselves in need of rescue support for a variety of reasons. In many cases they have been abandoned, or have been victims of cruelty/neglect before joining us.
We specialise in helping very hard to re-home rescued animals, and operate primarily as a sanctuary for small animals with complicated health issues. Therefore, a vast majority of our rescue animals are permanent sanctuary residents, or animals currently under treatment/health assessment. Our sanctuary animals shown here are in most cases living in happily bonded compatible groups and are not available to be adopted. They will retire here at Camp Nibble receiving all of the love and care they need.
*We do still have small numbers healthy rescue animals (most will have joined us as rescue emergencies) looking for new homes. These may or may not be featured below. Priority to adopt these will be given to our previously vetted trusted homes. Therefore, if you have previously been approved to adopt from us, and are looking to offer another rescue animal a home please do get in touch in case we have someone suitable for you in need of a home*
Any animals featured below who we are actively looking for excellent new homes for will be labelled *We need a forever home*.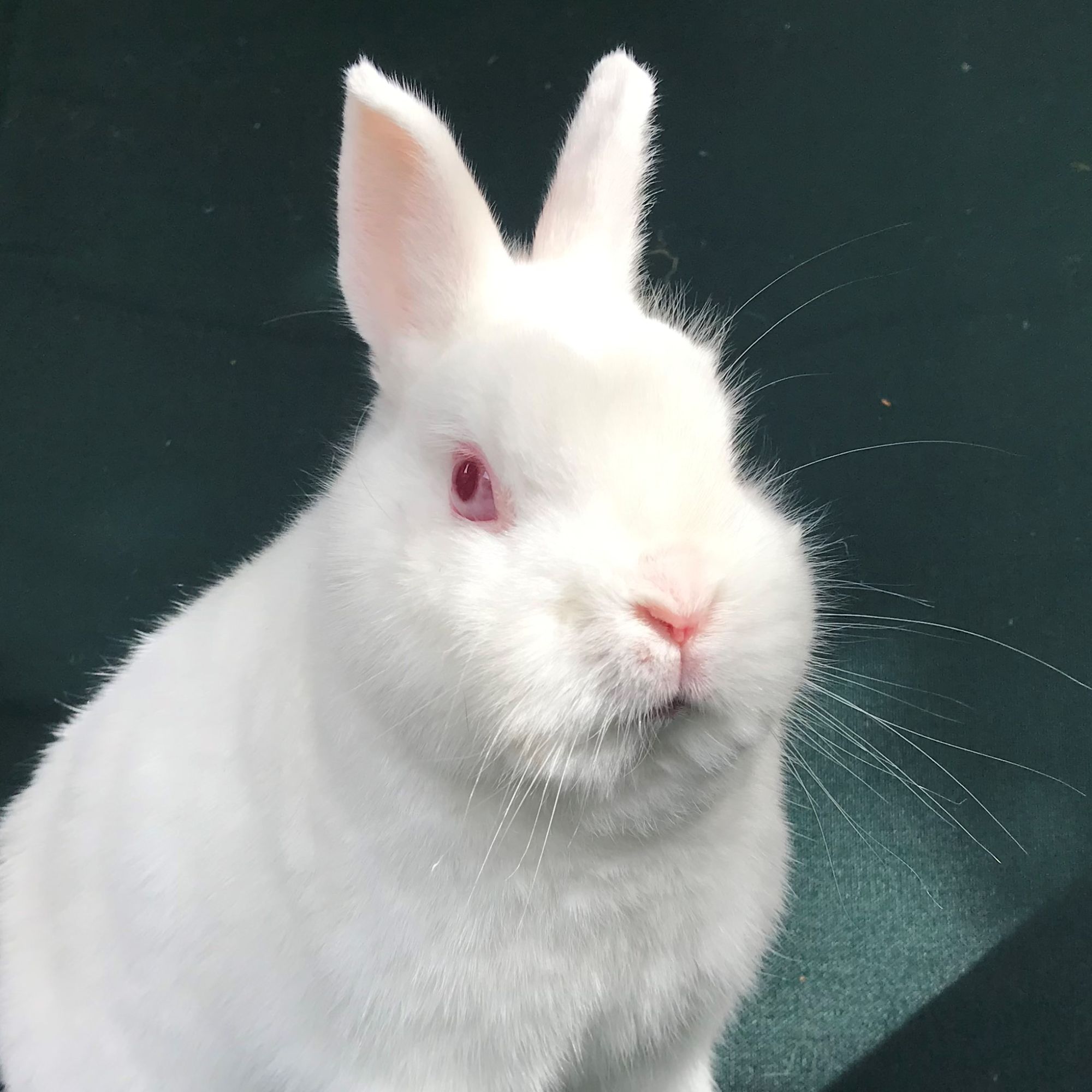 Beatrice is a sweet (yet feisty!) mini lop born in 2014. She originally joined us in 2016 due to her owner moving to accommodation that did not allow pets. She found a lovely new home with a companion. However, she has sadly needed to come back to us.
Beatrice suffers from recurring infections in her eyes and nose. Her very cute flat squishy face does sadly make her predisposed to health issues such as this.
Unfortunately, Beatrice has also developed complications from e.cuniculi infection including splay legs and intermittent incontinence. This can make it hard for her to keep herself clean and hygienic meaning she needs a lot of extra help in this area.
*Kindly sponsored by Helen April 2019-20*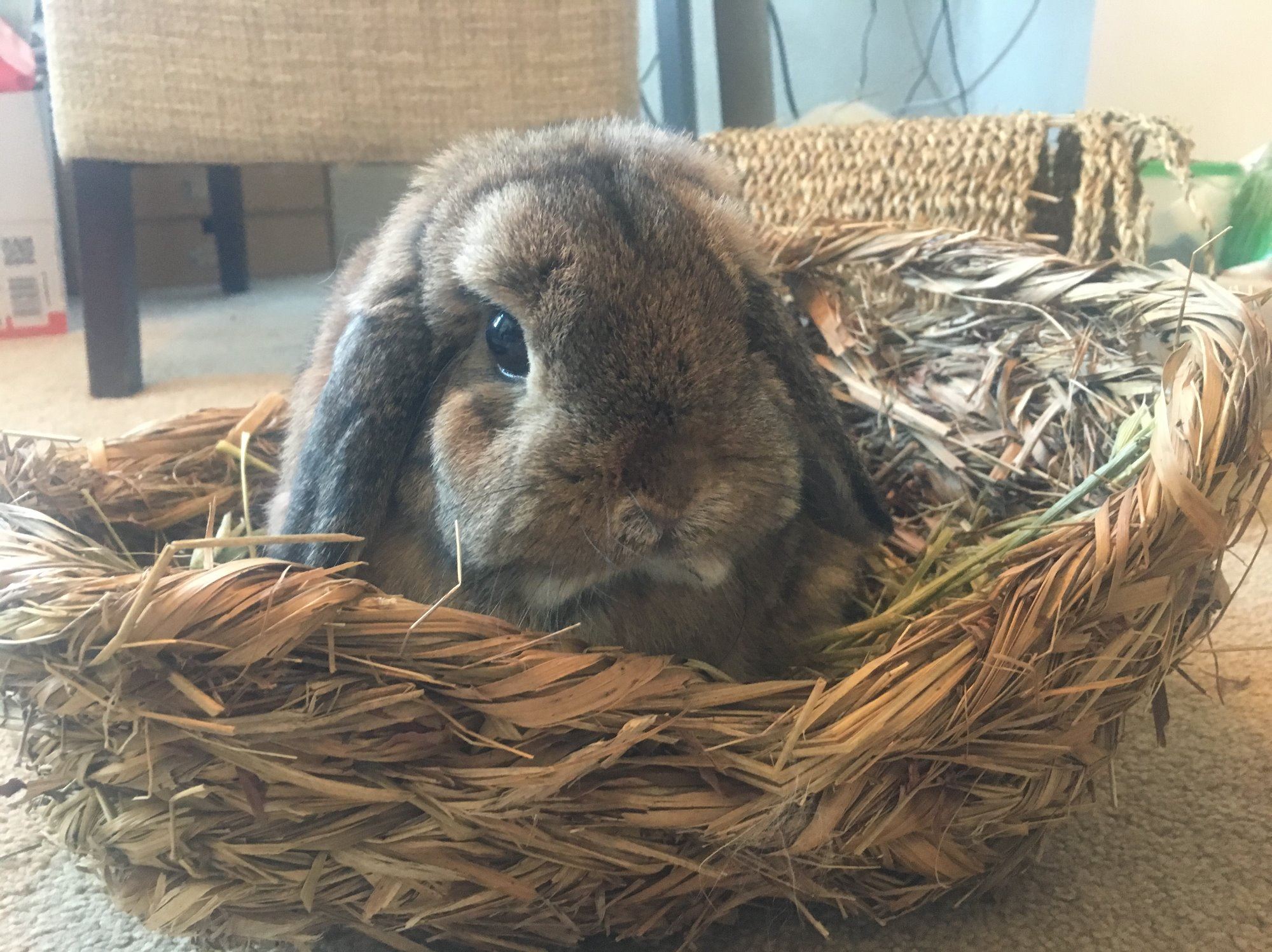 With lots of people keeping backyard chickens and ducks as pets our feathered friends also find themselves in need of rescue support when their owners are unable to keep them, or they become neglected. Our sanctuary chickens are old ladies who have needed our help, and have made Camp Nibble their home.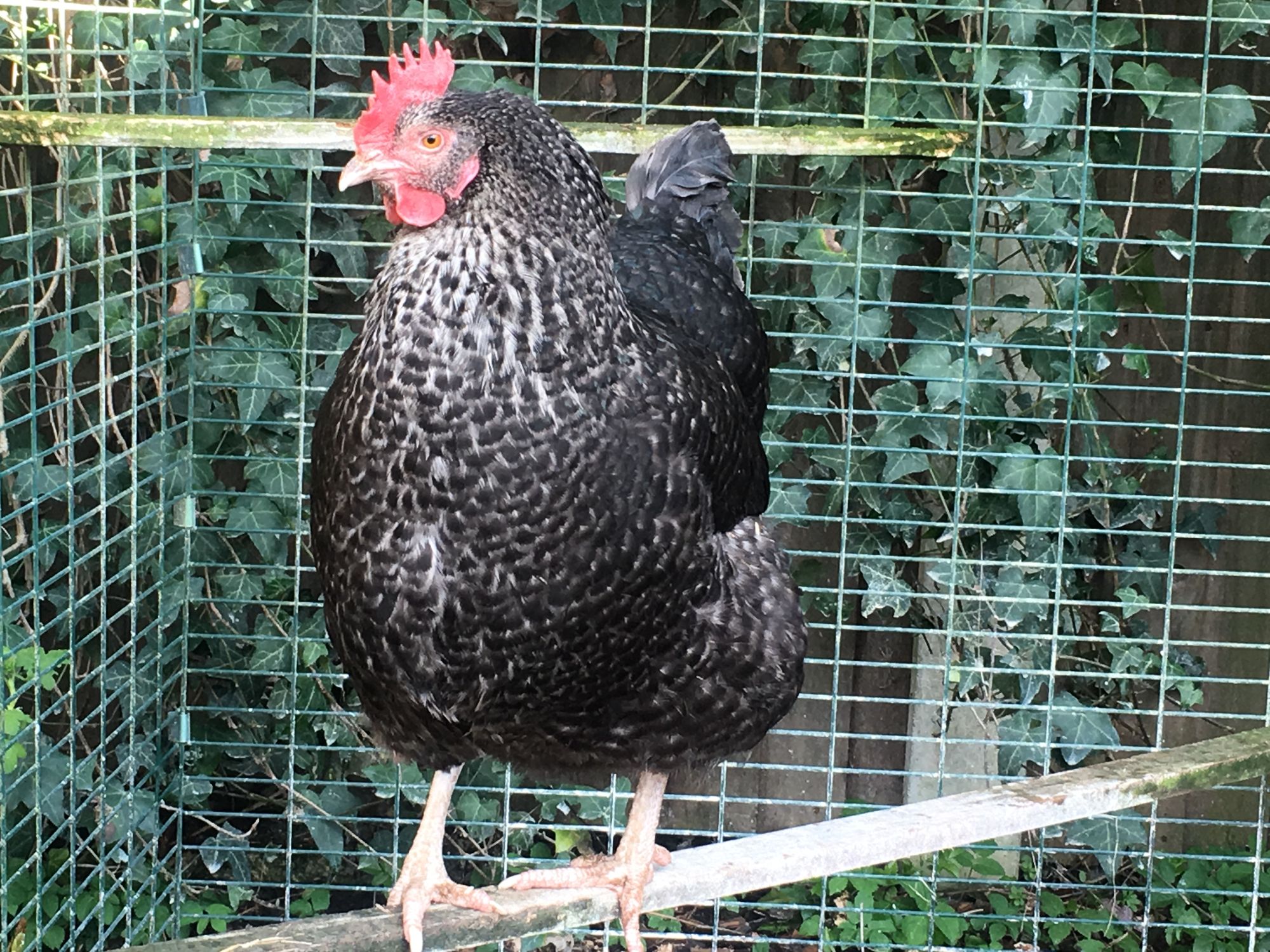 Bun Jovi is a handsome little dutch who was handed into a vet practice as a stray.
X-rays have revealed that he has old breaks to his pelvis which have healed without treatment. The vets who have examined him believe his injuries are suspicious of him possibly being kicked in the past. His mobility is being monitored. Although, he is currently managing well his injuries will affect him sadly for life, and are likely to cause him more issues as he ages.

Bun Jovi is a cute little guy with lots of character. Although, he is one to give unpredictable bites so beware. He is especially cheeky and naughty during his vet check ups! Bun Jovi can be rabbit aggressive and isn't suitable for group living. However, he has happily turned out to be a great husband to one of our sanctuary dental bunnies who was also struggling to make friends.
*Kindly sponsored by Sarah February 2019-20*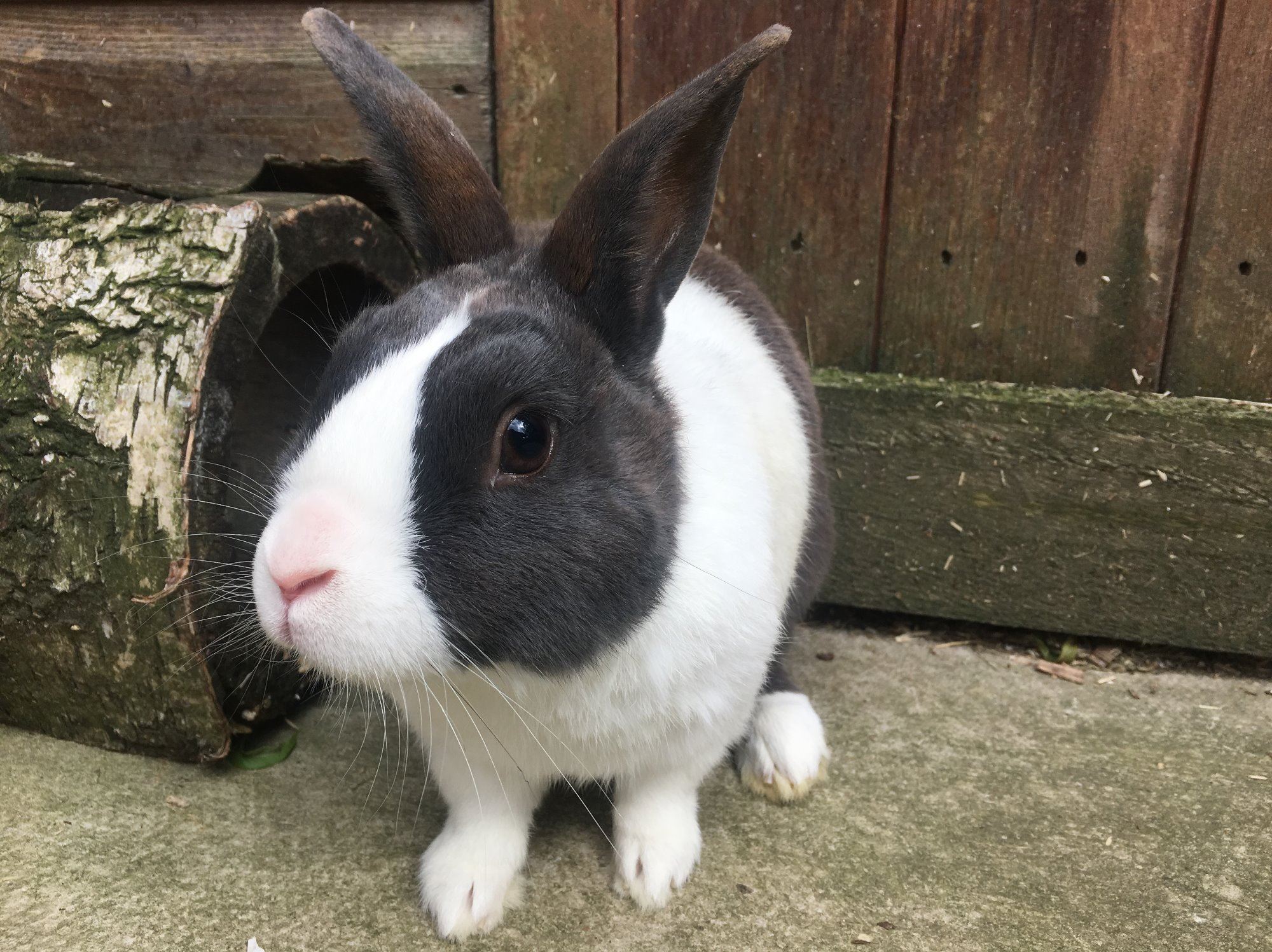 Carson joined us after being found as a stray. He was luckily brought to safety by a kind family just in time to avoid the terror of living rough outdoors during bonfire night and fireworks season!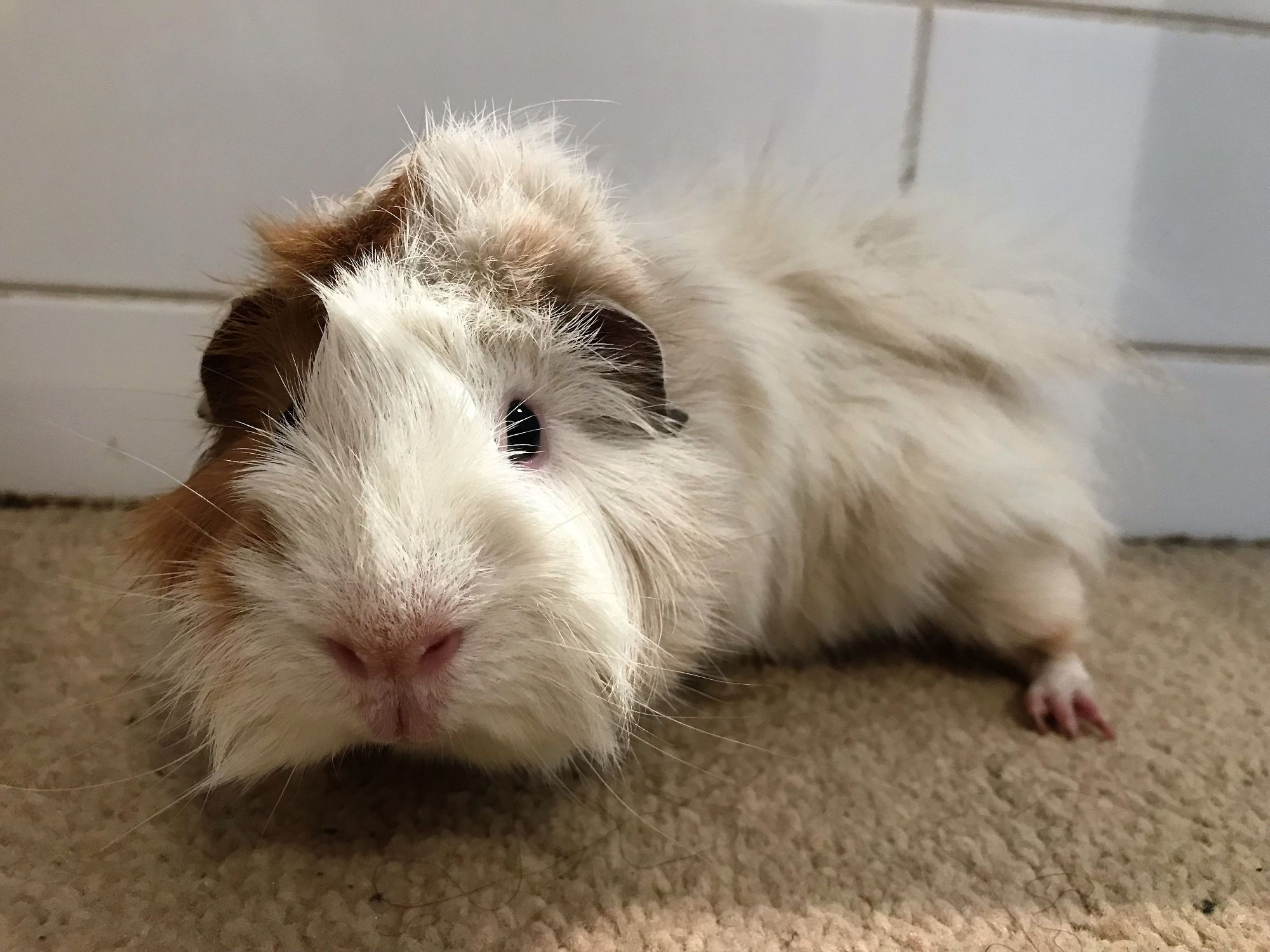 Chewy joined us (along with his brother) with a very sore and disfiguring fungal skin infection. He had been signed over to a vet practice to be pts as his owners felt unable or unwilling to fund treatment for his condition. They agreed though that they would be happy for the pair of them to come to Camp Nibble to receive the care they needed. Sadly, Chewy's brother became very unwell and has since passed away from additional health issues. Chewy is doing well following an extended period of treatment, and has since the loss of his brother happily become closely bonded to one of our long term resident guinea pigs (with dental issues.)
Chewy really does have the craziest hair of all of our piggies! He requires a lot of grooming to keep his huge mane under control.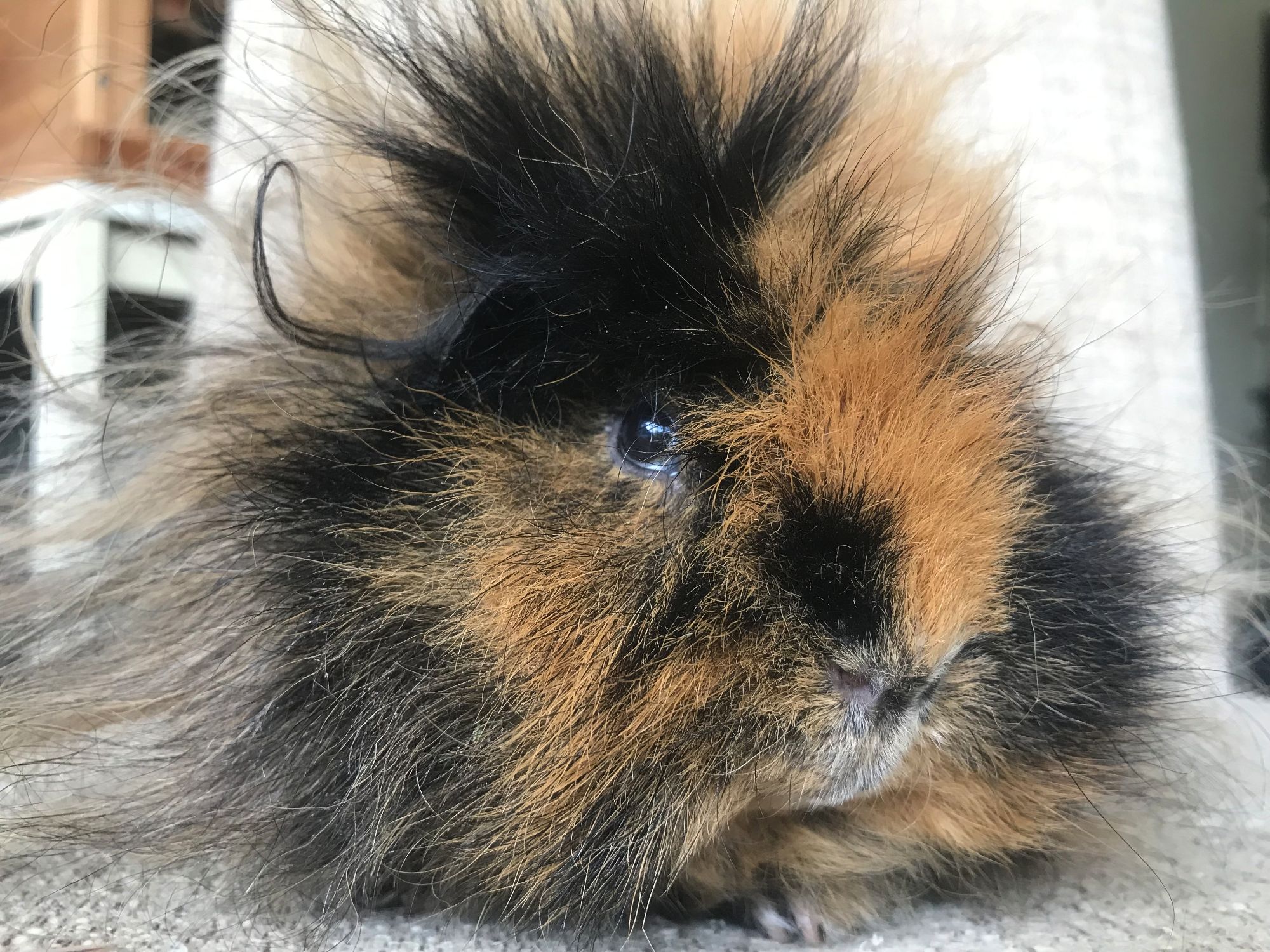 Chief Brody (born) 2015 has joined us at 4 years old. He is a handsome small/medium crossbreed. Unfortunately, he has dental issues and has been needing dental treatment on a regular basis.
This helpful chap has turned out to be a real god send. He does an amazing job of grooming his house mates who both suffer from chronic eye issues. Their eyes have been so much less sore and healthier due to all of his hard work taking care of them.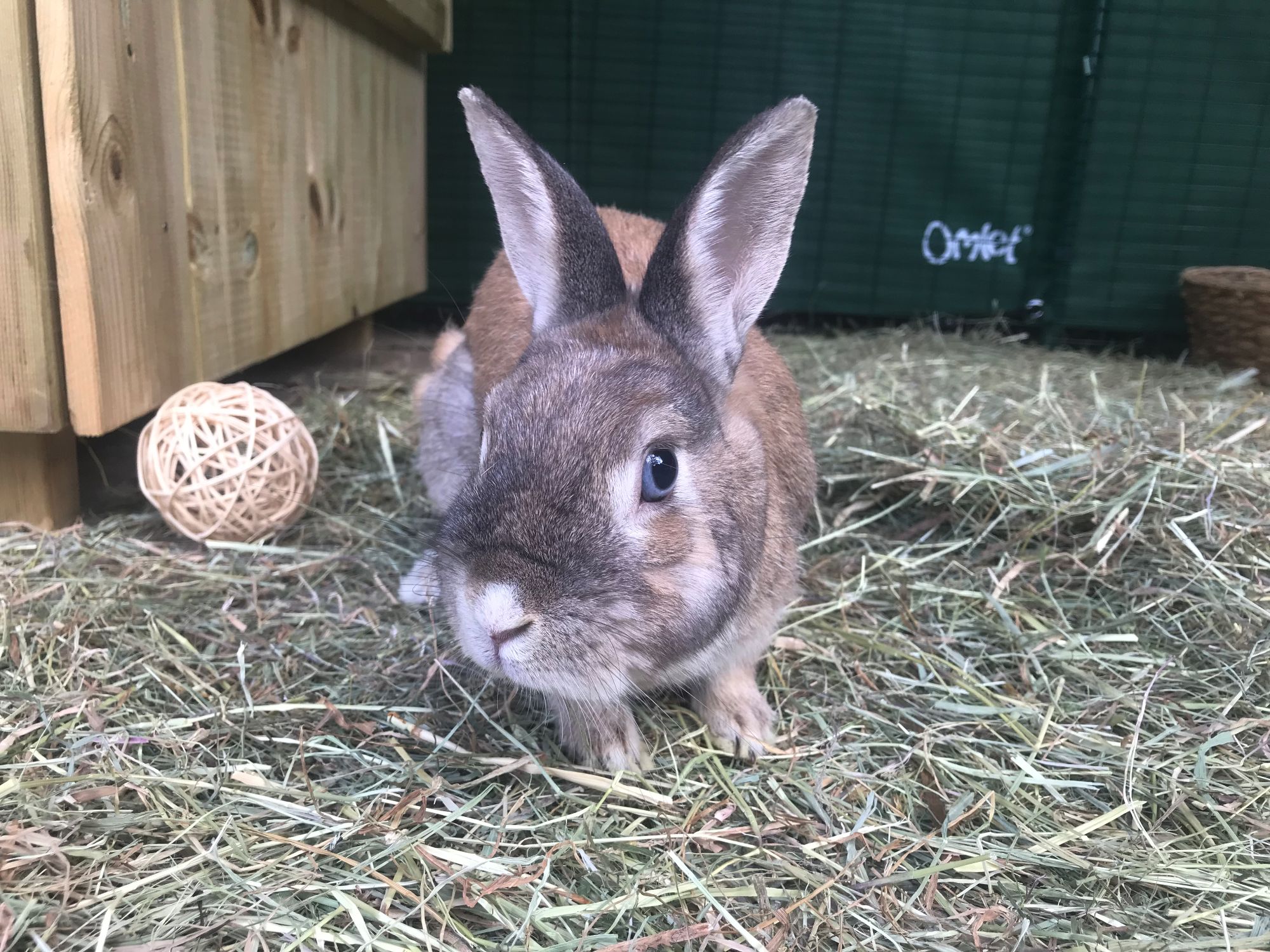 Clark Kent is large laid back bunny. Sadly, him and his brother have needed to be re-homed due to a severely allergic baby joining their household.
Clark Kent has stabilised well after being very poorly in the past (we believe due to e.cuniculi infection.) He manages very well but has been left with a severe head tilt and balance issues.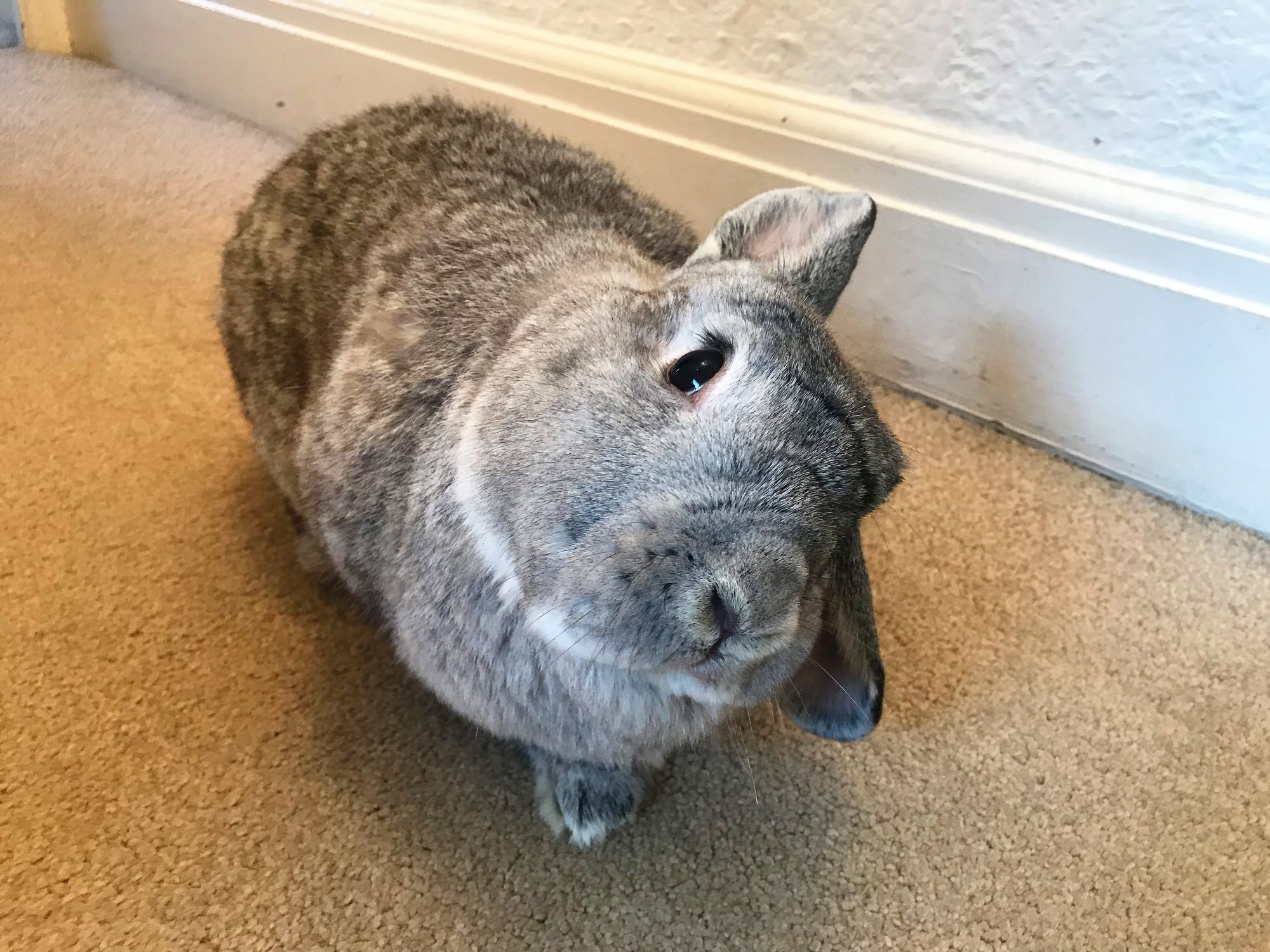 Columbo is a small crossbreed born in 2015. He sadly needed to join us at around 9 months old due to his previous owner's experiencing health issues.
Columbo has a head tilt which is much more apparent some days than others, the cause of which we have not yet been able to properly determine (he tested negative for e.cuniculli exposure).
He can be snuffly and like many bunnies bred with flat round faces has become prone to sore eyes which need regular bathing due to excess tears running down his face.
*Kindly sponsored by Stephanie September 2018-19*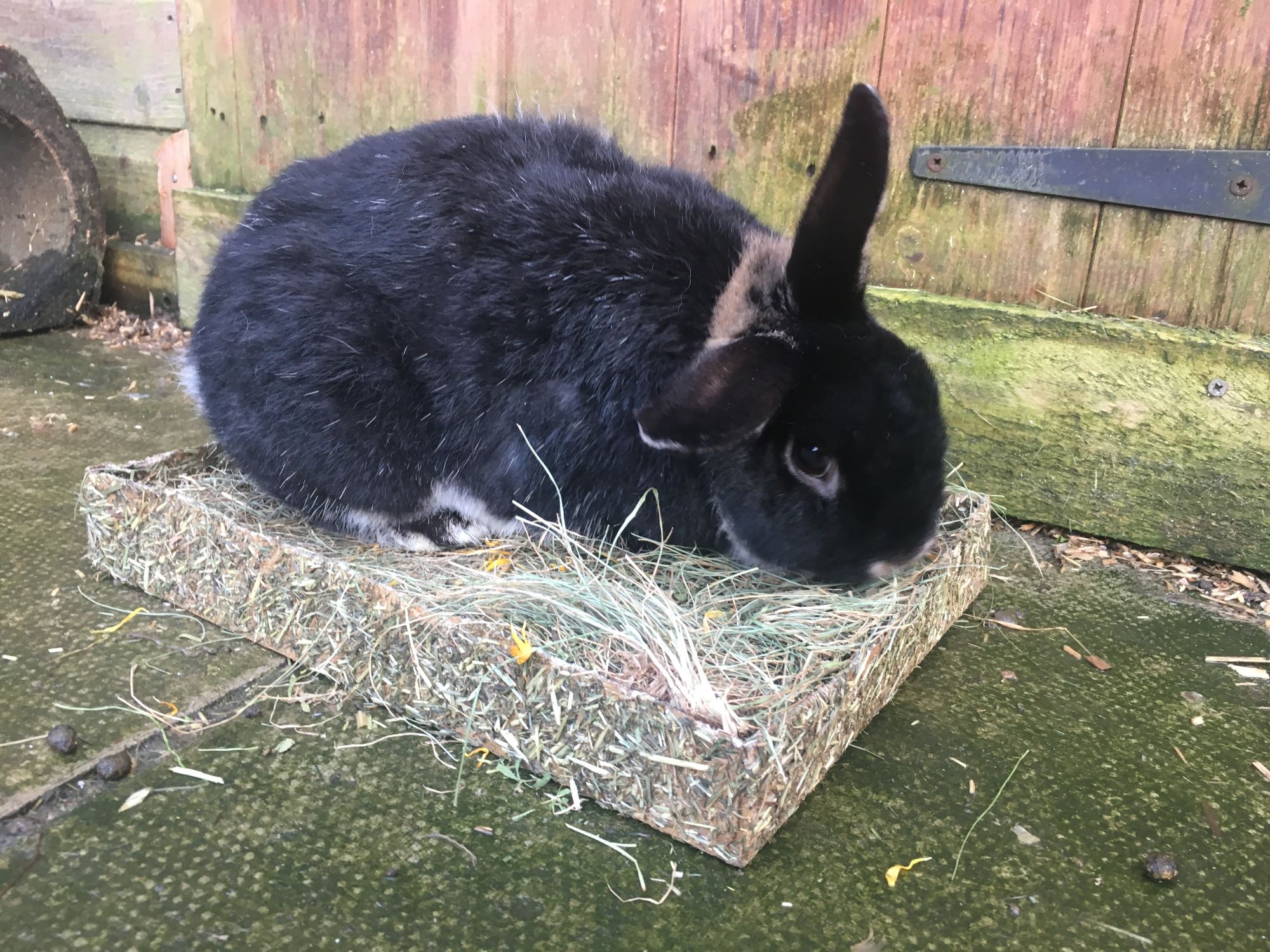 This family of five female degus is closely bonded and will be staying together.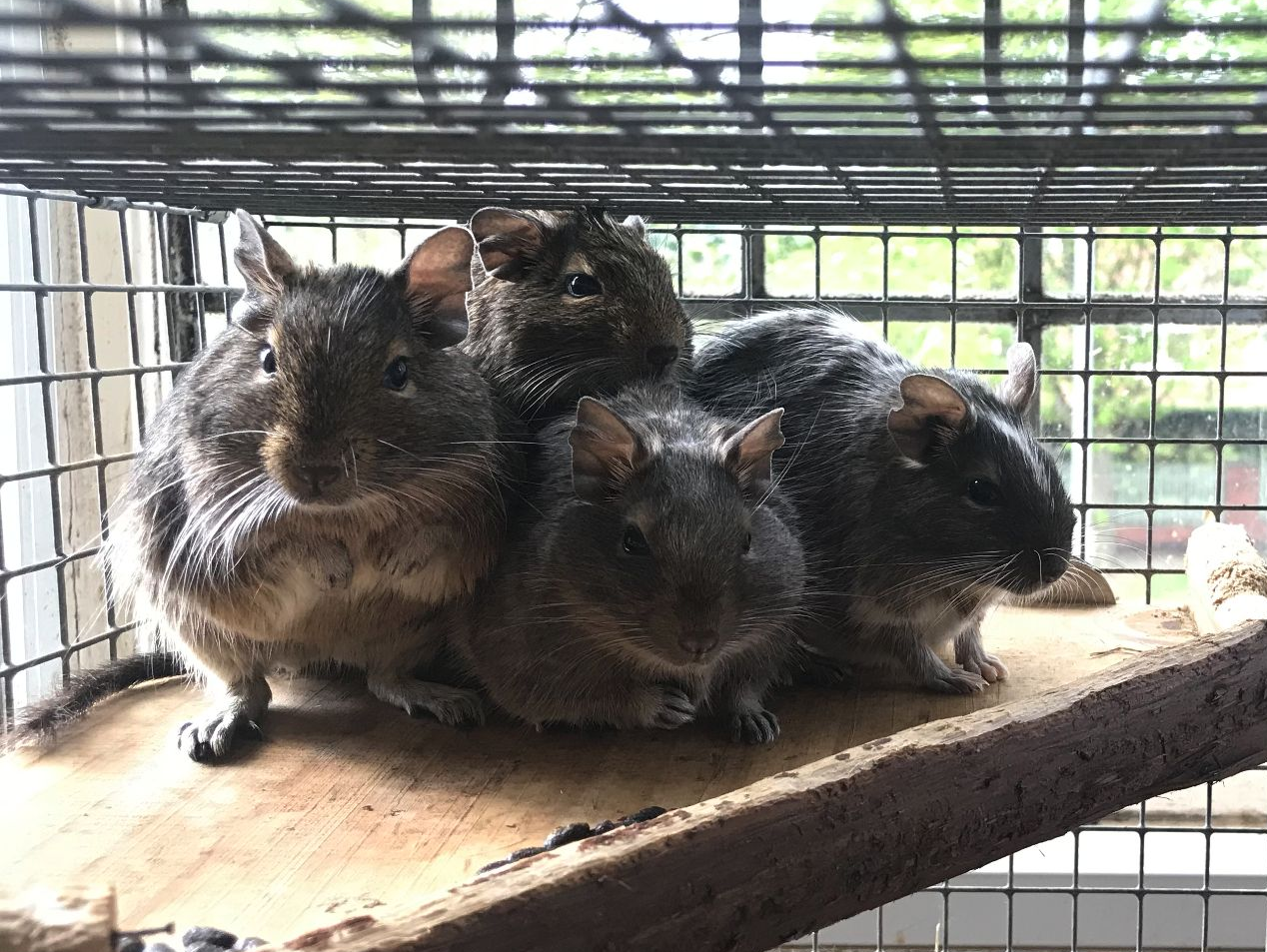 Damon (aka Demon) has joined us from a local rescue shelter. They had not managed to find the right home for him during his three year stay due to his very aggressive nature.
Damon will very aggressively sink his teeth in and give very long, deep potentially dangerous bites (which I can vouch for first hand!) Don't be fooled by such a sweet handsome face.
It will be very hard for us to responsibly find the right home for him knowing that he can cause injury. He will have a home here at Camp Nibble though being loved and well cared for just as long as he needs it. We will continue to try and build up his trust.
*Kindly sponsored by Richard Feb 2019-20*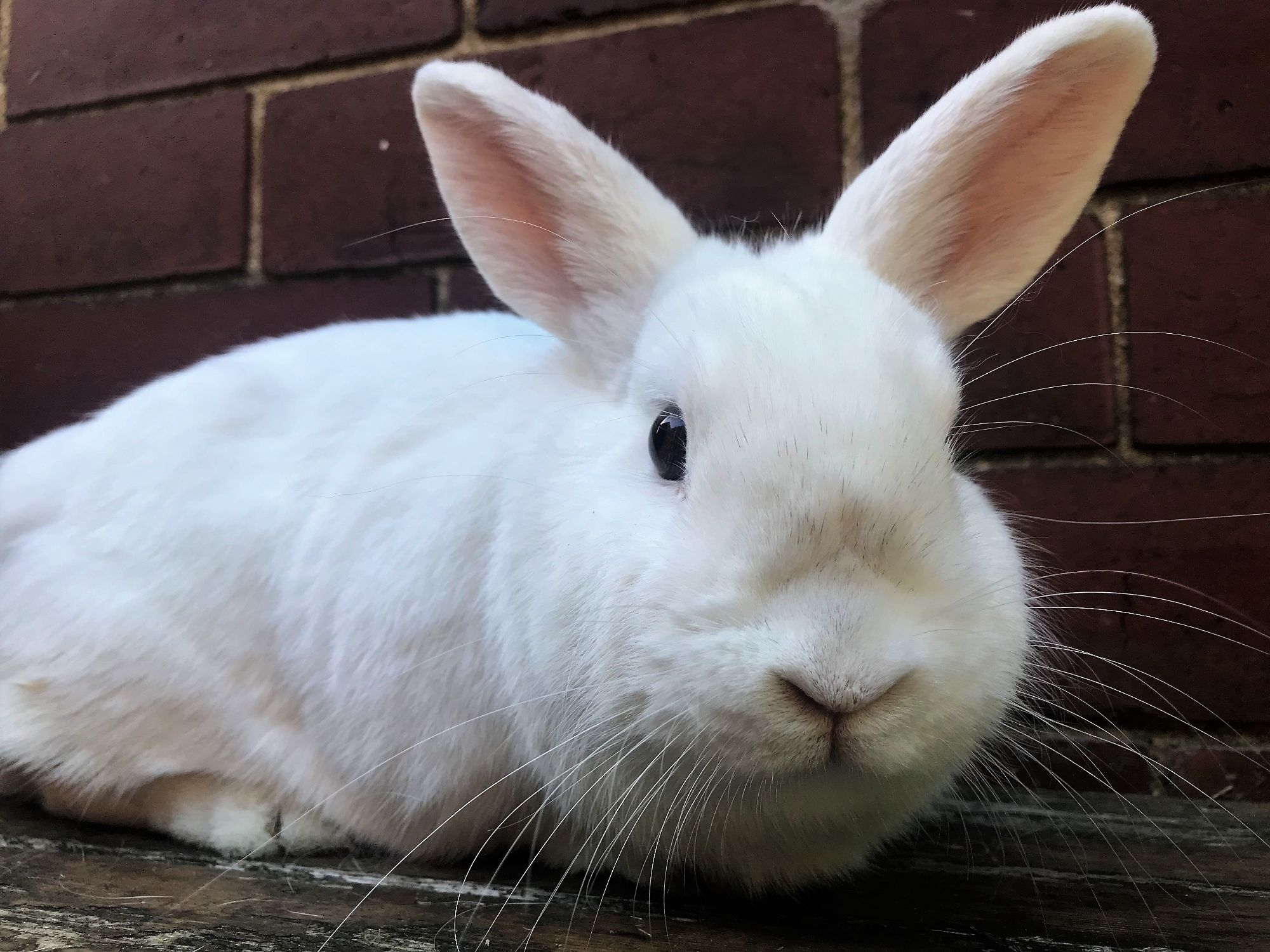 Darth Vader joined us early 2017 as part of a large rescued group of guinea pigs in need of help. She is an old man now and will retire here with us living with his closely bonded group of sanctuary piggie friends.
He requires regular grooming and his hair cutting as he has the longest straightest hair that we have seen in a guinea pig!

Donkey, DriveThru and Noob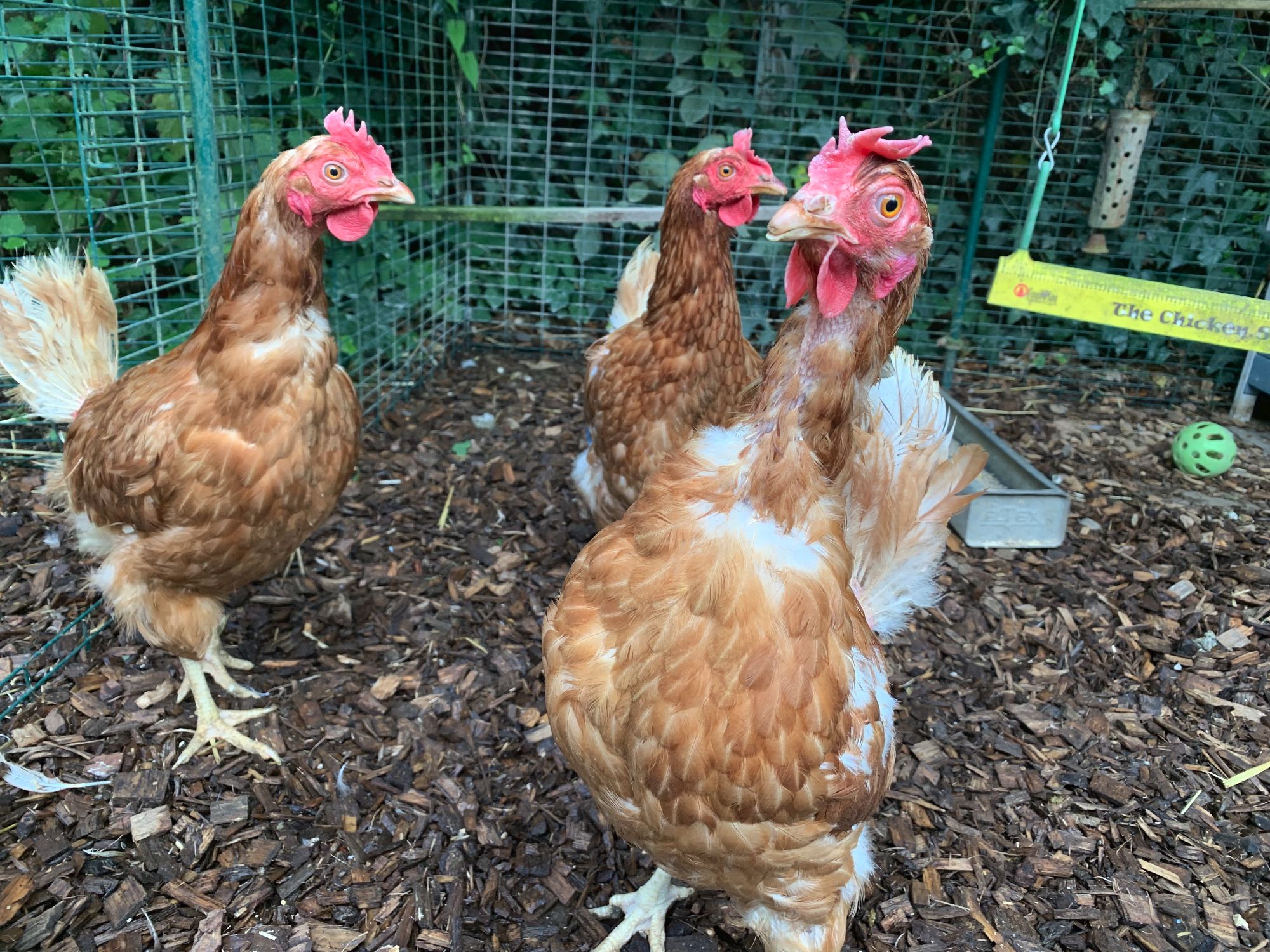 Dougie is a squishy faced lop born in 2014. This sweet boy sadly suffers from dental disease and will need careful monitoring and on-going dental treatment.
His dental disease is currently unstable and he is sadly needing a dental operation at least monthly. Luckily Dougie is very good at letting us know quickly when his teeth are not feeling right so that we can get him help asap. This is a blessing as so many bunnies are masters of hiding illness.
Having joined us as a single bunny we have loved to see this sociable bunny making great friends with his sanctuary bunny pals.
*Kindly sponsored by Helen February 2019-20*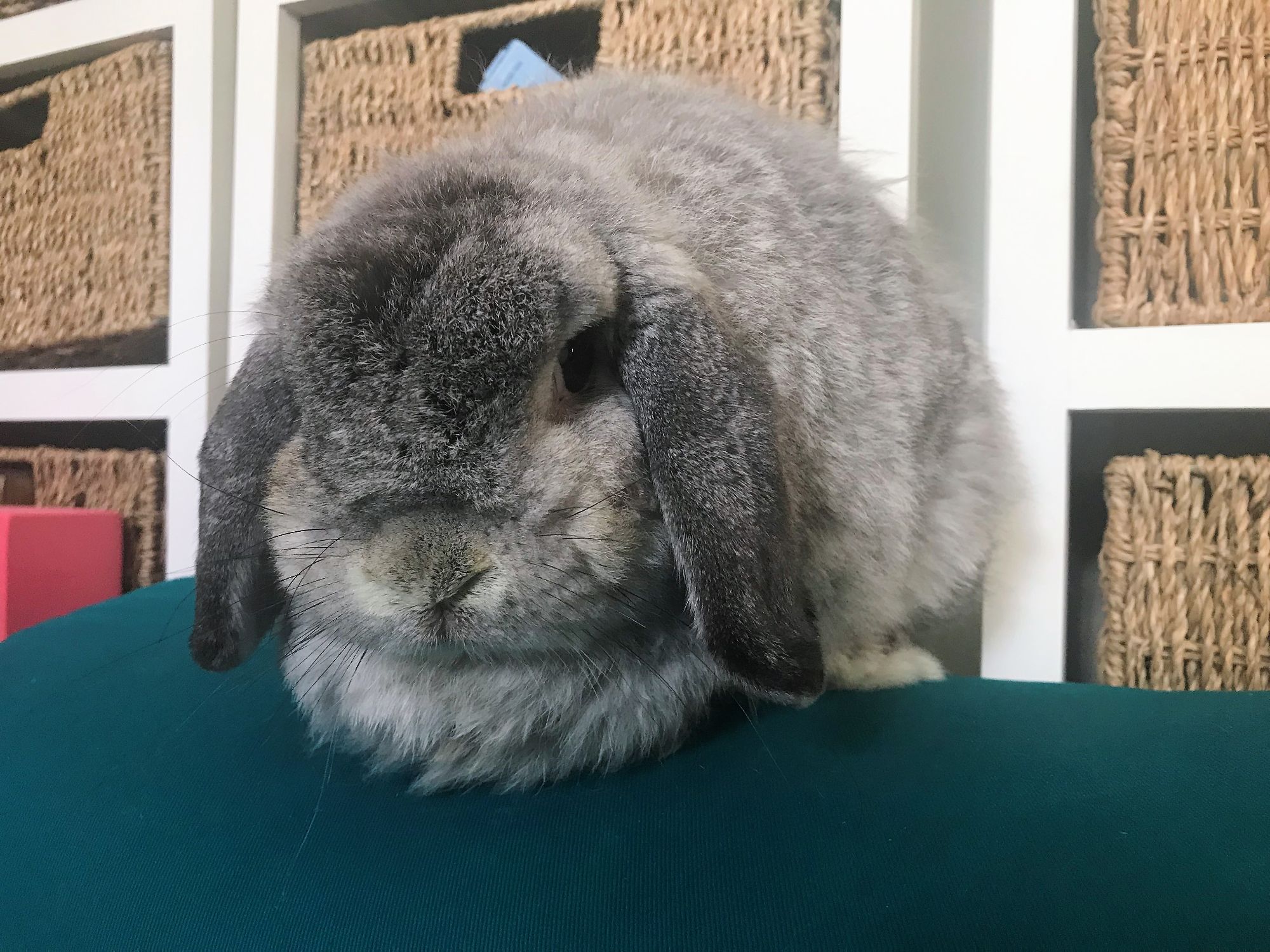 Emu is a Netherland dwarf born in 2016, who joined us here at a year old. He is a happy energetic little bunny, but sadly suffers from chronic snuffles.
*Kindly sponsored by Richard December 2018-19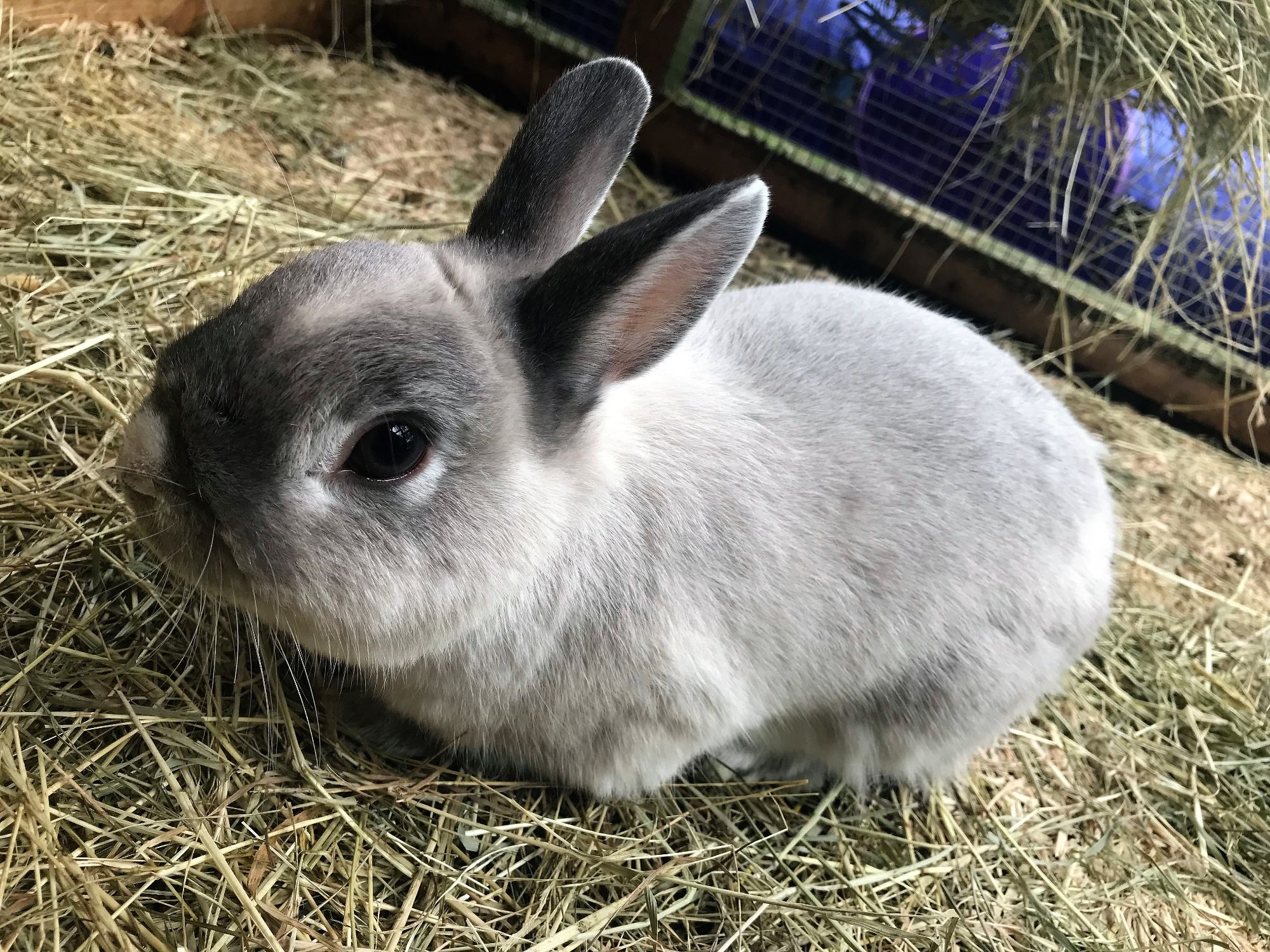 Eowyn (Ewy) is a mini lop born in 2014.
This sweet little girl has joined us at 5 years old sadly due to a change in her owner's circumstances. Her owner had very kindly given her a loving home after being handed into a vet practice as unwanted at only 3 month old.
Ewy has been bred to have a very flat round face. She does look extremely adorable. However, sadly like many rabbits bred to have extreme features this has left her predisposed to developing health issues. Ewy unfortunately has dental disease, and is prone to sore eyes and snuffles. She will need on-going monitoring and treatment.
Ewy's eye was becoming very sore due to being exposed to chronic infection. She was at risk of needing it removing. Our vets have been able to save her eye by performing a very clever operation to relocate her nasolacrimal (tear) duct meaning that any infection will now discharge onto her cheek allowing her eye to recover and remain healthy.
*Kindly sponsored by Viv April 2019-20*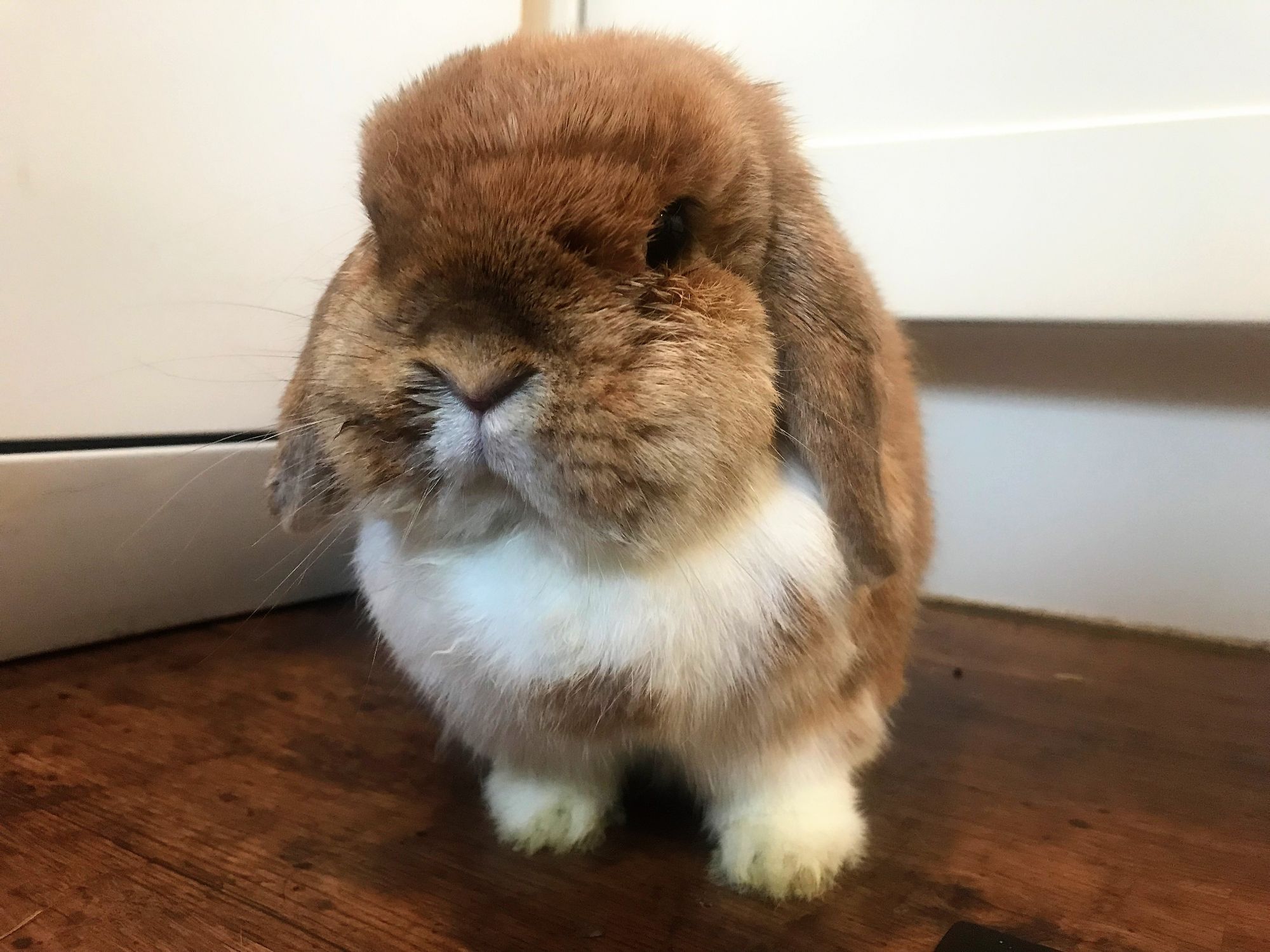 Fatima joined us early 2017 as part of a large rescued group of guinea pigs in need of help. She is an old lady now and will retire here with us living with her closely bonded group of sanctuary piggie friends.
*Kindly sponsored by The Gaskin family December 2018-19*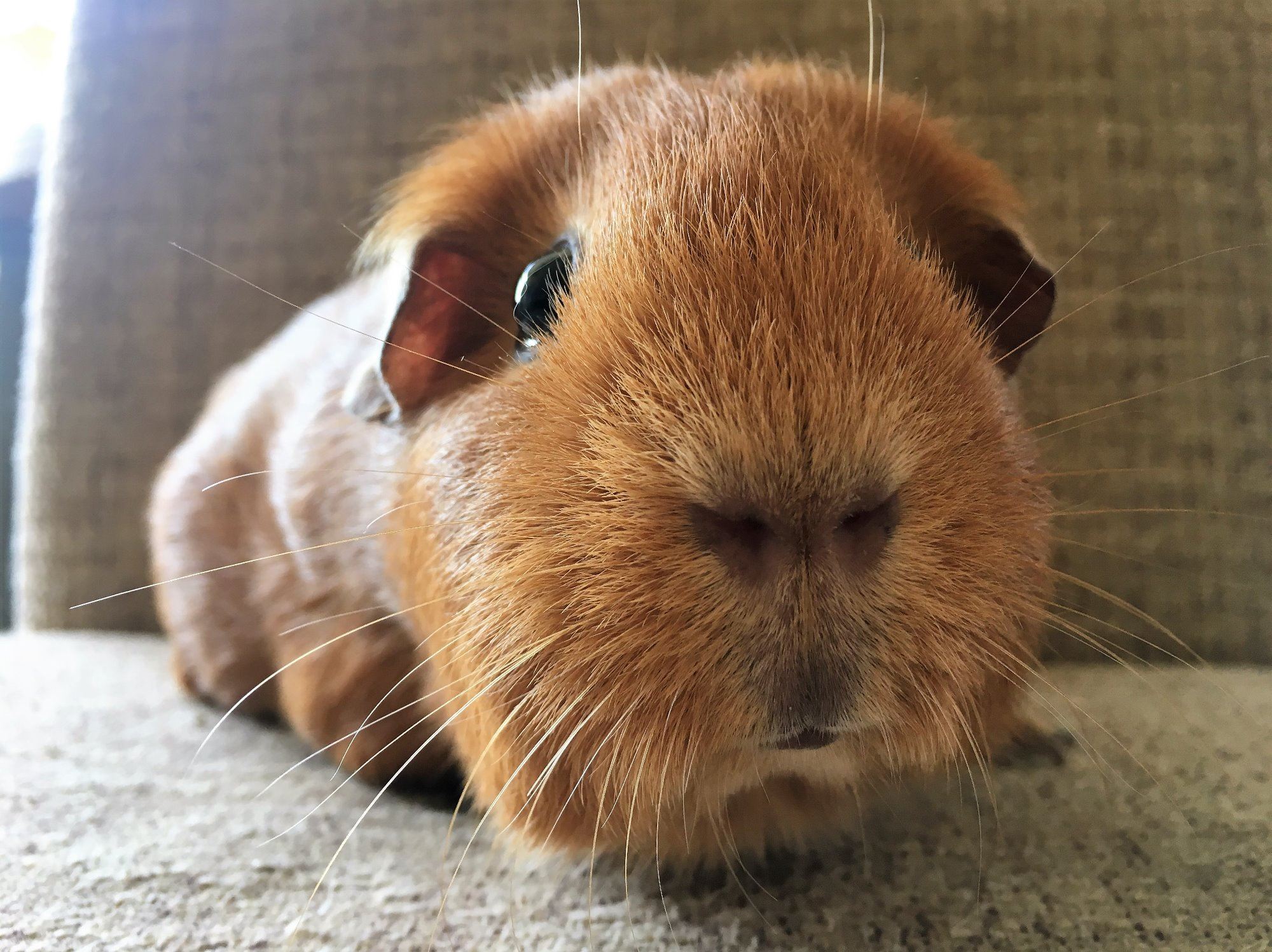 Flynn is a handsome lop born in 2010. Flynn has joined us in need of rescue support at 7 years old due to his owners relocating abroad and him being unable to join them.
This sweet chap has unfortunately developed cataracts in both eyes leaving him now completely blind. A likely cause of this would be as a complication from e.cuniculi infection.
As a lop Flynn's hearing is also very likely to be impaired which leaves him very vulnerable to becoming startled and confused. We are so happy that Flynn has found love here at Camp Nibble. He gets a lot of comfort and support from his companions who he loves to groom and snuggle up with.
*Flynn is kindly sponsored by Kathy December 2018-19*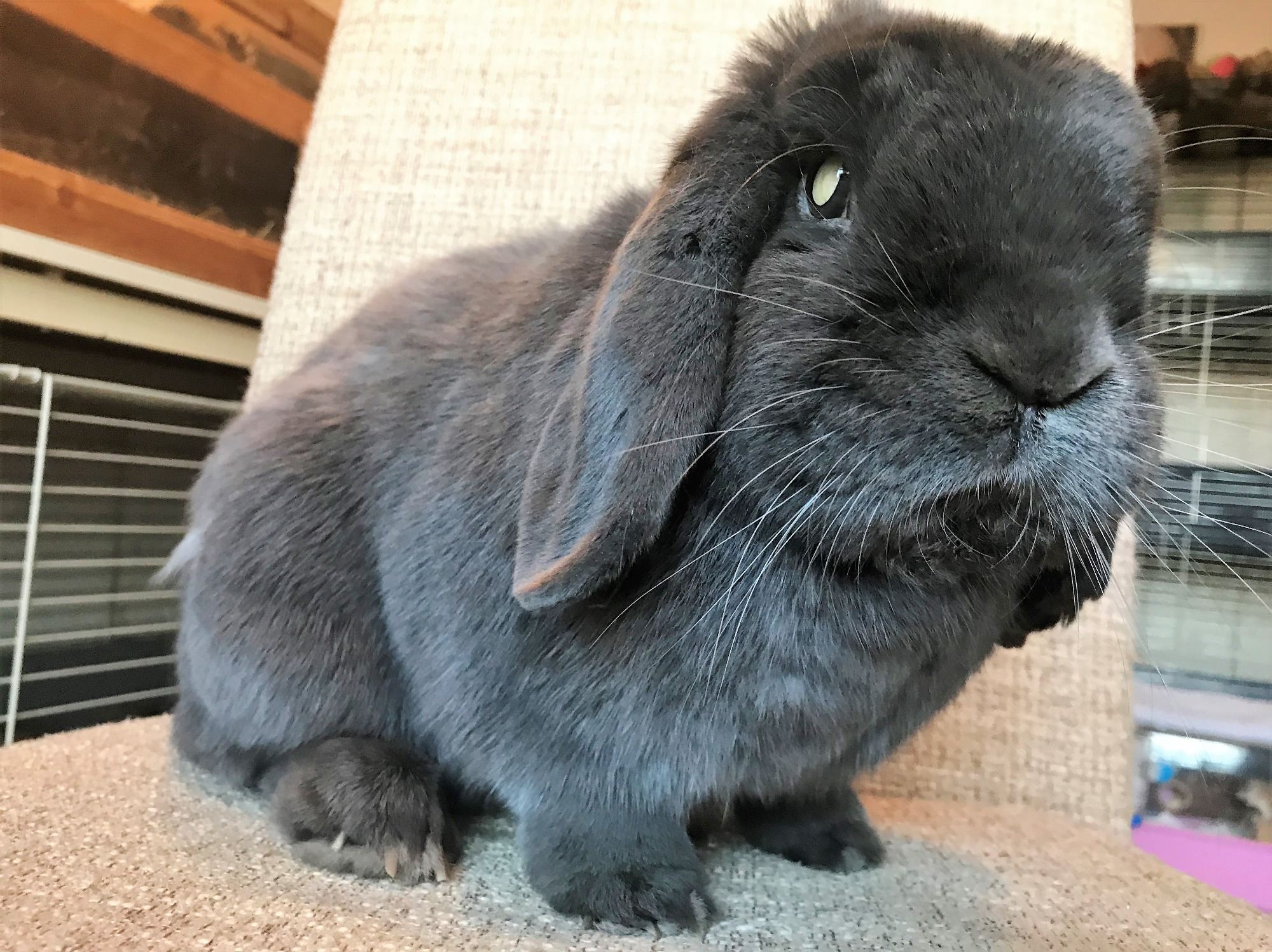 Gary Lineker is a friendly old medium/large lop who has sadly found himself (along with his brother) in need of a new home at an old age. They are staying with us being assessed for e.cunilculi related health issues (Gary's brother sadly has an extreme head tilt).
*Kindly sponsored by Julie March 2019-20*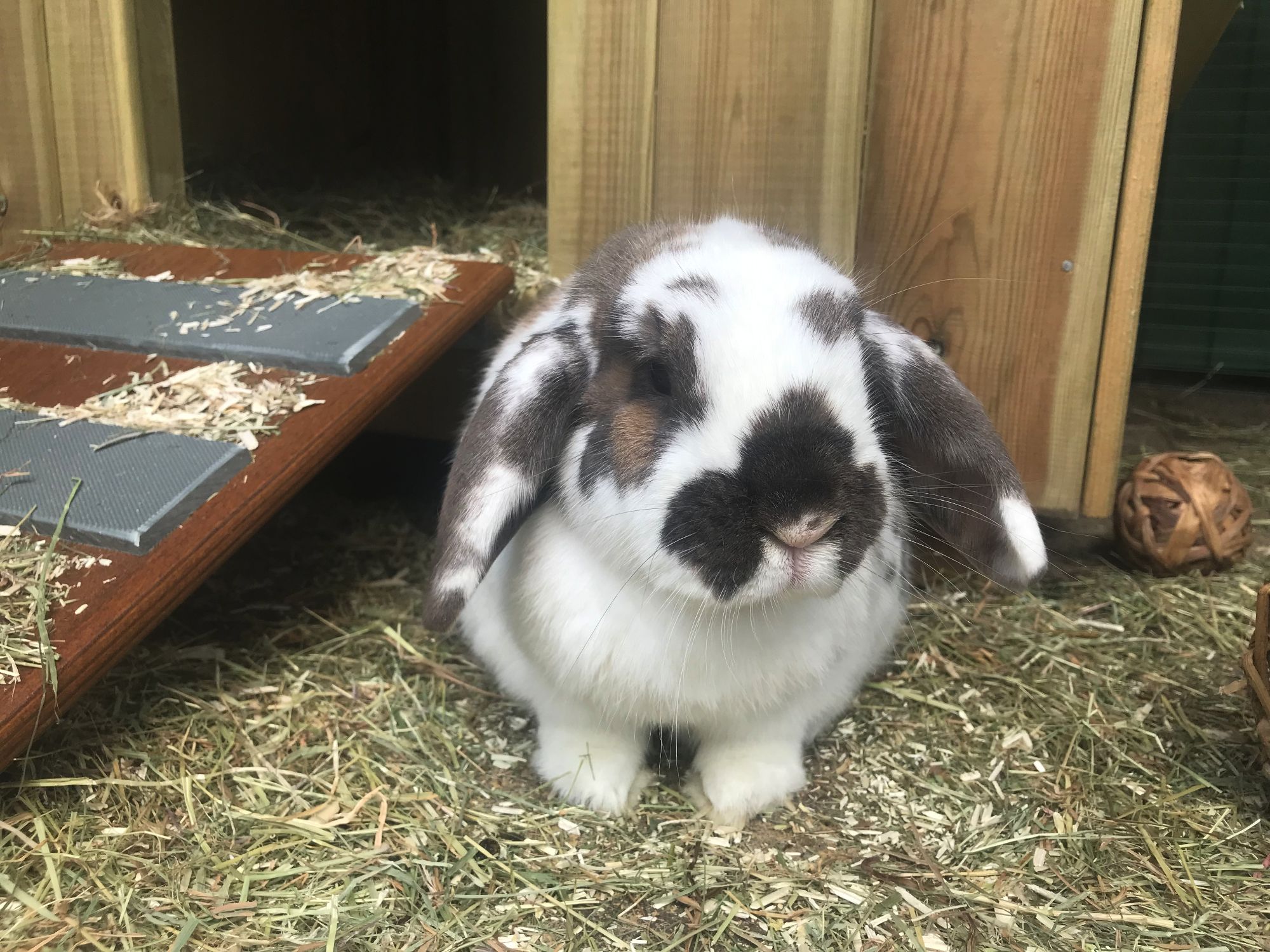 Happy is one of our current longest term residents having joined us at the end of 2015 aged then aged 7.
This old boy is full of character but can be very feisty indeed. He has given some nasty and potentially quite dangerous bites! He was until recently the most human aggressive rabbit we had taken in over the years...until Damon joined us earlier this year and took over that title (his young apprentice maybe ha!?)
Luckily, he is a bunny's bunny and can live very happily with his rabbit friends once very carefully bonded. Therefore, we don't need to worry about him being lonely.
He will be retiring with us here where he will be forgiven any ferociousness, and will receive all of the love and vet care he needs now that old age has set in. We will continue to do whatever we can to make this wonderful grumpy old fella as 'Happy' as possible.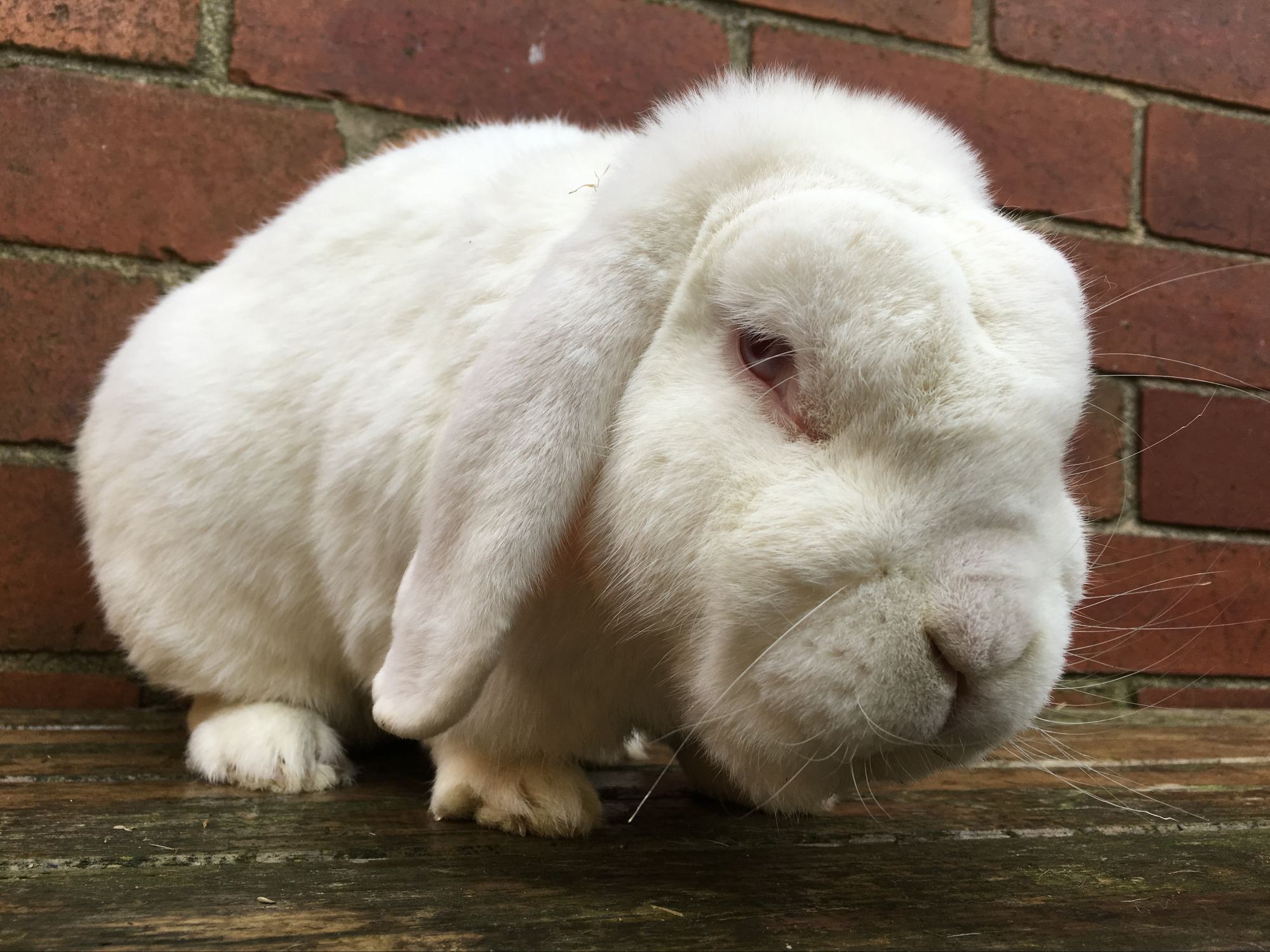 With lots of people keeping backyard chickens and ducks as pets our feathered friends also find themselves in need of rescue support when their owners are unable to keep them, or they become neglected. Our sanctuary ducks are all domestic breed ducks who have found themselves in need of rescue support.
This brother and his two sisters (born 2013) are completely inseparable and follow each other around everywhere. They are call ducks which are small in stature but can be very loud!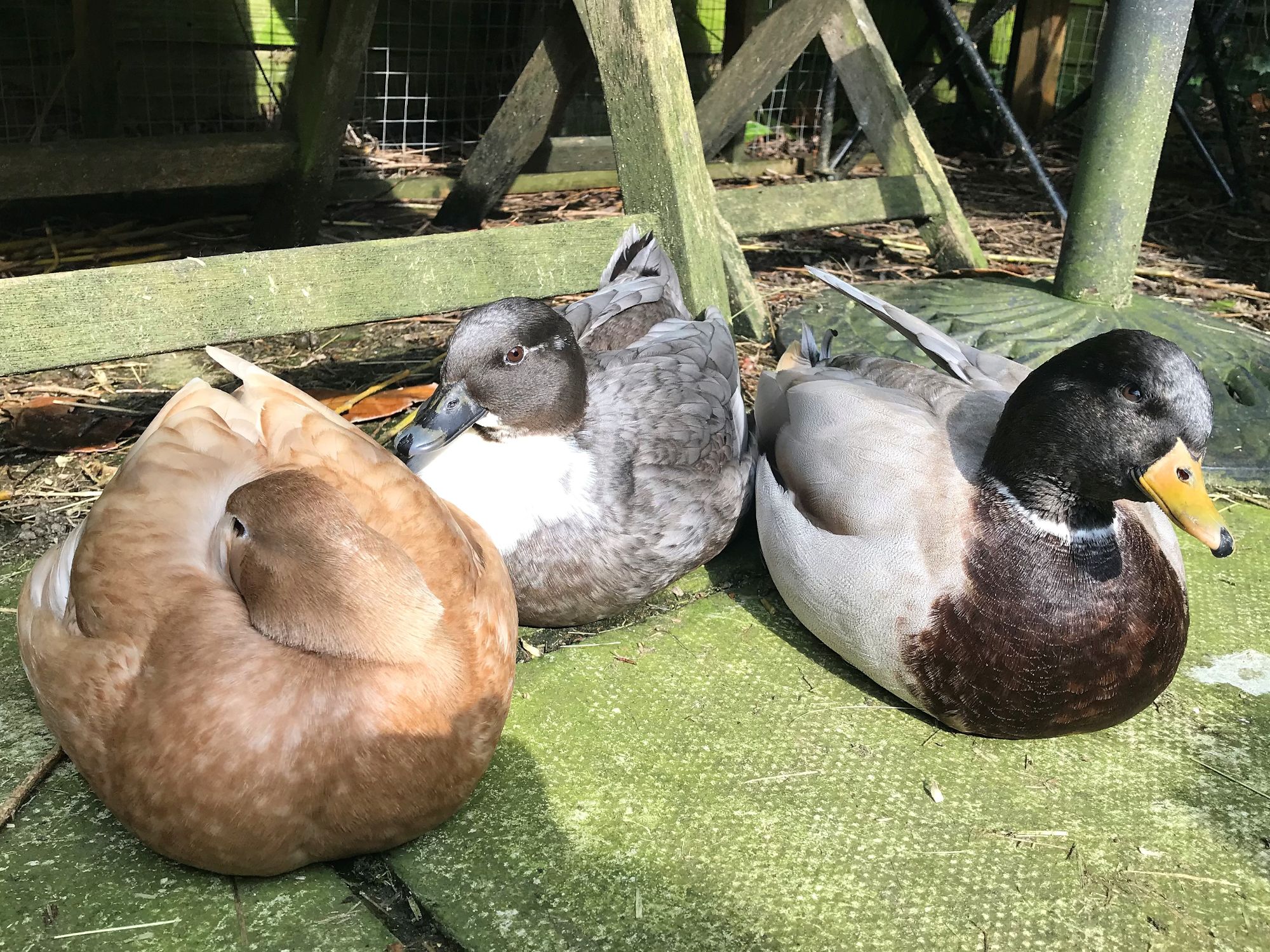 Janet had originally been taken on along with another duck by a couple (with a new-born baby) who thought they would be suitable pets to live inside with them in their one bedroomed flat. They realised very quickly (tragically after Janet's companion died only a few days after they had taken them on) that their 'Friends inspired' plans had been a bit ridulous.

Much to their surprise Judith appeared as a stray in an elderly couple's garden. She'd had her wings clipped (and is breed which cannot fly anyway). Therefore, as no-one in the area claimed to own her it was quite a mystery as to how she'd got there? Despite not being able to fly she turned out to be very fast indeed. The couple had to enlist the help of an RSPCA capture team in order to get her to safety.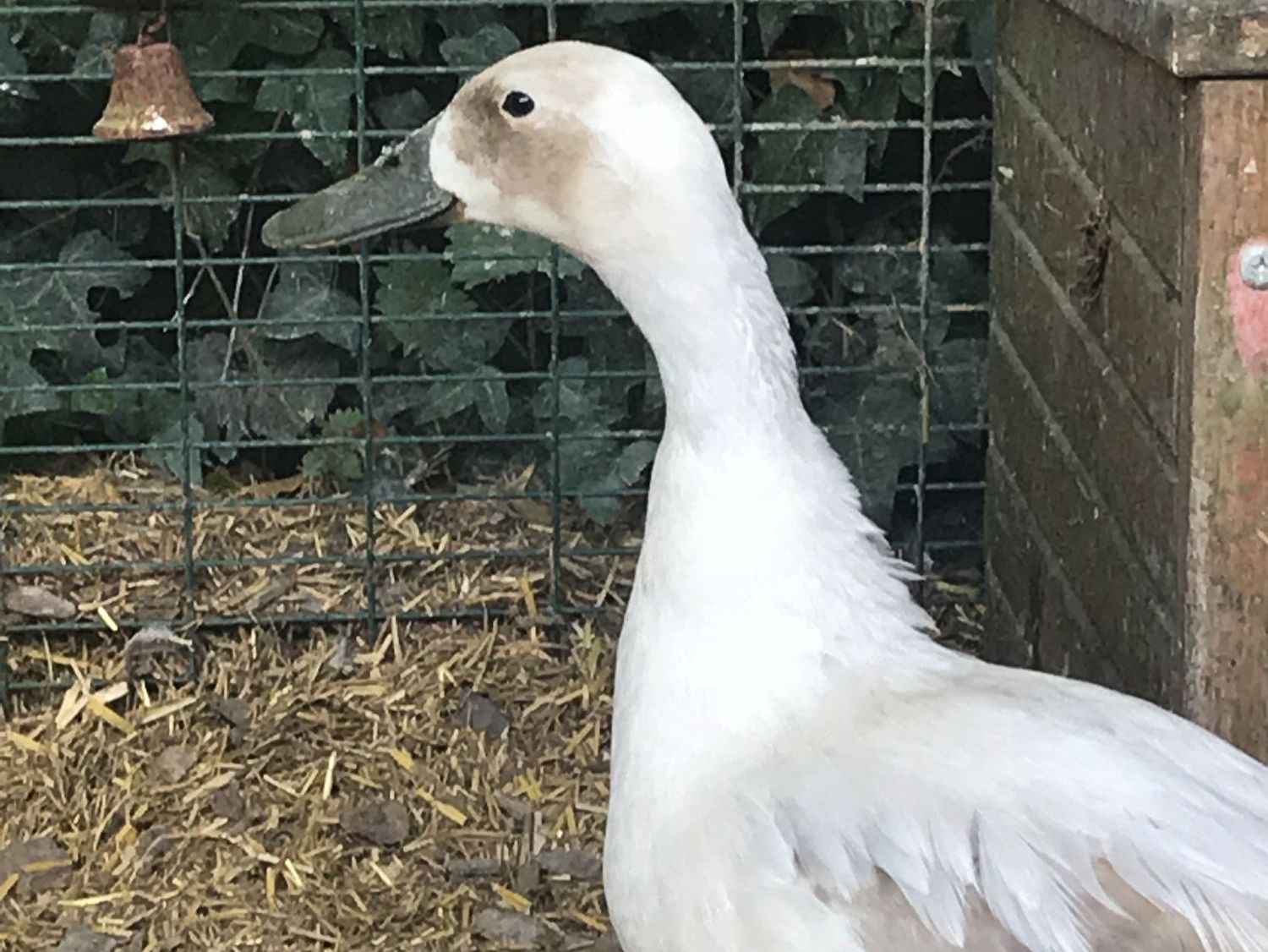 Lady Gaga is a cross breed born in 2013. She became in need of help when her owner developed health issues and struggled with the care of a large number of rabbits. She arrived with a bonded companion, both of which had head tilts with seemingly very different causes.
Lady Gaga has been left with a very pronounced head tilt after being very unwell as a baby (from what was most likely complication from e.cuniculi infection). Severe head tilts can look very disturbing. However, she seems to be very well adapted to living with her disability and appears to be managing very well.
*Kindly sponsored by cottontails November 2018-19*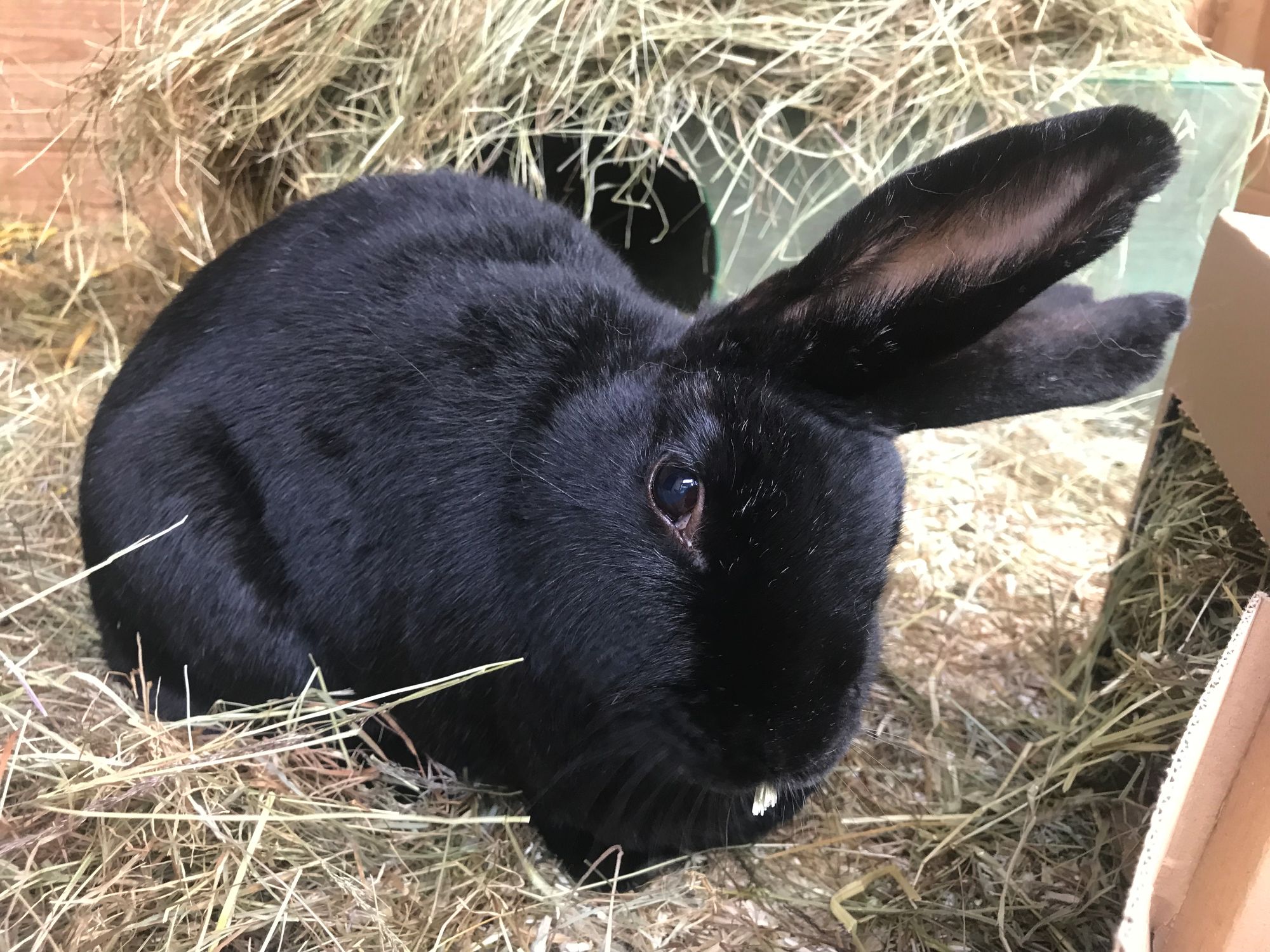 Marky Mark is a handsome giant breed lop who has joined us as a stray. Something had caused this lovely boy to self-mutilate to a disturbing extent before being handed into us (this is unusual in rabbits.) He arrived having chewed his own tail off to the point of leaving the bone exposed making him very vulnerable to infection and in need of treatment.

Marky Mark seems happy and is doing well since joining us and making some sanctuary bunny friends.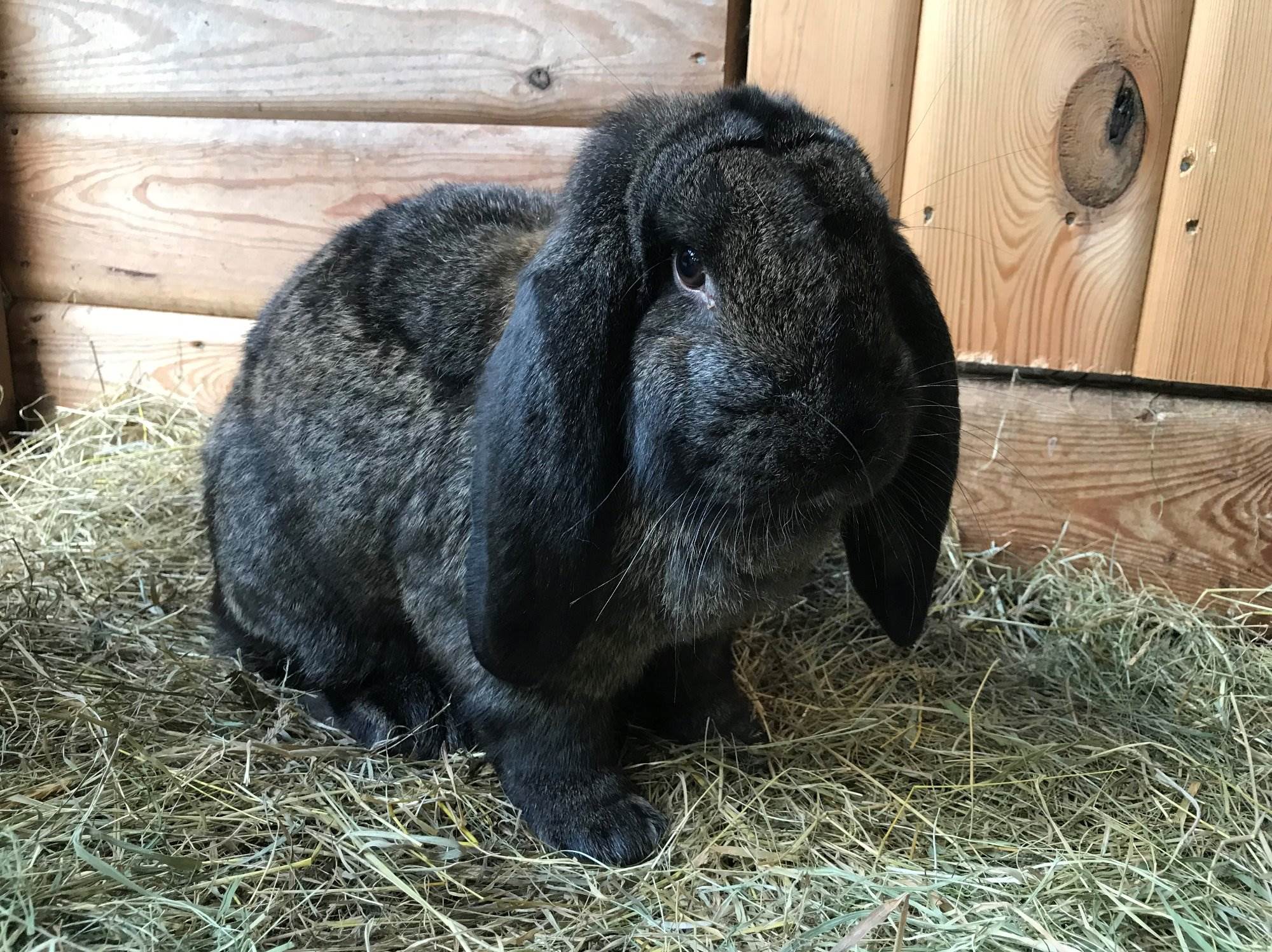 This friendly lop was born around 2012. He has sadly passed through at least two homes before joining us here at least 6 years old.
Mr Bean has advanced dental disease, and a facial paralysis. As often is the case with rabbits with dental disease is sadly prone to infections (snuffles and sore eyes) He will retire here with us as one of our sanctuary dental bunnies receiving all on-going veterinary care that he needs. Having arrived as a un-neutered single rabbit it has been lovely to get him settled (post-neuter) with a group of special needs companions.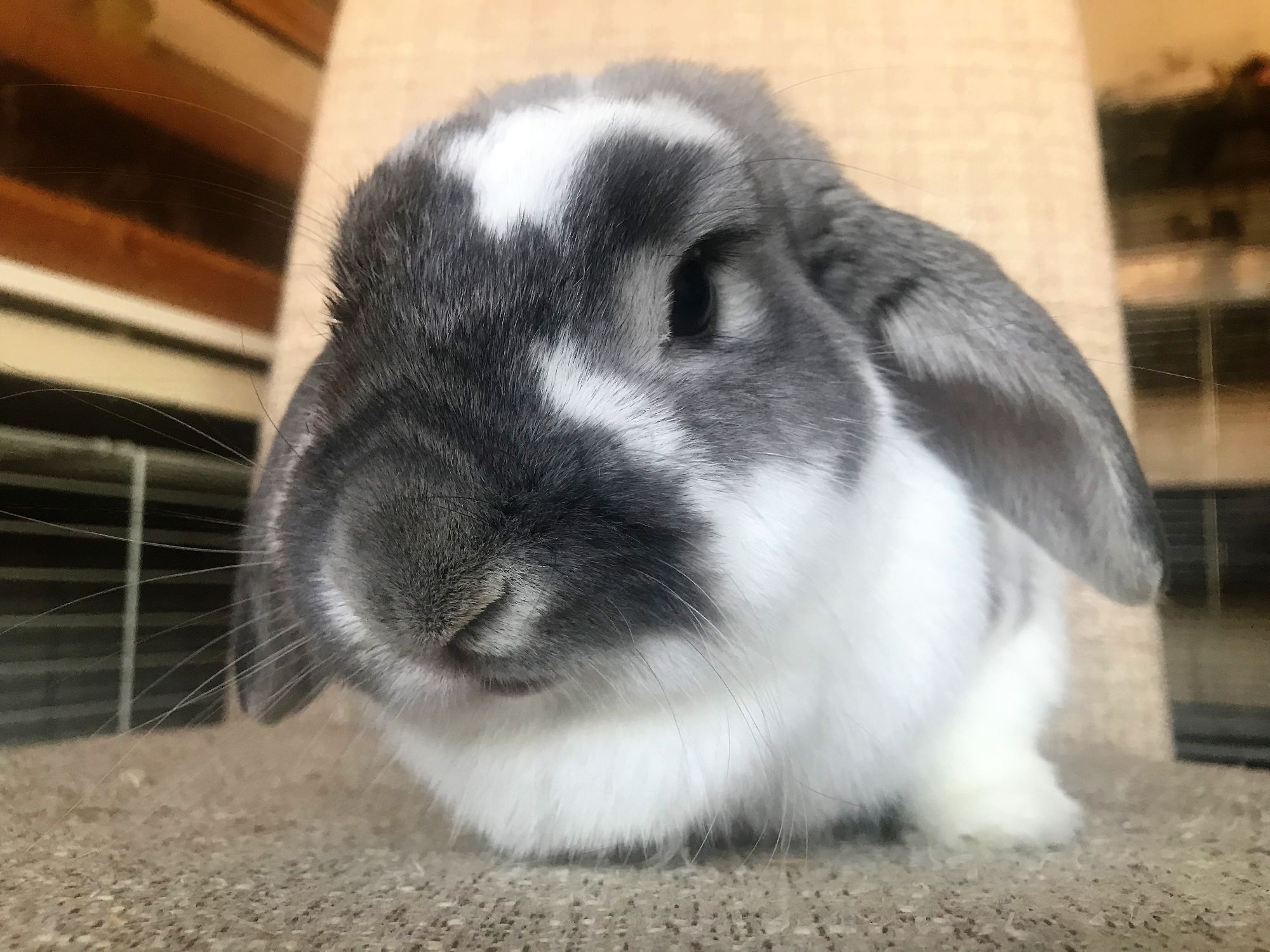 Nala is a mini lop born in 2014, she has joined us due to her owners struggling to meet her needs, and expensive on-going veterinary care costs.
Like many of our sanctuary residents Nala sadly has dental issues requiring careful monitoring and regular veterinary treatment.

Nala can struggle to get along with other rabbits but has found love with another feisty long termer Bun Jovi.

*Kindly sponsored by Sam November 2018-19*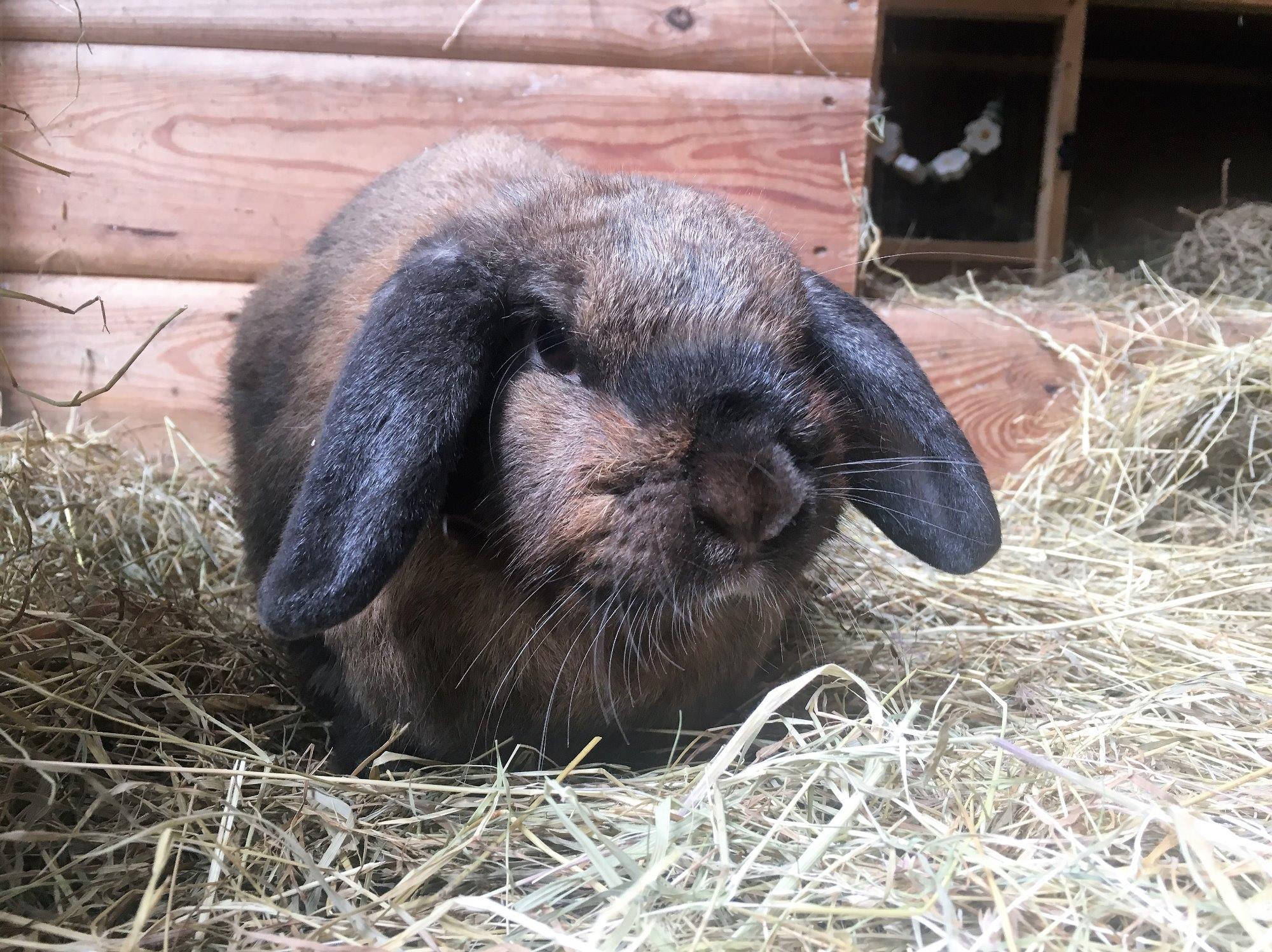 Orville is the smallest adult rabbit to come into the rescue at around 800g. He was originally bred to be a show rabbit, but was handed into us here along with a number of rabbits and other small animals in need of help.
Orville has been bred to have a completely flat face (brachycephalic). Although, this may look very cute it is unfortunately linked to health issues. A regular longer wild type face is a much healthier look for a rabbit.
Although, they are an unlikely couple Orville has fallen in love with giant bunny Thumbelina. He is often found following her around like a little puppy!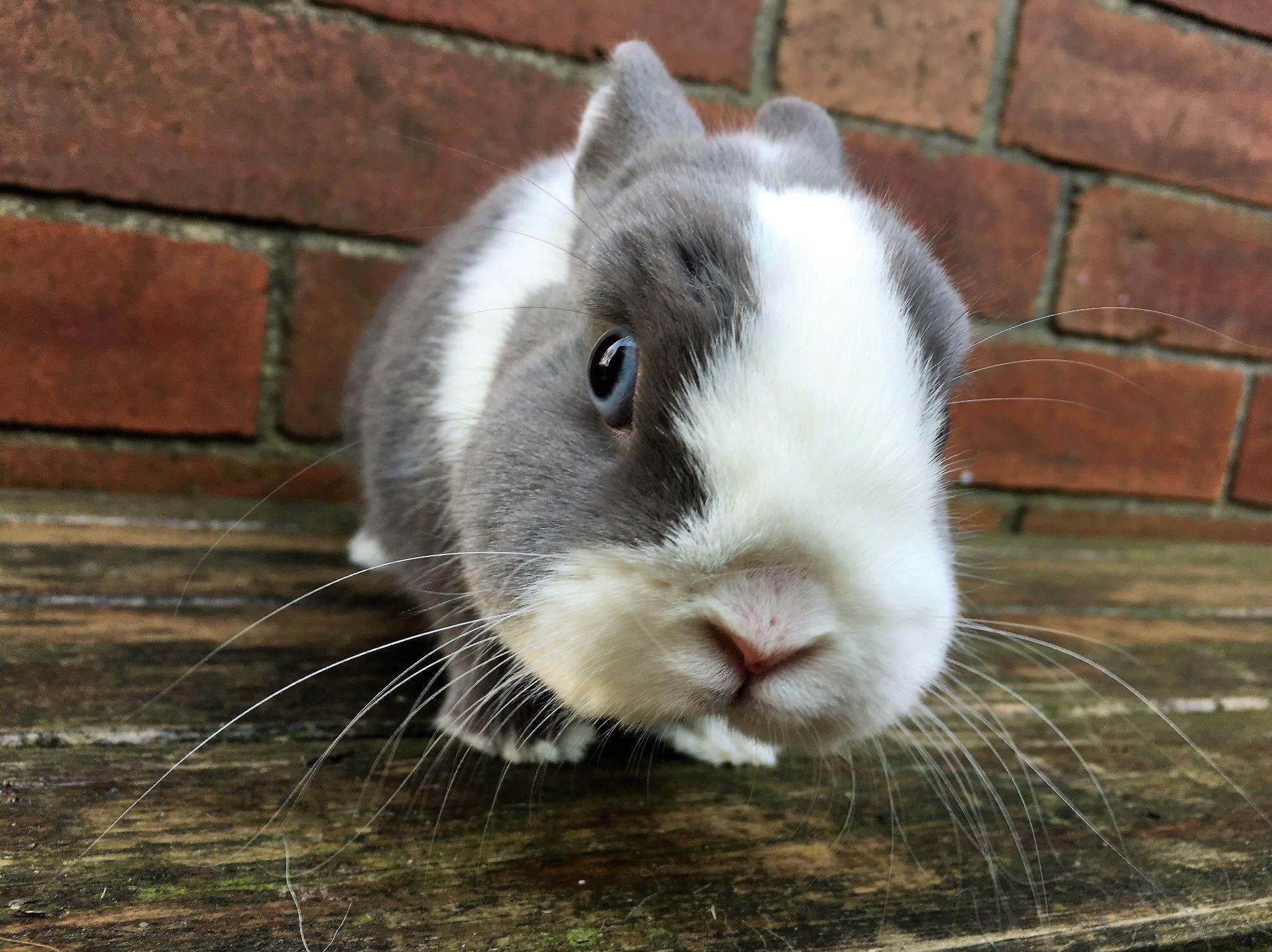 Owen is an extremely sweet older bunny born in 2010..
In the short time he has been with us it has been wonderful to see this unsure old chap start to come out of his shell and begin to enjoy playing with his toys, and get used to having space to play.
Having managed to get him safely through neutering it has been an absolute joy to have successfully bonded Owen with a gentle group of our older special needs bunnies. He's visably delighted to have such lovely friends to enjoy his retirement with. Owen unfortunately has dental issues and will retire here with us as one of our sanctuary bunnies receiving all the love and care he needs.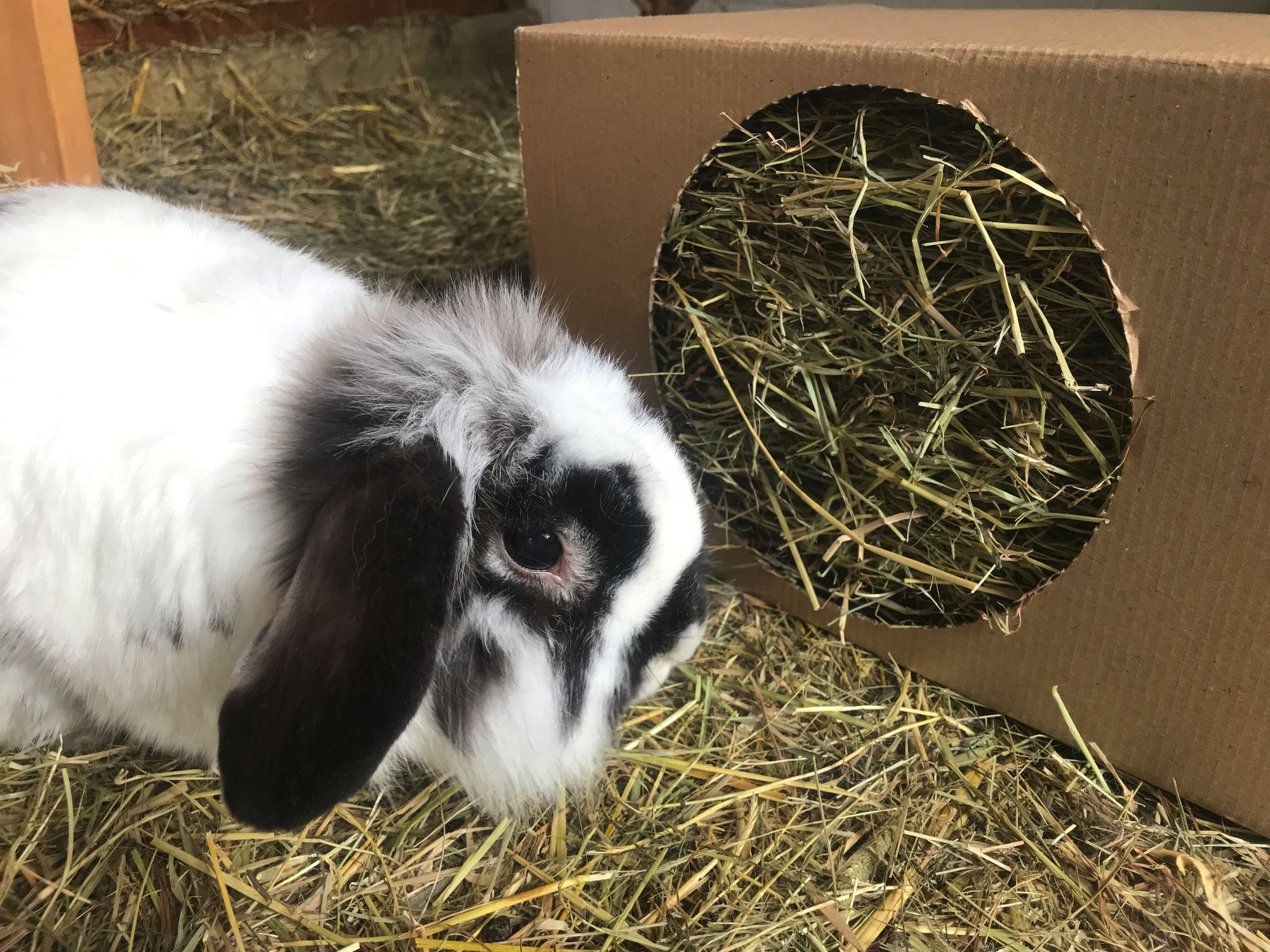 With lots of people keeping backyard chickens and ducks as pets our feathered friends also find themselves in need of rescue support when their owners are unable to keep them, or they become neglected. Our sanctuary chickens are old ladies who have needed our help, and made Camp Nibble their home.
Pamela is an elderly bantam chicken born in 2009. She was handed into us by her owner as the last surviver after all of her friends had been killed by predators. Pamela was extremely lame when she arrived with an advanced infestation of scaly mites which had caused so much damage to her legs. We really didn't know if she would be able to walk properly again. We are so proud of how well she had recovered. This wonderful little hen is now 10 years old.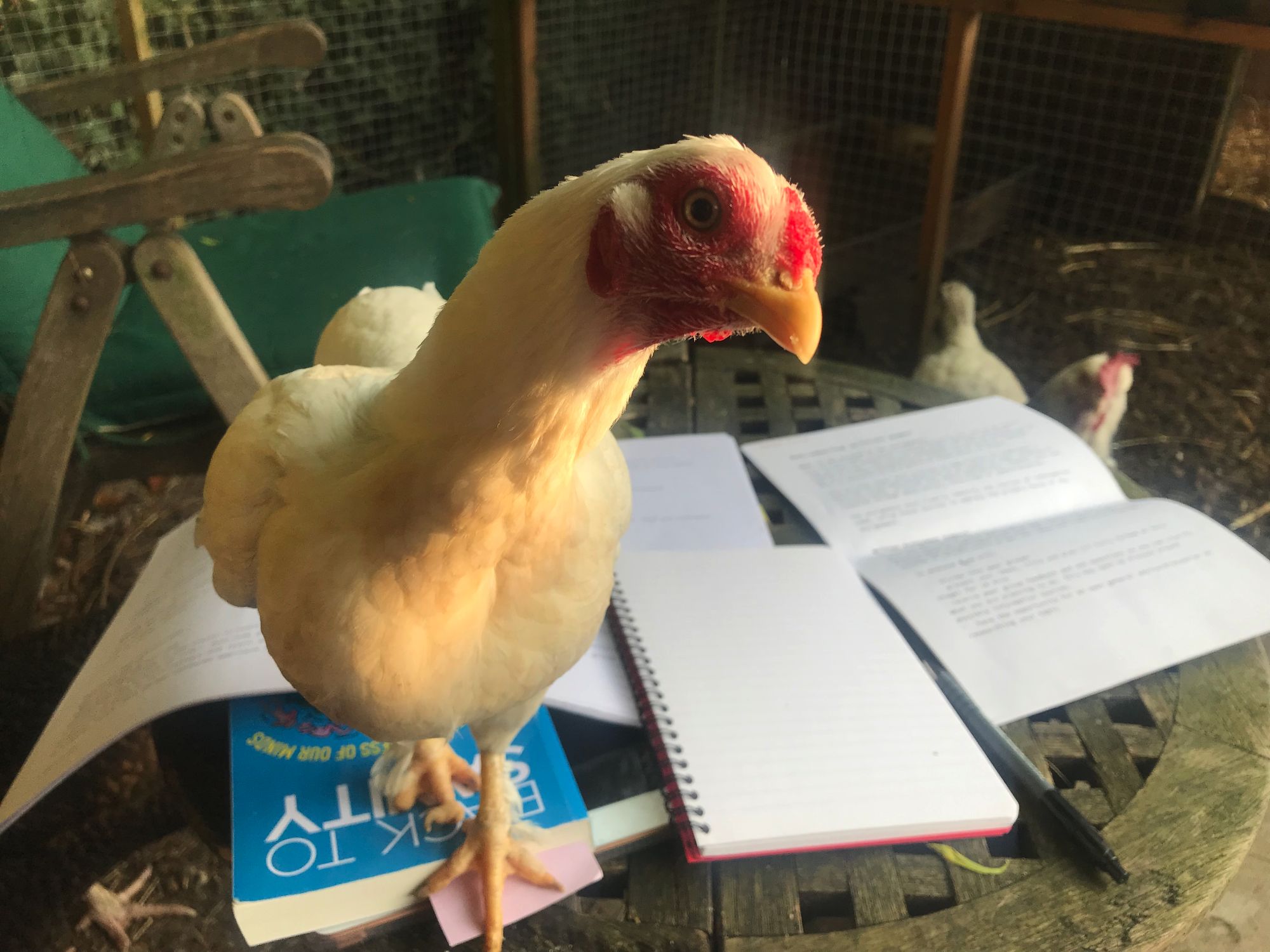 Pugwash is a large breed lop born in 2012. He has sadly found himself in need of rescue support again at 7 years old. His previous owners had originally rescued him 4 years before. They'd kindly taken him on despite him having had a back leg amputated (reportedly following an accident involving a horse!)
Pugwash has managed so much better with his disability than would be expected in a bunny his size. Large/giant rabbits often do not cope well long-term after losing a back leg. He does still manage to get around happily, although of course not as easily as his 4 legged friends. He does need extra care. He struggles to clean out his own ear (which he can't reach himself), and needs extra help with hygiene.
*Kindly sponsored by Frankie July 2019-20*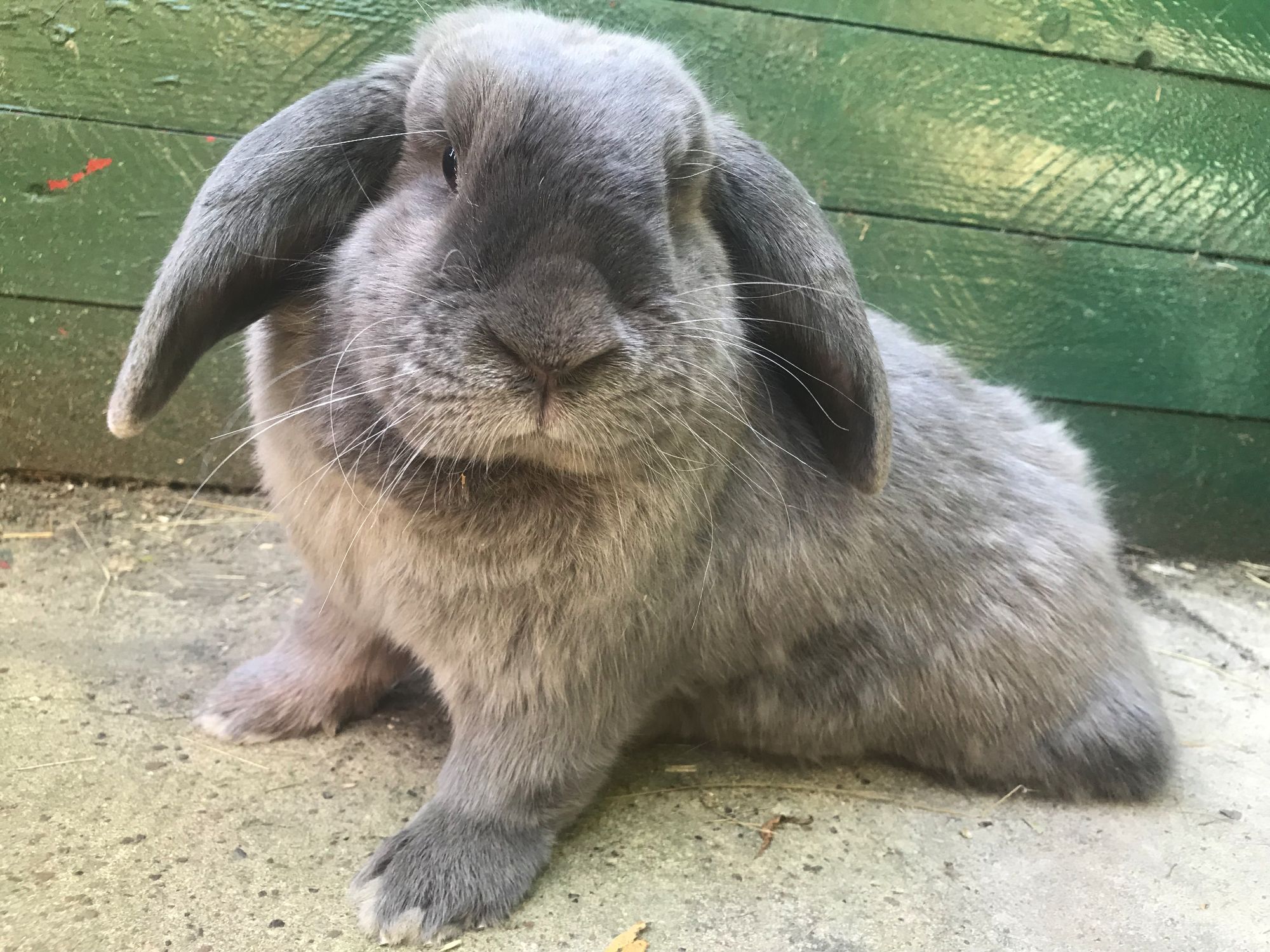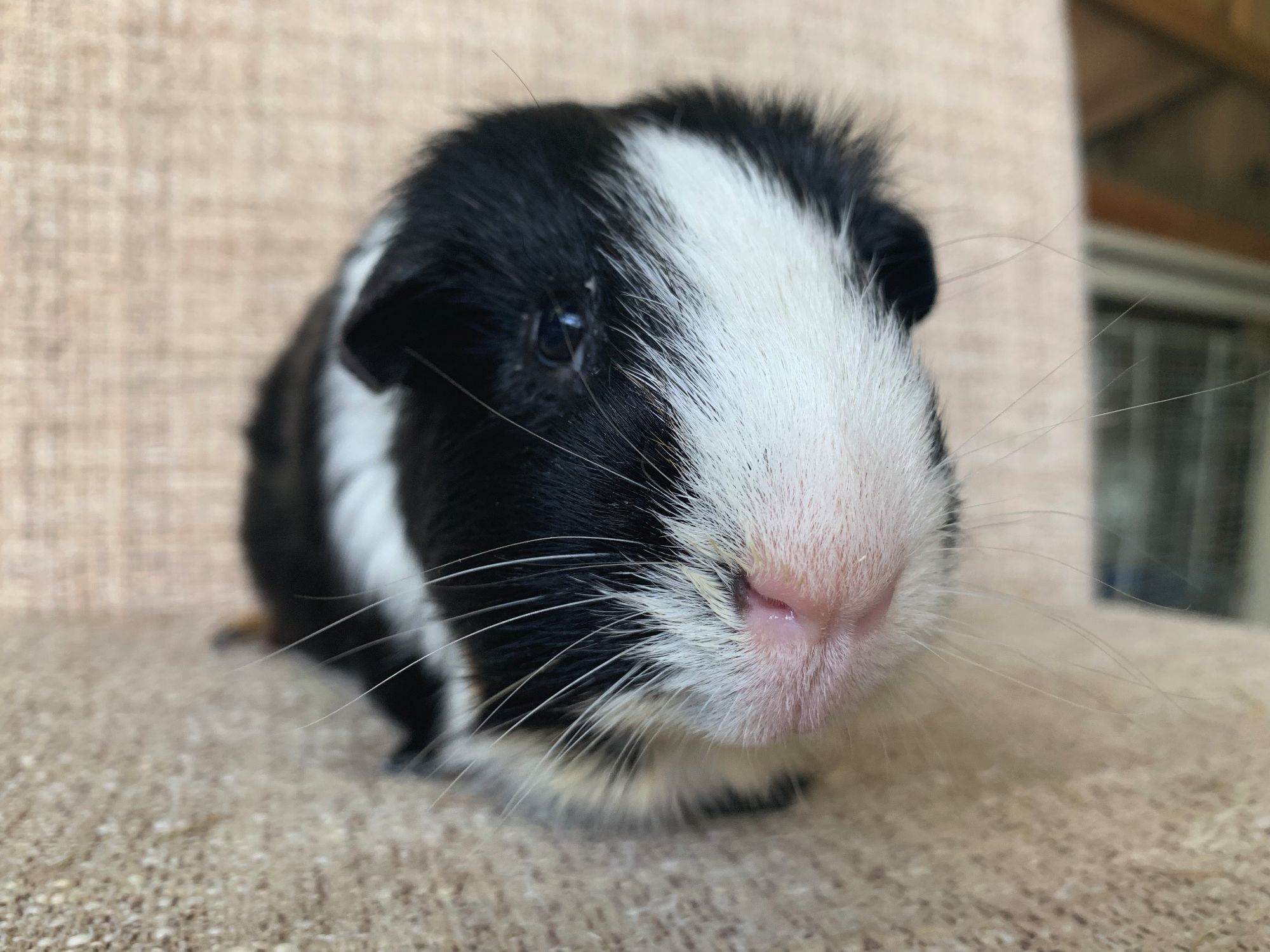 Santa joined us on Christmas Eve 2013. He had sadly spent the first years of his life alone in a 4ft hutch. This would be unsuitable housing for any rabbit. However, would not allow a huge 7kg rabbit any freedom of movement at all, which would potentially be extremely damaging to his physical health and happiness.

Santa was sold by his original owner to someone else as a Christmas present for a small child. Sadly, he was surrendered to us only one day later when the mother realised that she had made a big mistake and was unable to care for such a destructive rabbit of this size free range in her home.

Sean and Chase are very long-haired male guinea pigs. Due to their very laid back nature and condition we guess that these gorgeous boys are most likely old.
Sean and Chase were very lucky to be found and rescued by a kind neighbour after their family left them behind when they moved out of their property, without alerting anyone that the animals were still in the garden in their hutch. So sadly their rabbit companion was not so lucky and already passed away before the three of them were found.
They joined us in a very matted state as they are piggies which need careful grooming. Chase sadly has dental disease which will need careful monitoring ,and on-going vet care. We are looking forwards to giving these old boys lots of tlc and a safe retirement home after having been so let down
*Kindly sponsored by Aimee August 2019-20*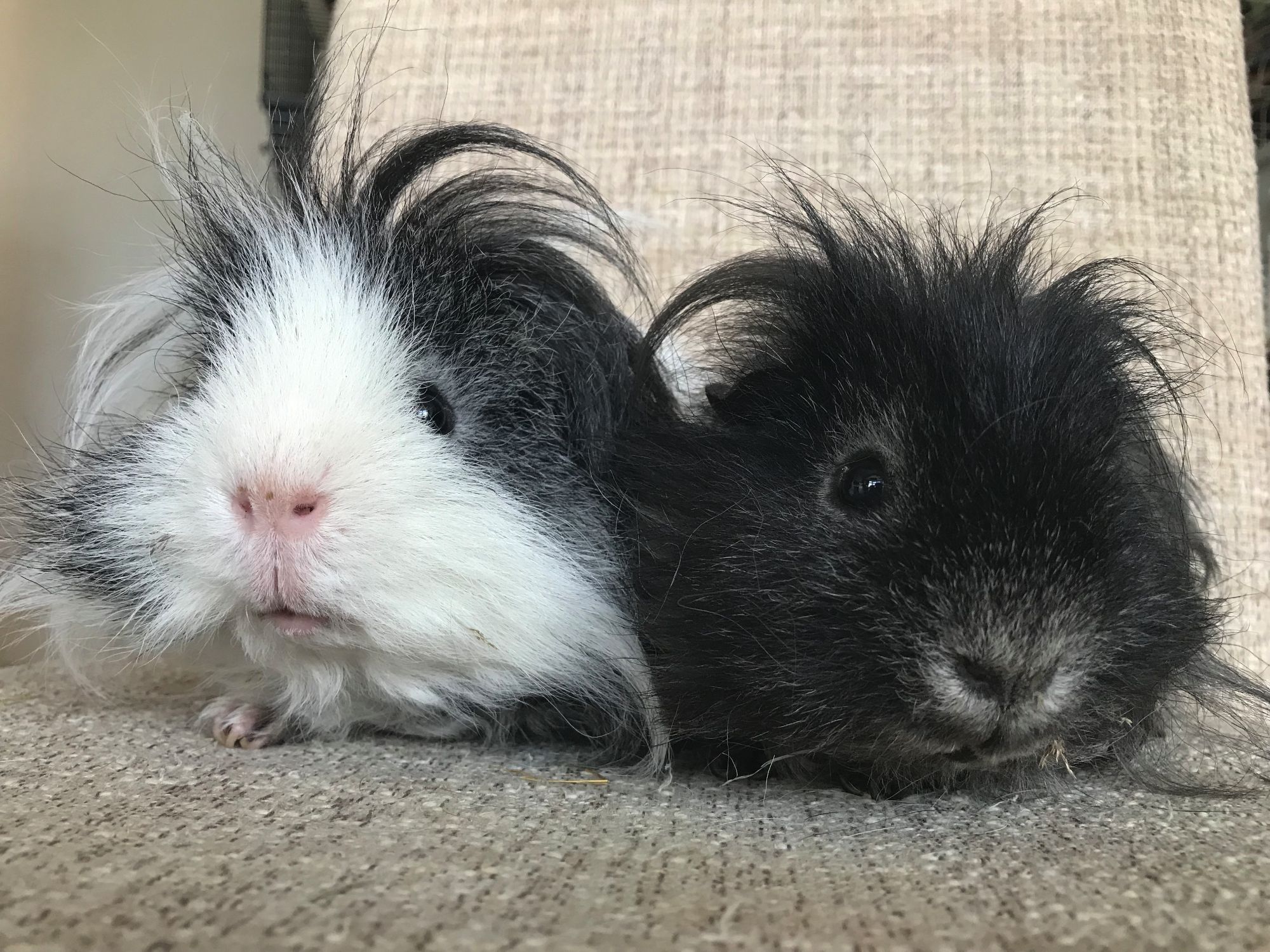 This very sweet ruby-eyed lionhead was handed into a vet practice as a stray. We suspect that he had become unwanted after developing a very severe head tilt. Having been unclaimed after 7 days with no-one there able to offer him a home he was facing euthanasia. Therefore, arrangements were made for him to join us so that he could have the chance of receiving treatment.
As a recent arrival he is under careful monitoring and his prognosis is sadly uncertain. However, he is currently managing well and stable enough to get around well and perform happy normal rabbit behaviours.
*Kindly sponsored by Debbie August 2019-20*
Stewie is a very rare Camp Nibble bunny who despite us having re-homed him very carefully twice has needed to come back to us after a year both times! This has been through sheer bad luck and through no fault of either his or his owners. He has been very well cared for in both homes.
He originally joined us in 2014 as a stray who had been found on an allotment. We estimate that he was born in 2013.
Sadly Stewie has developed mobility issues which has contributed to him having complicated issues with bladder sludge. He requires daily medications and help keeping himself clean. He has found his forever home here at Camp Nibble and will stay with us now getting all of the care he needs.
*Kindly sponsored by Elaine September 2019-20*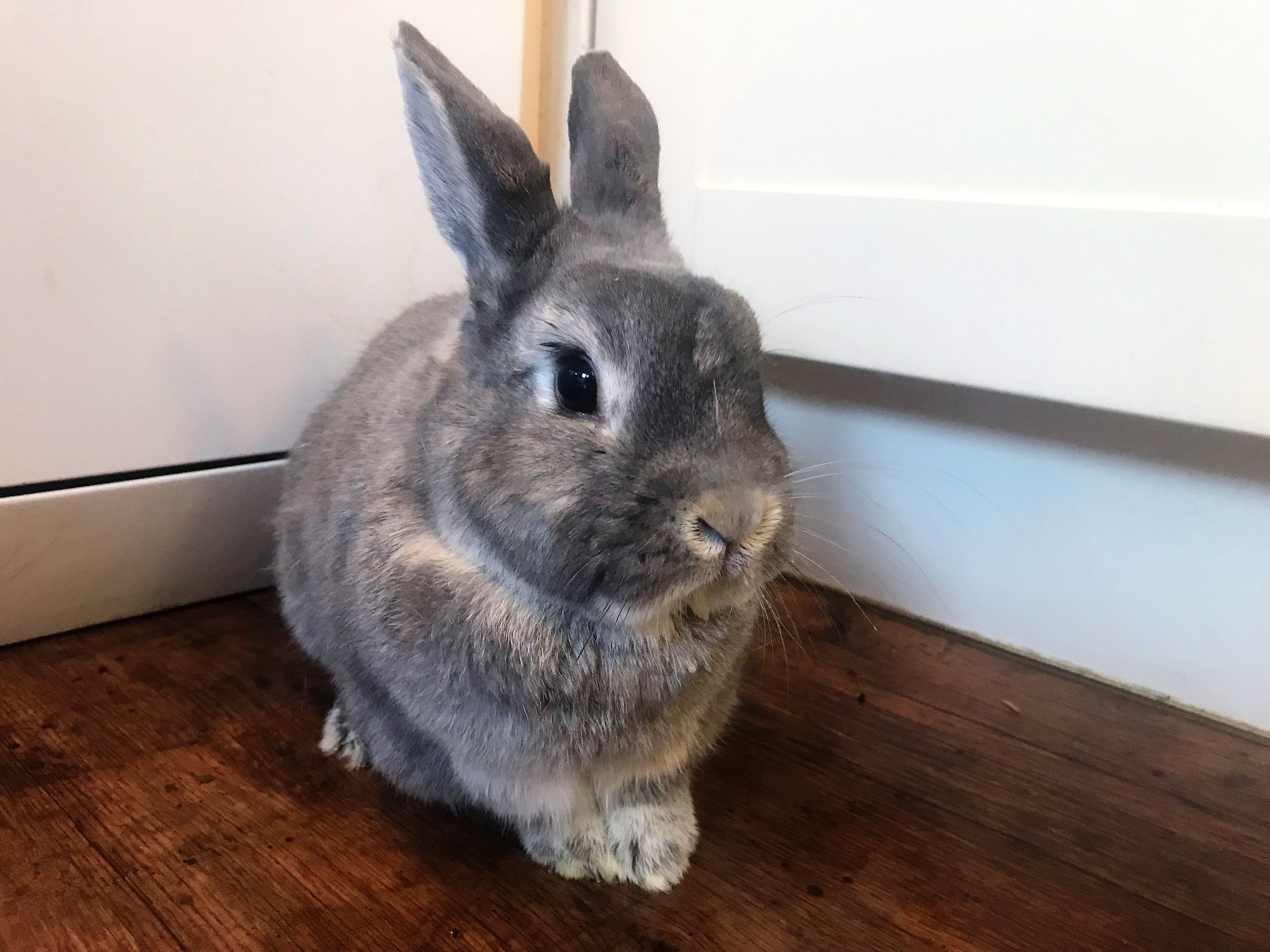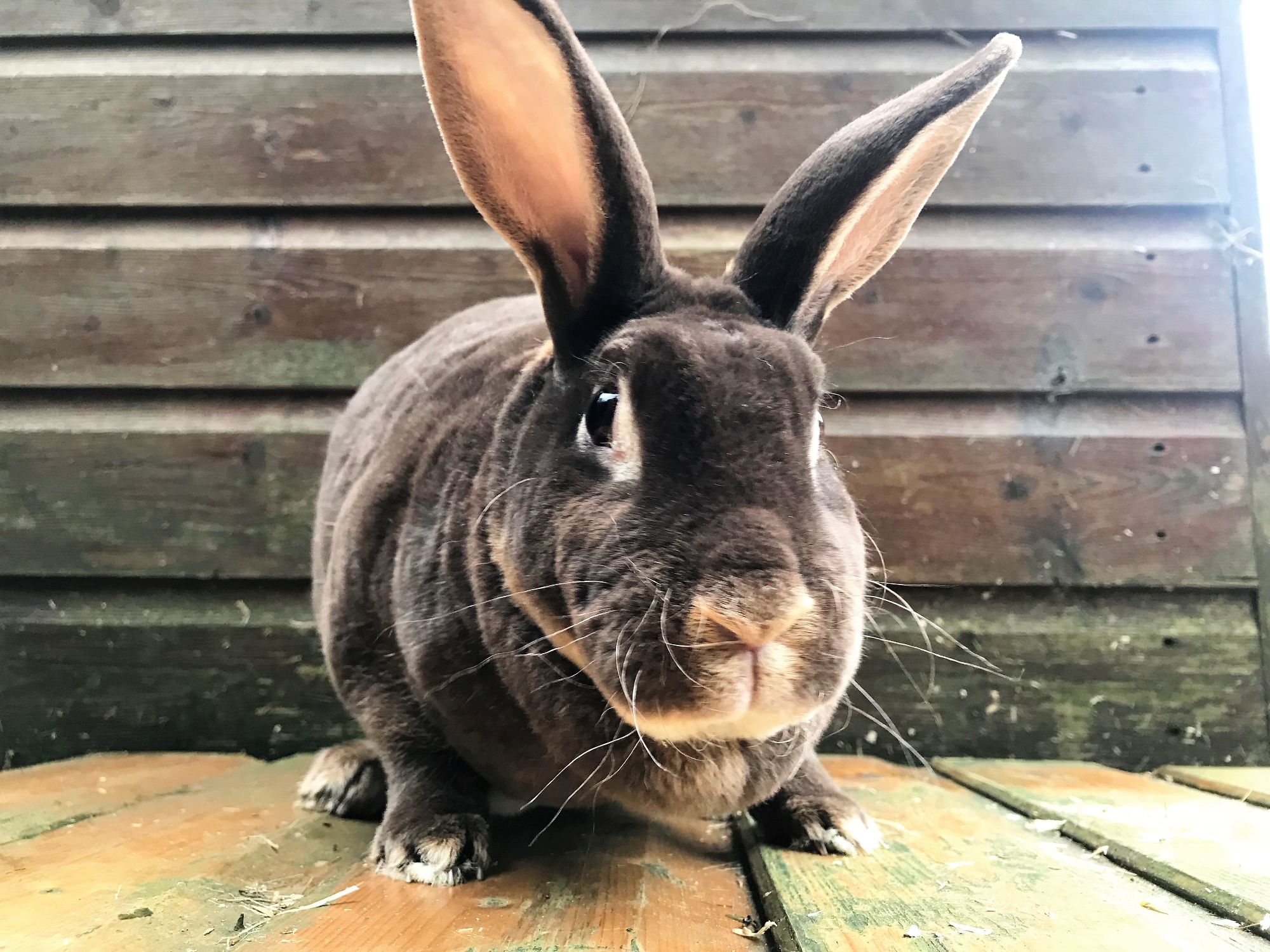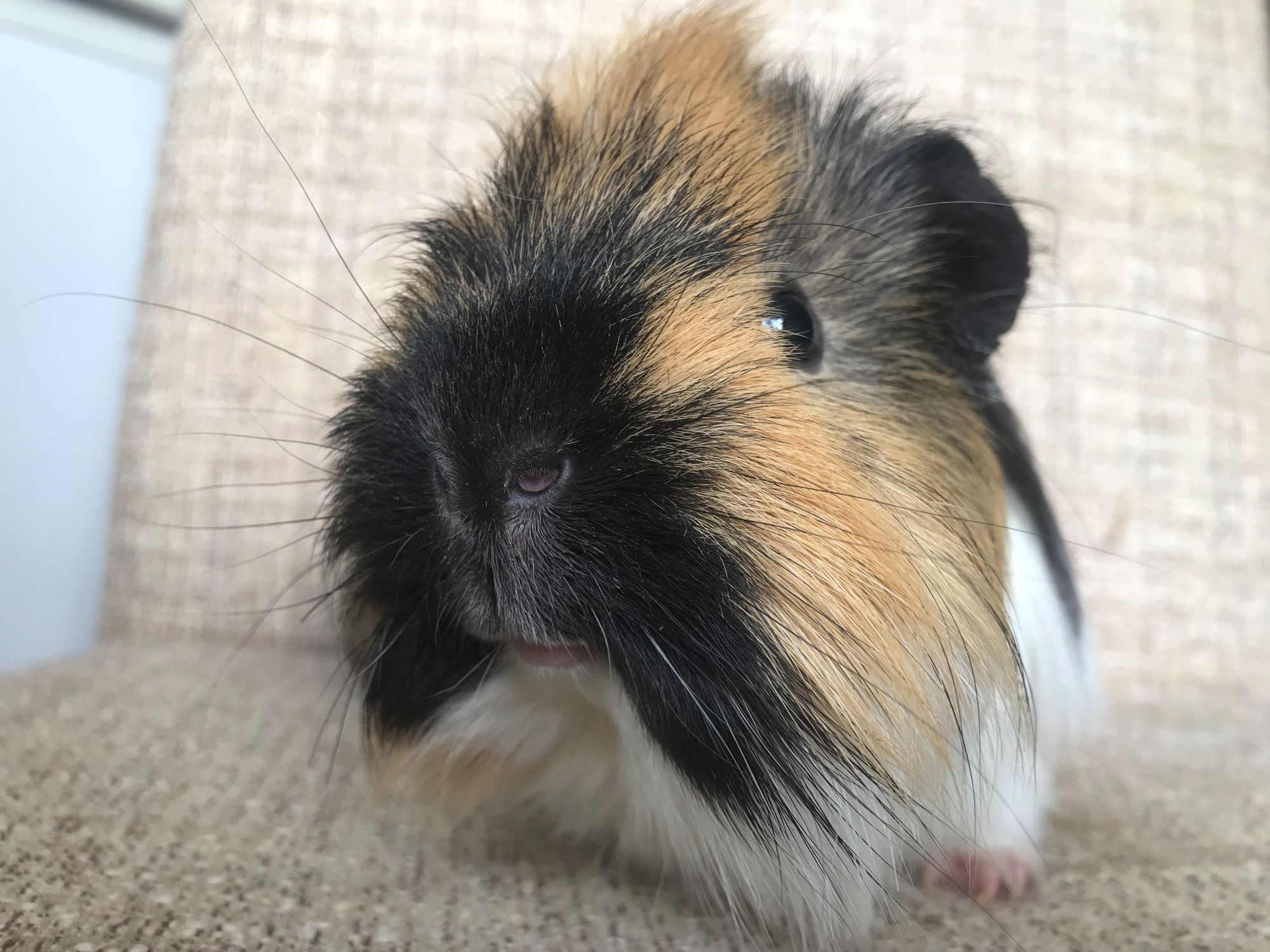 Thumbelina was a very unhappy girl when she was first handed in to us. She'd become unwanted at only 6 months old as she was 'too big'.
We had several weeks of worry with her. Her appetite was terrible and she was visibly extremely depressed. We were very worried that we might even lose her. Having managed to get her safely through her neuter she was accepted into one of our sanctuary groups.
The change in her with the support of her bunny friends has been wonderful to see. She is now starting to really thrive, and come out of her shell. It's an absolute joy to see her now happy, much healthier and enjoying life.
*Thumbelina is kindly sponsored by Sally May 2019-20*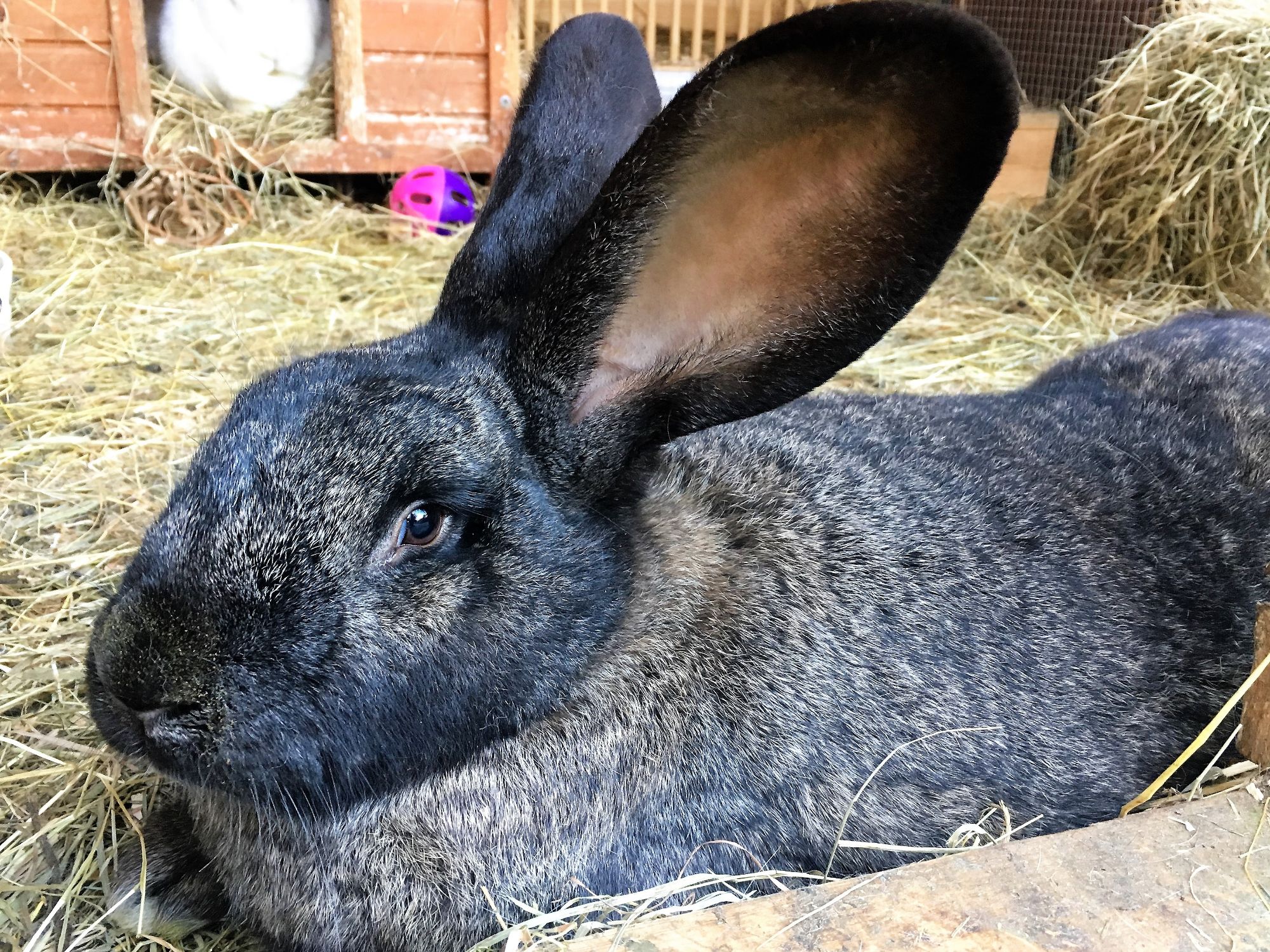 Wolverine is a fluffy lion head who was handed into a vet practice as a stray.
Sadly, he has complicated end stage dental disease, leaving his long term prognosis very uncertain. He requires daily medication and very careful monitoring to make sure that he is happy and comfortable. Our vet thinks that he is almost certainly an old man.
He is now neutered, however as he arrived as an entire male we would speculate that he may have spent many years living alone. It is lovely to see this gentle kind soul enjoying the company of his special needs bunny friends.
Since joining us Wolverine has sadly needed two big surgeries for complicated jaw abscesses. He has bounced back incredibly well after these. He is a real fighter and clearly really enjoys his life here. He does feel invincible, but in reality he is at a big risk of developing another abscess any day which may just so sadly be too complicated for surgery.
*Kindly sponsored by cottontails November 2018-19*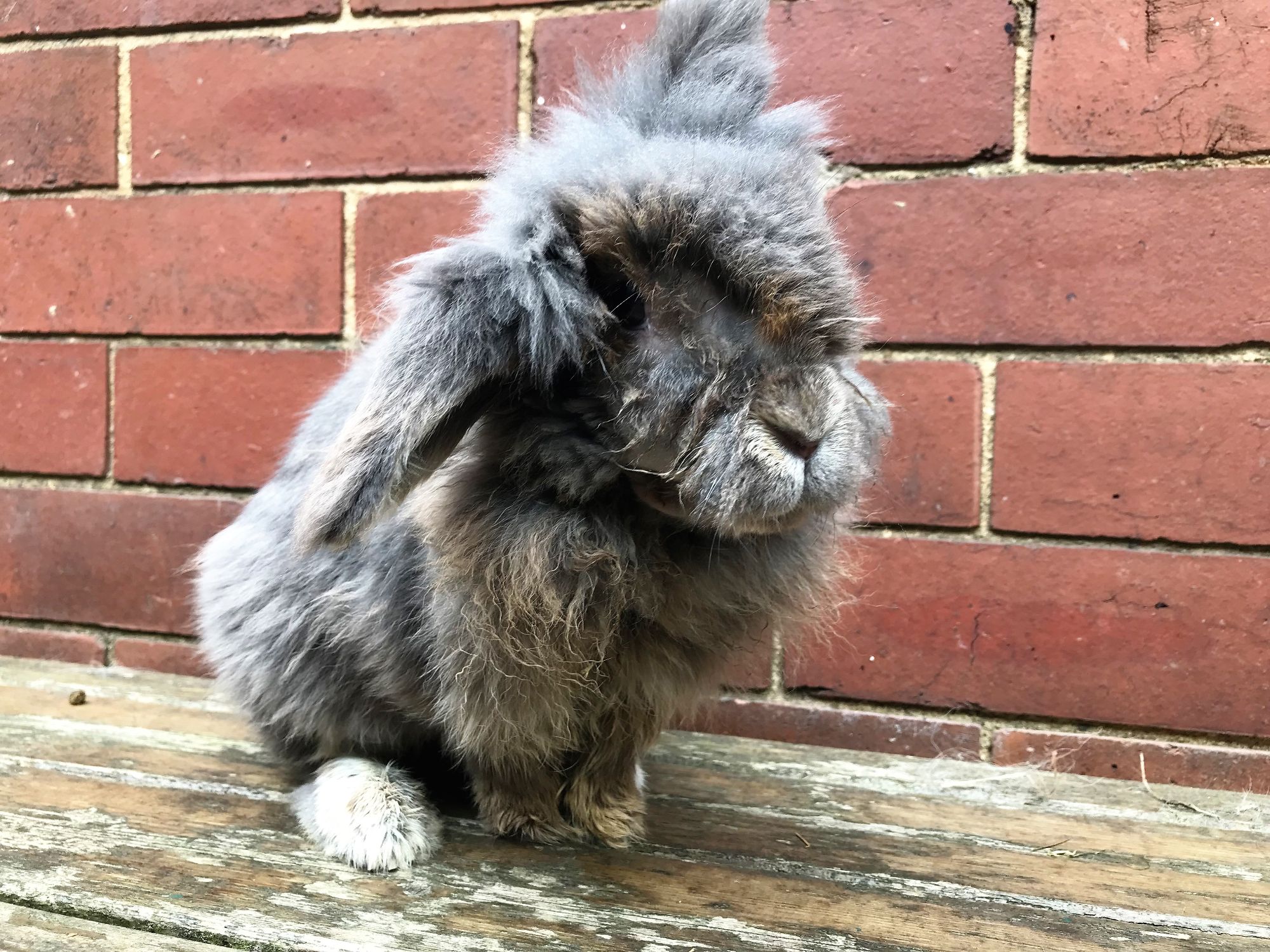 *Kindly sponsored by Lesley and Nichola April 2019-20*