Nibble News
Please neuter rabbits for their health and happiness.
(July 08, 2016)
---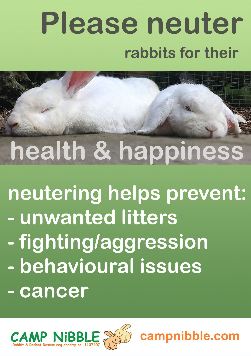 Well, this family of 11 rabbits of varying ages (youngest 5 weeks) who have joined us today are of course more than just a little bit adorable!
Although, as unplanned litters now adding to the many thousands of rabbits in UK rescue they are also a very good reminder of why neutering of pet rabbits (using a rabbit friendly vet) is just so important.
The RWAF has compiled a list of rabbit friendly vets nationwide for owners needing a recommendation.
More details here: http://www.rabbitwelfare.co.uk/resources/content/leaflet_pdfs/neutering28.8.07.pdf