Nibble News
Take Action! Rabbits need your help.
(January 21, 2014)
---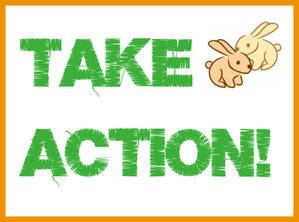 Our important government e-petition has received the very disappointing response below from Defra:
This response is unacceptable - We need your help!
Please write to/email your local MP to ask them to challenge this nonsensical response. Your local MP can be found quickly and easily from the following webpage:
http://findyourmp.parliament.uk/
We have provided a template letter below for you to use. However, of course feel free to write your own or amend as you feel appropriate.
Dear …………
Despite being the UK's third most popular pet, the proper welfare needs of rabbits are widely misunderstood by their owners. Many welfare organisations are in agreement that the UK is in the midst of a serious rabbit welfare crisis. As a result rescue shelters are struggling to cope with the overwhelming numbers of unwanted pet rabbits being abandoned, and many more thousands of pet rabbits are suffering significant cruelty and neglect.
An e-petition started by animal charity Camp Nibble calling for the introduction of a code of practice (COP) for domestic rabbits has received over 10 000 signatures. The relevant Government department have provided the following response:
http://epetitions.direct.gov.uk/petitions/49086
I believe that this response is inadequate and does not address the current lack of any official government guidelines to help protect the welfare of rabbits. The good work of the PAAG is largely irrelevant to this e-petition and does not form any justification for the government's failure to implement a COP for rabbits. I ask you to please challenge this response from Defra and ask for a COP for the welfare of domestic rabbits to be considered.
COP currently exist for the welfare of dogs and cats in England, in addition to all other legislation and advice. COP also exist for rabbits in Wales and Northern Ireland. However, currently no COP exists for rabbits in England. We are simply asking that our Government is consistent. These documents compiled by experts outline in detail what is needed for these animals to be correctly cared for, and what their owners need to provide in order to comply with the Animal Welfare Act 2006. These COP also help the courts decide when an animal welfare offence has been committed.
Yours Sincerely
…………..
We are extremely grateful for your support.
Together we can make a difference!