Nibble News
Press Release - Newhay and Camp Nibble
(October 09, 2012)
---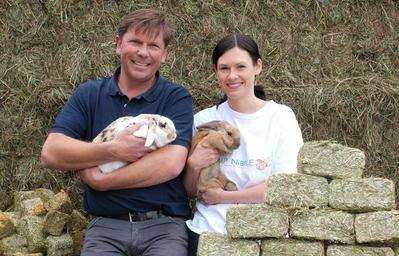 "HAY FOR A DAY" CAMPAIGN HELPS RACK UP BIG DONATION
FOR CAMP NIBBLE
Leeds small animal charity CAMP NIBBLE is getting ready for a bumper donation after a successful online campaign with Yorkshire pet food producers Newhay.
Hundreds of fans signed up for the "Hay for a Day" Campaign where, for every person who liked or followed Newhay on Facebook or Twitter, Camp Nibble received enough hay for a day for one of its "guests".
Over the course of just one month, the charity racked up more than 300 Hay Days – adding up to a sizeable hay mountain for their rabbits and guinea pigs to munch their way through.
Hannah Potts, who runs Camp Nibble from her home in North Leeds, said: "The response to the campaign has been amazing and this kind of donation is just perfect for us.
" We are always bursting at the seams as well as a waiting list of rabbits and guinea pigs who need to be rescued or re-homed; so that's around 60 to feed every single day, 365 days a year. Some residents who have special dietary or health needs will never leave us but as soon as one goes to a new home we have another waiting to take its place."
Newhay Managing Director Ian Burrows, added: "The work that Hannah and her husband have taken on is incredible and they are often unsung heroes. Newhay are just pleased that we can work with Hannah and other charities like Camp Nibble to help them and try to promote good pet care at the same time."
Hannah, who also has two small sons and 4 dogs to look after as well as the 60 guinea pigs and rabbits, is pictured with Ian at the first "Hay Handover".
Camp Nibble is an official registered charity and was started by Hannah in 2009. To find out more go to: www.campnibble.com or Facebook.com/campnibble.
Hay for the Day is continuing throughout October where another Leeds-based charity – Little Paws Rescue – will benefit for every Like registered on facebook.com/newhay.