Nibble News
Super sized Bernadette!
(January 17, 2012)
---
Poor Bernadette joined us three days ago. She is a good example of why its so very important for all rabbits to have a natural diet and access to plenty of exercise. Bernadette was very lucky to be brought to safety after being found by a dog in someone's garden!
She is grotesquely overweight currently weighing in at 4.5Kg. We estimate that she should weigh no more than 3Kg. As a result of her obesity Bernadette is unable to take care of herself and keep herself clean and healthy. She arrived in a revolting mess! Lots of cleaning revealed the extent of the horrible inflammation and painful broken skin beneath the dirt. After a lot of TLC she is feeling much happier and a lot fresher!
Bernadette bearly moves and we can only guess that she is used to living in horrendously confined conditions forced to sit in her own mess for hours on end. We suspect that she eventually got too smelly for the owners/breeders keeping her so was then set free to an unknown fate. Of course we can only speculate!
We are hopeful that we can get Bernadette back to the fit, healthy active rabbit that she deserves to be. She will need to loose a significant amount of weight before we can have her neutered in preparation for re-homing and finding a companion.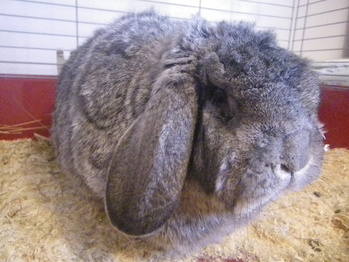 The following helpful information is from the Rabbit Welfare Association website:
Is your rabbit getting enough exercise?
To help support Bernadette during her rehabilitation please donate below, we are extremely grateful for your help.