Nibble News
Our Marley Haley prize has arrived!
(December 15, 2011)
---
We were over the moon to be the winners of Marler Haley's recent charity competition.
Thank you so much to everyone who voted for us we were overwhelmed by the support.
Click here to see our competition entry.
Our fantastic prize has arrived (£300 worth of promotional materials). Our new banner and literature stand will be so useful to help us at our rabbit welfare awareness events.
We would like to say an enormous thank you to Marler Haley, our banner is BRILLIANT!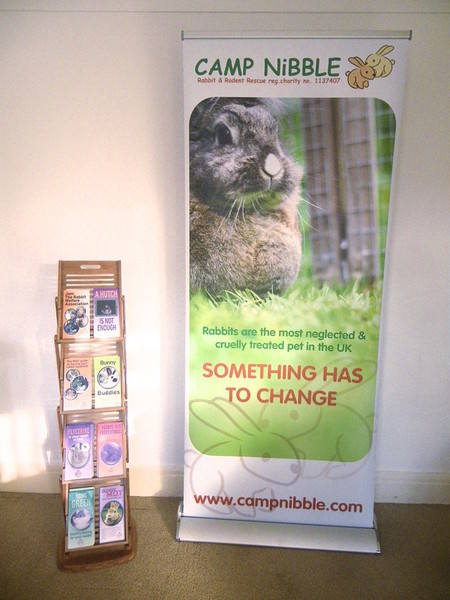 Here's a copy of Marler Haley's press release:
Rabbit rescue charity Camp Nibble win £300 to promote their work as nation of animal lovers vote in their hundreds
December 5, 2011
• Charities implement social media to pull in votes
• Winners aim to spread awareness of rabbit welfare problem
Rabbit and rodent rescue charity Camp Nibble have been announced as the winners of Marler Haley's charity competition, giving them £300 with which to spend on display products to promote their work. The competition asked charitable organisations throughout the UK to enter by stating what winning the competition would mean to them and what they would spend the vouchers on.

After a great response from charities across different sectors, the animal welfare charities rose to the challenge with nearly 50% of entrants being animal related. Marler Haley were then tasked with creating a shortlist of just three finalists which were then put to the public vote.
The final three took to Twitter and Facebook to persuade as many people to vote for them as possible. Competition got fierce, with second place charity CSIE earning 44% of the votes – but it was Camp Nibble, an independent charity ran from the homes of rabbit lovers, who came out winners by just 33 votes. The success of this small charity can be attributed to their ability to appeal to like-minded people, actively approaching authoritative Twitter and forum users with a love for animals to support their entry.

'It's great to see smaller charities using social networking to spread their message and gain support from people who they may not have otherwise been able to reach," said Andrew Pocock, Sales and Marketing Director of Marler Haley. "We saw tweets supporting the entrants reach a combined total of 30,000 Twitter users, which is phenomenal coverage for each and every charity involved."

Thrilled with the support they received, Camp Nibble have already decided what they will spend their winnings on. "Most people would be shocked to learn that rabbits are the most neglected and abused animal in the UK," said Hannah Potts of Camp Nibble. "Our aim is to educate people at all levels how to correctly care for rabbits, which our new roller banner stands will help us to achieve."
Enquiries
For more information on the competition and its entrants, visit: https://www.marlerhaley.co.uk/charity-displays/. Marler Haley can be contacted on 0800 151 3750, via [email protected] or you can follow them on Twitter.