Nibble News
Please join in our Lent Challenge!
(March 12, 2011)
---
Like nearly all animal rescue charities we are currently struggling to make ends meet. The number of animals being abandoned by their owners just seems to be growing and growing. There is not a single day goes by without us being asked to help another or several other animals in need. Sadly, we do not have nearly enough space or funds to help them all. However, we do our very best to help as many as humanly possible. Unfortunately, we are currently not raising enough in donations to cover our large vet and supply bills.
Please help us to make something positive out of this negative situation by having some fun fundraising with us!
Join the in Camp Nibble Lent Challenge by thinking up your own challenge and creating your own JustGiving.com fundraising challenge page. Registering with JustGiving.com and creating a fundraising page is completely free and takes minutes.
Challenge ideas are endless, maybe you might want to lose a few pounds, quit smoking, shave off your beard, give up chocolate or alcohol etc. We can think of someone who really could do with challenging themselves to lay off nose picking for a few weeks he! he!
To join us and create your own challenge page please click the 'join the team' link on our team page below, make sure you select Camp Nibble as the charity you are fundraising on behalf of:
https://www.justgiving.com/teams/campnibble/
Once you have created your fundraising page simply email your page URL to all of your friends/colleagues/Facebook & Twitter contacts asking them to support you in your challenge by making a donation.
Anyone who successfully raises £50 or over via their fundraising page will receive a Camp Nibble T-shirt!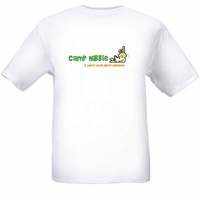 If you don't fancy taking part in your own challenge you can still show your support by choosing a challenge from our Team Page and making a donation.
Let's have lots of fundraising fun!