Nibble News
Animal sponsorship now available - Great xmas gift!
(December 04, 2010)
---
Sadly not all of the rescue animals that join us are able to be re-homed. A small number will remain with us for the rest of their lives as sanctuary animals due to ongoing illness or severe behavioural problems. These animals will become much loved members of the Camp Nibble family. Often these sanctuary animals will have complicated medical conditions requiring expensive ongoing veterinary care.
Please consider helping one of our sanctuary animals by sponsoring them. Sponsorship costs £25 and lasts for one year. As a sponsor you will receive a sponsorship pack containing:
A letter & sponsorship certificate

A photo fridge magnet of your chosen sponsor animal

A photo keyring of your chosen sponsor animal
Animal sponsorship makes a great gift for an animal lover!
Sponsoring an animal is simple and a fantastic way to help our rescue animals. Please contact us for details.
Our sanctuary animals available to sponsor are:
Angie – Angie, now nine years old was surrendered to us at seven and a half years old. She is a beautiful beige lop with a fantastic temperament. Angie arrived in very poor condition she was underweight and required urgent dental treatment. A visit to the rabbit specialist Frances Harcourt Brown revealed that Angie had teeth growing into her tongue which was badly damaged. She had been dribbling so much that that her saliva had burnt her skin leaving her sore and bald down one leg. Since joining us she has needed many expensive dental operations but has a new lease of life. She has even found love in her old age and lives with a permanent resident rabbit Peter who is the same age. Angie will remain here as a loved member of the Camp Nibble family as she will require ongoing veterinary care for the rest of her days.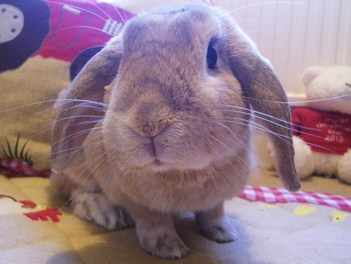 Ada -

Ada is

a three year old albino Rex ringed show rabbit. She was left in a box in parkland with another rabbit. Ada has a hugely enlarged heart which affects her breathing. She will require daily medication for the rest of her life. Her long term prognosis is not good although she is still a fiesty madam who seems very much to be enjoying life. We will make sure that she is loved and as happy as possible here at Camp Nibble until her illness is affecting her quality of life.
Noddy

- Noddy is a two year old Dwarf lop with a lovely nature. He was surrendered by his owners when he became ill. He arrived with a badly damaged eye which he was in danger of loosing caused by a severe tear duct infection. Noddy has dental disease and requires regular treatment for an ongoing tear duct infection.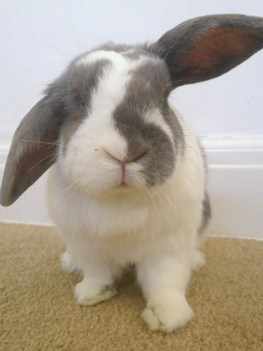 Bev 2 -
This gorgeous piggy reminds us of a former pet piggy of our own called Bev hence us naming her Bev 2! Sadly Bev 2 has cancer and we have been advised by our vet that she is not suitable for re-homing. Bev 2 will therefore remain here at Camp Nibble for as long as she is happy. She is currently happily living amongst a motely crew of other mature piggies. Bev 2 would like to say a huge thank you to Nicki and Alex for her amazing sombrero!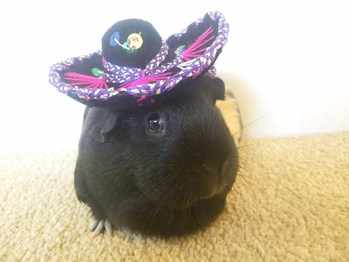 Penfold

- We suspect this funny little man has a hormonal problem probably caused by a tumour in his brain. He is a long haired hamster but has a very thin coat as a result of his illness and skin tumours. Penfold has funny little eyes which take a long time to open after he has woken up! Despite his problems he seems to be a happy little guy and has a very sweet nature.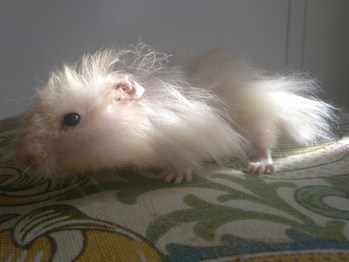 Pheobe

- We do not know Pheobe's age as she was found as a stray, although we suspect that she is a mature hamster. Sadly since joining us Pheobe has developed a tumour which we believe to be cancerous.