Nibble News
Camp Nibble makes Monster Pet Supplies' Charity of the Month!
(August 09, 2016)
---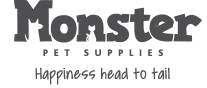 Here at Monster Pet Supplies we're all bunny lovers! So when we heard about Camp Nibble, it was an obvious choice for our Charity of the Month initiative. Small pets are so often overlooked and unintentionally neglected, we want to help make it known that size doesn't matter! Every pet deserves a loving home.
Our Charity of the Month project began in July with the intention of raising awareness of a different charity each month to our customer base, and hopefully increasing financial support to these charities. Being pet owners, we knew our customers would be as passionate about animal welfare as we are.
We love to help out local and smaller charities that may not usually get a lot of exposure or assistance when up against big charity names. We want to raise awareness of their existence so that they can continue their amazing work; again, size doesn't matter!
We will to continue to support Camp Nibble and their amazing volunteers to rescue and rehome all the nibblesome noses out there in need of love and care. You can read our full charity of the month post here.