Our trusted vets
As pet owners we believe that finding a vet that you can trust with your pet's health is extremely important. Even very common small animals such as rabbits and guinea pigs are viewed as exotics and often little time is dedicated to them during standard veterinary training.
We advise all pet owners to register their pet at a practice which has at least one vet with a special interest/experience in their particular species of animal. We strongly suggest doing this before your animal actually falls sick.
We currently use the following vets for our own pets and any rescue animals in our care requiring treatment:
Holly House is a fantastic veterinary hospital within five minutes drive of Camp Nibble. We are very grateful to have such a competent team of vets so near to us. Holly House have lots of experience in treating small animals and 'exotics' which is of course great news for our rescue animals. Holly House have been a huge support to us since we started. We are extremely grateful for their continued support.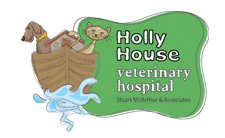 Frances Harcourt-Brown is an exceptional rabbit specialist, we cannot sing her praises more highly (In our opinion certainly the best in the UK!) She has written a respected textbook of rabbit medicine and isn't afraid to perform pioneering dental surgery on rabbits. Based in Harrogate we take our poorly rescue bunnies here.