Nibble News
Sponsored silence success.
(March 08, 2011)
---
We are extremely grateful for the support of Emma, Ella and Shauna who all managed to successfully stay silent at school for a whole hour under the watchful eye of their teacher.
Between them they have raised a fantastic £55 to help our rescue animals. Well done girls!
" I wanted to raise money for other rabbits who are not as lucky as mine to have had a good loving home. After my mum found Houdini, abandoned, even during the snow this winter, unable to support herself in the wild, feeding her every day with the support from our friends to help with this and other kind members of the public that had spotted her too and successfully managing to safely rescue Houdini after 6 and a half weeks of many failed attempts and alot of patience, it has made me feel very sad that people can do this to their pets. My family are very grateful to Camp Nibble for taking in Houdini and for finding her the most perfect home that she deserves after all she has been through. I wish that the rest of the rabbits here will be as lucky as her." Emma, pictured below with her own bunny Nibbles.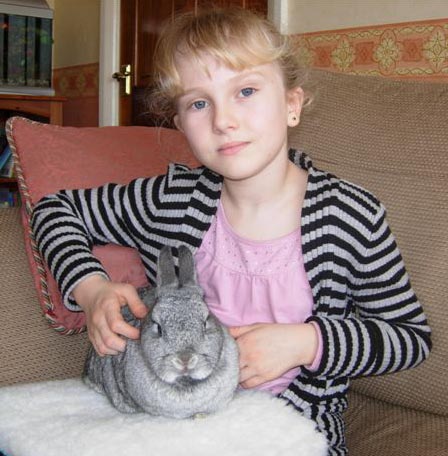 The elusive Houdini who after being abandoned in woodland is now being spoilt in a fantastic new home: